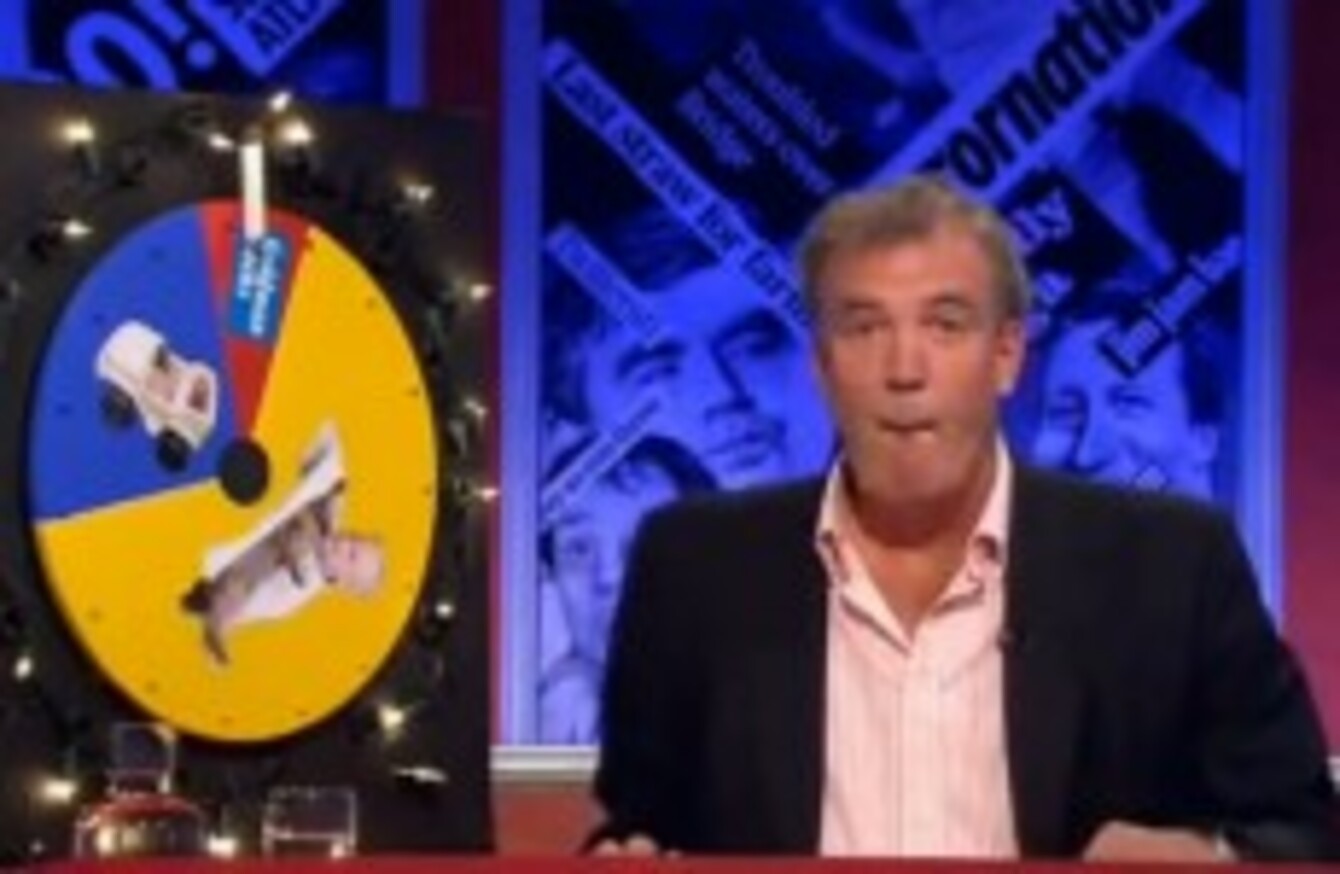 SUSPENDED TV HOST Jeremy Clarkson could be back on TV next month, as a guest presenter for Have I Got News For You.
The veteran presenter is currently banned from his 'day job' – as presenter of the phenomenally popular 'Top Gear'
However, it's not clear whether his temporary ban – for allegedly punching a producer in a row over food services and calling him a "lazy Irish c**t" – applies to other programmes.
Clarkson has been a regular guest presenter on the topical comedy news quiz since the departure of the show's only regular host, Angus Deayton, way back in 2002.
In a notable appearance, back in 2008, he threw a pen at series regular Ian Hislop, drawing (a small amount of) blood in the process.
Jimmy Mulville of HIGNFY production company Hat Trick told a Broadcasting Press Guild breakfast that he wasn't sure if Clarkson would be allowed take part.
"As far as I'm concerned he is hosting Have I Got News For You in early May," he said, according to The Guardian.
The BBC haven't told me what to do yet. It'll be an interesting conversation.
The appearance could be a contentious one if it's allowed to go ahead. The show has proven influential in the past – and Clarkson's guest appearance, if it happens as scheduled, would come just days before the 7 May General Election.
Source: 62avianflu/YouTube
In other Clarkson-related news, the presenter is said to be "furious" after a senior BBC employee compared him to Jimmy Savile.
The claims were published in the Mail on Sunday. The paper's story included quotes from a BBC boss "directly involved in the fallout" surrounding the hosts suspension, who said politicians were turning a blind eye to Clarkson's behaviour in the same way people once did with Savile.
The Telegraph reports that the host has instructed his lawyers to demand a retraction from the BBC.