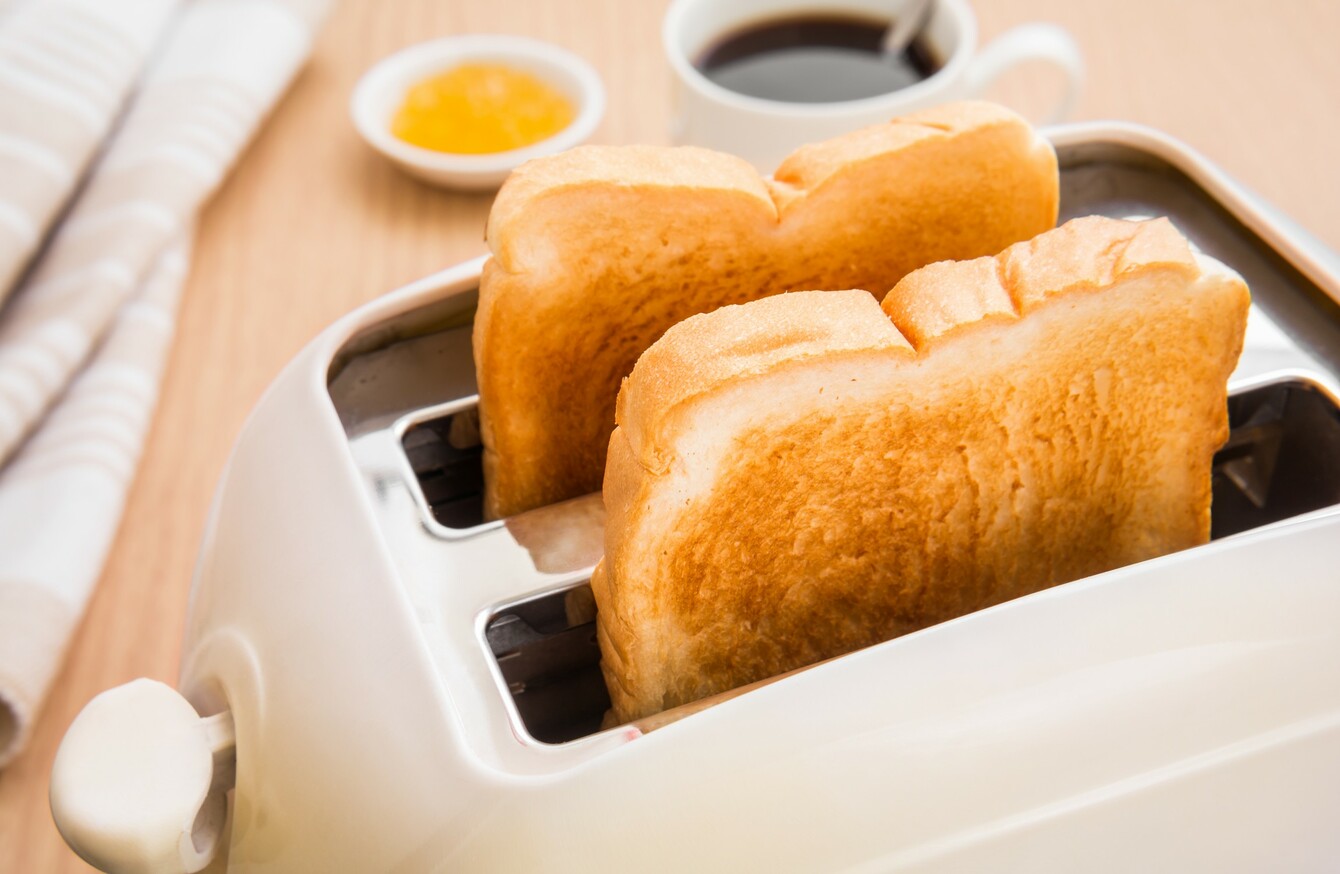 Image: Shutterstock/Amarita
Image: Shutterstock/Amarita
Laura de Barra regularly brings her lifestyle and home maintenance expertise to the Glenveagh Home Magazine on TheJournal.ie. This week: a masterclass in cleaning plug-in kitchen appliances like your kettle or toaster.
OUR KETTLES, TOASTERS and microwaves are in constant use, often used multiple times throughout the day and coming into contact with our hands, grease, food, hard water and much more.
Yes, a quick wipe down is great but do you know how to properly clean your smaller appliances? Ring the bell, plug out your appliances, masterclass is in session…
1. The kettle
As a daily cleaning rule, always wipe your kettle down regularly, especially the handle. And, to save energy, always only use the amount of water you will be using. A tip: if you do over boil, pour the unused water down the drain right away. This hot water will keep your kitchen drain working well but it will also mean that water is not left to sit in your kettle.
General cleaning aside, let's move onto the most essential of kettle-cleaning tasks…
Removing limescale
Traditionally, kettles had exposed heating elements inside, which over time would end up covered in limescale, rendering the kettle useless. Thankfully, elements on modern kettles are hidden in their own compartment. This means the water never comes in to contact with the element, which gives our kettles a longer life. 
Limescale can still build up inside the base of your kettle, however. Open your kettle and check inside: you may well spot a thick layer of limescale which can end up flaking and floating around each times it boils. Vile.
Don't worry, it's easy to sort, you'll just need some vinegar. Vinegar can break down mineral deposits super easily and lift limescale from a surface. She's also non-toxic, cheap and more effective than a shop bought descaler.
Fill your kettle to the max line with 50/50 water vinegar.
Leave it to soak for an hour or two, or overnight if it's particularly bad.
When time is up, boil the mixture and empty the kettle. 
If some limescale remains, fill it up around one-quarter of the way with warm water again, and swirl the water around a few times to lift it all out.
Then, using a solution of 50/50 vinegar and water, wipe down all surfaces, paying particular attention to the lid and spout. Rinse the kettle thoroughly.
Warning: vinegar doesn't agree with all surfaces so be sure to double check when you use her for cleaning.
#Open journalism No news is bad news Support The Journal

Your contributions will help us continue to deliver the stories that are important to you

Support us now
2. The toaster
When was the last time you thought about cleaning your toaster? Most of us don't give it a second thought, but toasters hold a lot of crumbs and these can be super attractive to mice and other pests.
Lay out some newspaper to work on top of as this can get quite messy.
Plug out the toaster.
Remove the crumb tray and shake off crumbs. Wash this down with warm soapy water and dry. Modern toasters will usually have these trays, but if yours doesn't or if you have some crumbs still inside, turn the toaster upside down and gently shake over the newspaper until she's crumb free.
If you feel there are still some crumbs inside, you can use a clean basting brush to wipe down the interior. Using warm soapy water, wipe down the exterior. There will be a lot of airborne grease on your toaster's exterior so washing up liquid will cut through this.
If it is a stainless-steel toaster, give it a once over with 50/50 water vinegar for a streak free finish.
3. The microwave
The previous two appliances have merely crumbs and hard water to worry about, this girl on the other hand has food, odours, spills and grease to deal with. Firstly, she should be wiped down after every use and her door left ajar to allow moisture to escape, prevent odours lingering and to stop grease building up. If you need to do a deep clean, here's how:
Place a heat safe bowl inside your microwave, with a 2:1 water/vinegar mix. If you have lemon, you can use this instead. If you have neither, use a squirt of washing up liquid. We are basically trying to create steam that has something in it that can cut through grease and grime,
Set on full power for around 1 – 3 mins depending on your make and model or until you can see that there is steam present.
Leave to cool down, with door closed so the steam and what you have used are working their magic on all surfaces.
Remove bowl carefully, remove the glass rotating plate and anything else that can come out and pop them in a basin of hot soapy water to soak.
Plug the microwave out, then take a damp microfibre cloth and wipe down all of the interior surfaces. If there is stuck on food, use a non-scratch sponge to gently scrub away. Then use a dry one to buff.
A damp cloth (warm soapy water) can be used to wipe down the exterior and buttons.
Clean and dry the rotating plate and pop back in. If you feel that your microwave has a particularly bad odour even after cleaning, try leaving a cup of bicarbonate of soda in overnight. She'll absorb the smell and take it with her when you throw her out.
Want more tips and hacks? Laura de Barra's new debut book, Gaff Goddess: Simple Tips And Tricks To Help You Run Your Home is on shelves now, published by Transworld Ireland. Buy it here or in all good bookshops, and follow Laura on Instagram for even more cleaning and lifestyle tips.