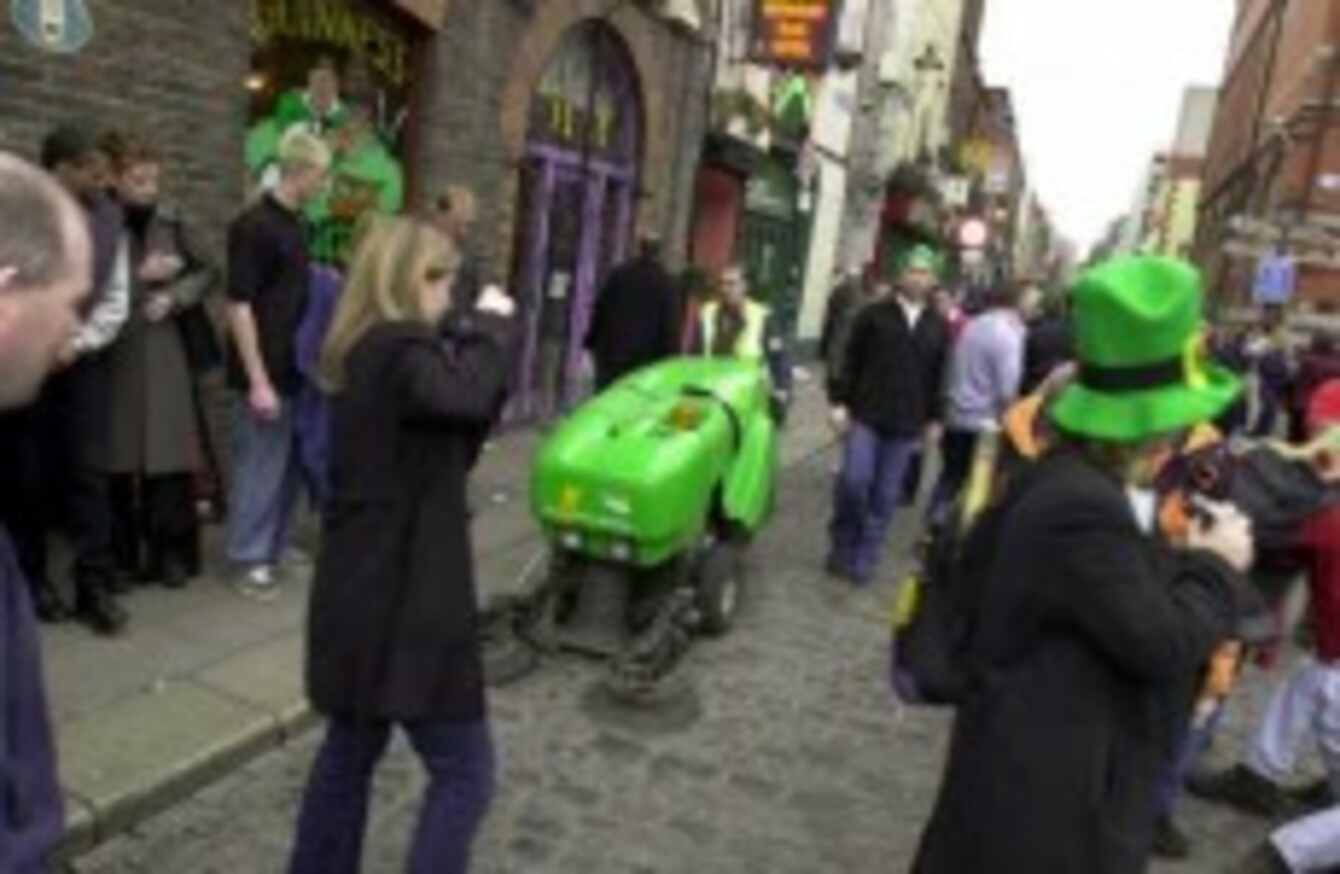 Image: Paul Sharp via Photocall Ireland
Image: Paul Sharp via Photocall Ireland
WHAT COMES TO mind when you think of St Patrick's Day? Parades, shamrock, people dressed in green, packed pubs and messy streets?
If you're an early bird you may have witnessed the streets the morning after the night before – and it's not a pretty sight to behold.
Glass bottles, cans, food wrappers, urine and, yes, even vomit (especially vomit) are the most common scenes.
But have you ever spared a thought for the people whose job it is to clean up the streets and get everything back to normal?
Dublin City Council say it's the busiest day of the year for its street cleaners.
John Billane is an acting coordinating inspector with Dublin City Council and he has worked with the council for 36 years.
Good weather = more mess
He told TheJournal.ie that St Patrick's Day 'is a hell of a lot busier' than any other time.
From 10pm on Monday night until 10pm on St Patrick's Day there were 150 eight-hour cleaning shifts carried out by the council.
It's the amount of bottles and litter – it's like Temple Bar on a busy weekend magnified by 10.
A night crew of around 30 people started the big clean up the night before the parade and workers from other areas came into the city for St Patricks Day as extra staff were needed.
They started at around 10pm and finished at 6am. A wash crew of about 40 then began work yesterday morning.
Billane said, "They drive the parade route to ensure that there is nothing unsavoury on the route.
So nobody steps into anything they shouldn't step into.
"We also take down any offensive posters."
Another crew of around 80 started to clean up the route from 2 o'clock yesterday afternoon. Billane said the messiest St Patrick's Days are when the sun shines:
I remember doing it one year and it was short sleeve weather and it was just mayhem. If it's good weather people really make the day of it.
"St Patrick's Day is our busiest day of the year and it's really intense cleaning. The next busiest day for us is the Dublin City Marathon.
"You just have to work away at it- you may clean a street two or three times within the day.
At the end of the night there is still rubbish and bottles around. We have a crew in the next morning at 4 o'clock.
"On a normal weekend we would clean up about 5 tonnes a day but on St Patrick's Day we take 20 tonnes alone for the one day.
Dangers
"We have a health and safety arrangement so that nobody works alone- they work in crews.
"People are enjoying themselves. You will get people being very happy.
We wouldn't walk into a group that we feel could cause trouble. We just avoid that area until later on.
"If there's ever trouble our workers up tools and drive away. The garda are there to help too."