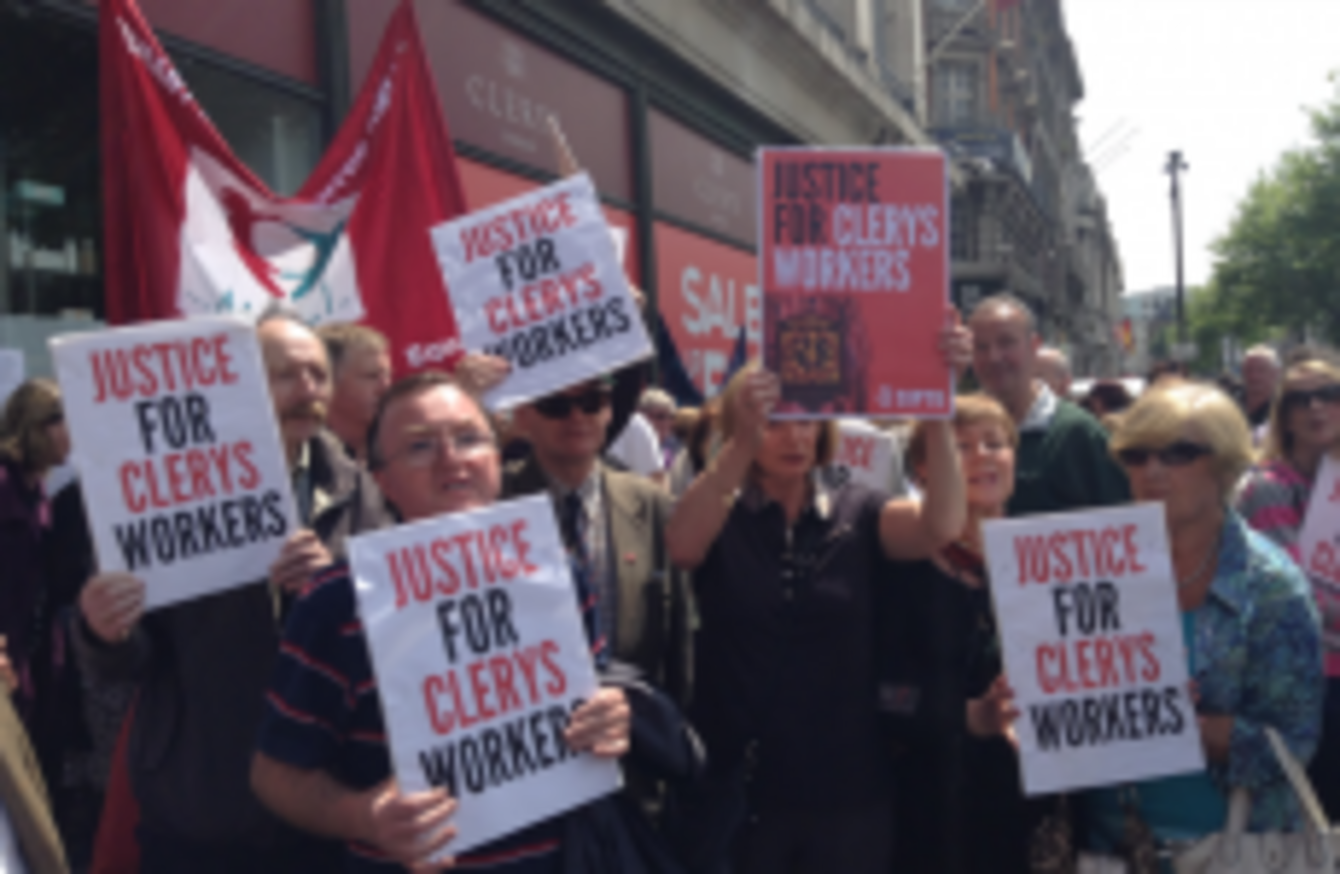 Image: Catherine Healy/TheJournal.ie
Image: Catherine Healy/TheJournal.ie
Updated 3.40pm 
HUNDREDS HAVE ATTENDED a protest in support of Clerys workers who lost their jobs following the shock closure of the business last Friday.
The lunchtime rally, organised by trade union SIPTU, was held under the department store's iconic clock on O'Connell Street.
A petition signed by attendants called on the new owners of Clerys to meet with workers.
John Crowe, who worked in the store for 43 years, told TheJournal.ie that staff had not even been allowed to collect their belongings from lockers in the store on the day it closed.
We were treated disgracefully. They wouldn't treat dogs that badly… I don't see myself employed again. I'm 62 and I went into Clerys at 16.
In a speech, Lord Mayor of Dublin Christy Burke said that Clerys' owners "should be hauled before the courts" for their "bully boy tactics".
SIPTU sector organiser Teresa Hannick told RTÉ's Today with Sean O'Rourke that KPMG met with the union's members this morning.
She described the meeting as "robust and frank", with "a lot of anger" from some members.
Hannick told Newstalk Breakfast earlier that some of the staff were owed four or five weeks' wages but it appeared the consortium that bought the business on Friday, Natrium, wouldn't provide any relief to employees.
They won't even talk to the workers," she said. "We can't expect or hold up much hope that there will be any enhanced redundancy here."
However, Hannick said it appeared the government's insolvency and social insurance funds would pay the money owed to workers. That was limited to two weeks of pay for every year of service, subject to a maximum earnings cap of €600 per week.
A note posted on the Clerys website today said that any unused gift vouchers purchased by customers could not be redeemed now that the store has closed.
If you have made any payment by credit or debit card for a product that has not been delivered, or if a gift voucher was purchased with a credit or debit card, it may be possible to get a refund from your card provider via "chargeback".
Shock closure
Boston-based Gordon Brothers sold the 150-year-old store to the Natrium consortium, which is made up of Irish investors D2 Private and UK-based Cheyne Capital Management.
The company that operated the store was immediately put into liquidation, but the separate firm under which the property is owned remains in operation – enabling the buyers to exploit the prime site for a profit.
The store lost about €4.3 million over the past three years after being put into receivership in 2012.
The job losses include about 130 people directly employed in the department store and its behind-the-scenes operations, and another 330 who worked for the 50 concession holders trading in the building. Many only learned their jobs were gone through the media.
The concessions holders have said they are owed up to six weeks' takings, worth as much as €2 million, but the sums went unpaid yesterday when they fell due.
They have also called for the immediate return of €3 million in their stock which has been shut inside the premises since the locks were changed on Friday.
https://vine.co/v/eO3rZeBIZKV
'Very insensitive'
Taoiseach Enda Kenny this morning said the closure "could have been handled a lot better" considering it was such a symbolic business.
Given that it is such an iconic building in the middle of O'Connell St and workers have in some cases been there for over 40 years, it was in my view very insensitive," he said.
There has been speculation the building will be developed into a combined retail and hotel complex, with the possibility of offices being opened on the higher floors.
However it has also been suggested the building would be best suited to a mall featuring destination stores to lure in customers.
Speaking in the Dáil this afternoon, Kenny said government had been told by the liquidators that the majority of workers were made redundant and will be issued with their P45s this week.
He said some payroll staff may be kept on during the liquidation process.  Kenny described the actions of the Clerys owners as "grossly insensitive and appalling".
Fianna Fáil leader Micheál Martin called for a review of company law and industrial relations law. Sinn Féin's Gerry Adams called for the government to legislate for collective bargaining.
Kenny said that Minister Ged Nash would prepare a report for government on all of the issues surrounding the closure. He added that the Department of Social Protection would expedite statutory redundancy payments for workers.
- additional reporting by Catherine Healy and Hugh O'Connell