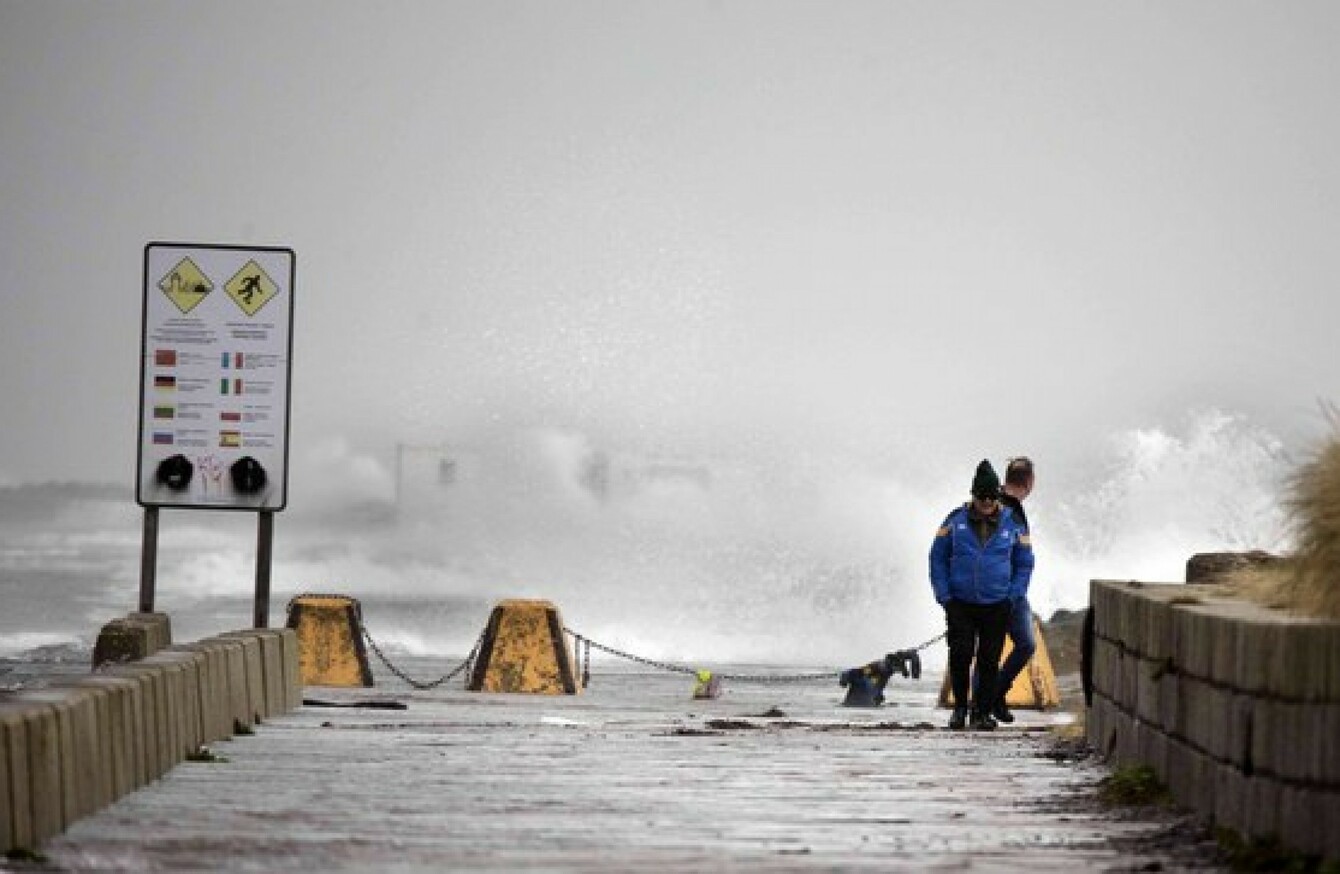 Image: Eamonn Farrell/Rolling News
Image: Eamonn Farrell/Rolling News
WITH MILLIONS OF people around standing up and taking note of climate change, it's never been clearer that it is a very pressing issue and one we need to tackle now. As a landmark UN report found that over one million animal and plant species are now at risk of extinction, it's time to separate facts from fiction.
For Science Week 2019, we wanted to arm our readers with the most relevant information from scientists on climate change. Most importantly, we wanted to give you an opportunity to ask them questions – so we reached out to researchers at MAREI (Marine and Renewable Energy Ireland) at the SFI Research Centre for Energy, Climate and Marine.
With nearly 150 comments and many emails, here's what you wanted to know…
1. How long has climate change been going on?
Carbon dioxide caused by fossil fuel burning and other human activities is the most significant greenhouse gas contributing to the climate change. In 1958, Charles David Keeling, became the first person to make measurements of atmospheric CO2 concentrations on top of Mauna Loa volcano in Hawaii. The measurements collected show an increase in atmospheric CO2 concentration from 313ppmv in March 1958 to 410 ppmv in November 2019. Before the Industrial Revolution, global average CO2 was about 280 ppmv.
Today there is a network of atmospheric stations measuring long term CO2 around the globe, and we have one of the most important ones, right here in Ireland. Mace Head Atmospheric Research Station in Carna, Co. Galway began monitoring atmospheric observations in 1958 and today Mace Head and Mauna Loa are two of the most advanced and important sites for atmospheric observations in the world. Data from both sites are published in multiple research publications and cited by bodies such as IPCC.
Dr Clare Noone, atmospheric physicist, Centre for Climate and Air Pollution
2. Why is it that the general public must make the changes and pay extra for the likes of coffee cups? Why aren't we addressing the manufacturers?
There is no reason why we cannot do both. Everyone should take personal responsibility for the waste they generate, both by paying for it and by disposing of it appropriately. The example of disposable coffee cups is a good one, because 20 years ago, people walking around with disposable cups was a rare sight. Now it is a cultural norm, and this is what needs to change.
Strategies such as taxing manufacturers are only part of the solution, but culture eats strategy for breakfast. This could be clearly seen from the introduction of the plastic bag tax 20 years ago. People's behaviour can change overnight if they see a direct impact on their lives. And these small changes they make can then have long lasting positive impacts for the planet and everyone on it.
Emma Verling, senior postdoctoral researcher
3. How do we start to protect homes in coastal areas from the effects of climate change?
Climate change with the associated increases in sea levels and storm intensity challenges how we should strategise erosion and flood protection along our coastlines. The simple truth is that given enough resources, engineering solutions could be put in place to protect all properties. However, this would not be practical and decisions need to be made in terms of what we should protect and what should be let go – this is where the difficulty lies.
For the majority of Irish coastal cities, towns and villages it is clear that protection will be provided and this will mean building higher and wider structures such as seawalls and revetments along the seafront to hold the position of the coastline. In other cases, where there is only a small number of properties, the decision may be to allow them to be lost unfortunately – people may need to be relocated. 
Jimmy Murphy, funded investigator, MaREI, the SFI Research Centre for Energy, Climate and Marine
In the short term we can look at increasing property-level flood defences such as the use of sandbags and mountable defences. Over the medium to long-term coastal communities need to consider increased drainage, pumping to remove saltwater intrusion, and coastal barrages and barriers in combination with softer measures such as dune nourishment and planting. A longer-term option may include an element of resettlement and abandonment of some coastal dwellings.
The good news is that coastal communities can start planning for the impact of increasing coastal erosion and flooding today to make their communities resilient to the coastal related impacts of climate change in the future.
Stephen Flood, Climate Adaptation Scientist
4. Is it better for the environment to keep old appliances that aren't as efficient until they die or to replace but then have to dispose of the old ones?
Very good question and each product will have a different answer! Some questions we must ask when trying to figure this out includes – how much more efficient is the new model? How much sustainable and non-sustainable material is used in the appliance? How will the old appliance be disposed of? Once you've figured these out, it makes your decision a little easier.
Jason McGuire, PhD Student in Energy Policy & Modelling
5. What can we do about energy companies and their emissions? 
In MaREI (Marine and Renewable Energy Ireland), we work with and advise energy companies through collaborative research projects. In these projects we assist them both in reducing their emissions and in identifying opportunities and strategic pathways for them to lead the way in the energy transition to a low carbon future.
The solutions we found working with gas companies included using electricity to substitute for fossil fuel use in heat (using heat pumps) and transport (using electric vehicles). A second example is our research with Gas Networks Ireland that underpinned their recent strategy to move to a net zero greenhouse gas emissions gas network by 2050 - both of these will hopefully impact on their ability to lower emissions.
Professor Brian Ó Gallachóir, director, MaREI, the SFI Research Centre for Energy, Climate and Marine
6. Do you think that with carbon taxes we will be able to reach our emission reduction goals, or do you think it will require other measures?
Carbon taxes will make up part of the solution for Ireland's greenhouse gas emissions targets. The taxes will discourage the use of fossil fuels but we must ensure Ireland's fuel poverty issue does not worsen.
So, extra fuel poverty allowance in conjunction with more incentivised retrofits and less carbon-intensive technologies should help us to achieve greenhouse gas targets without hurting the vulnerable.
Jason McGuire, PhD Student in Energy Policy & Modelling 
7. Do you think we'll reach a point in Ireland where we're able to sell electricity back to the grid? What needs to happen for that?
This has been happening in the UK for some time, so there is no reason why it should not happen here. My understanding is that the grid infrastructure is not currently in place to allow it. This is compounded by the fact that PV solar panels etc are expensive and beyond many people's reach.
What needs to happen is that the cost of installations such as solar panels needs to come down (better grant schemes, although a new grant scheme was announced some months ago, which may help) and the infrastructure needs to be in place to allow it to be fed back to the grid to allow individuals to be paid for it.
Emma Verling, senior postdoctoral researcher
8. Why do you think there is still resistance despite the overwhelming scientific evidence that we need to act now on climate change?
I think there is resistance because the issue appears so vast and insurmountable that people think small changes they make won't make a difference. I also think there has been an incorrect perception that climate change will impact other places and not Ireland, though this is starting to change.
In addition, dealing with climate change means everyone making changes in the way they live their lives and perhaps giving up conveniences that appear essential. This type of change can be difficult for people to accept, when they cannot see a tangible, short-term benefit to them. In addition, high profile 'climate change deniers' still get airtime (though this is thankfully reducing) and at times, rejecting climate change can be an anti-establishment statement.
Emma Verling, senior postdoctoral researcher
9. How do emissions from planes compare to those from cars?
Taking figures from the European Environment Agency, the emissions per passenger per kilometre for a car ranges from 42 to 55 grams of CO2 compared to 285 grams of CO2 per passenger per kilometre for a plane. It's interesting to note that traveling by train uses only 14 grams of CO2 per passenger per kilometre.
It's worth noting that the car calculation above is based on occupancy by four people. However, with occupancy often much closer to 1-2 people the car pollution figure increases to 110 g for 2 passengers or 220 g for 1 passenger. This holds for planes too. The plane emissions figure makes the assumption that there are 88 people on standard Boeing plane. If the level of passengers is higher, that figure will drop. 
Stephen Flood, climate adaptation scientist
Source: SFIDiscover/YouTube
Would you love to learn more about climate change? Science Week takes place this year on the 10-17 November and is focusing on climate action, seeking to help people understand climate change, how science and technology can help us create a positive climate future and the impact we as individuals can have on climate change. Find your local events for Science Week here.