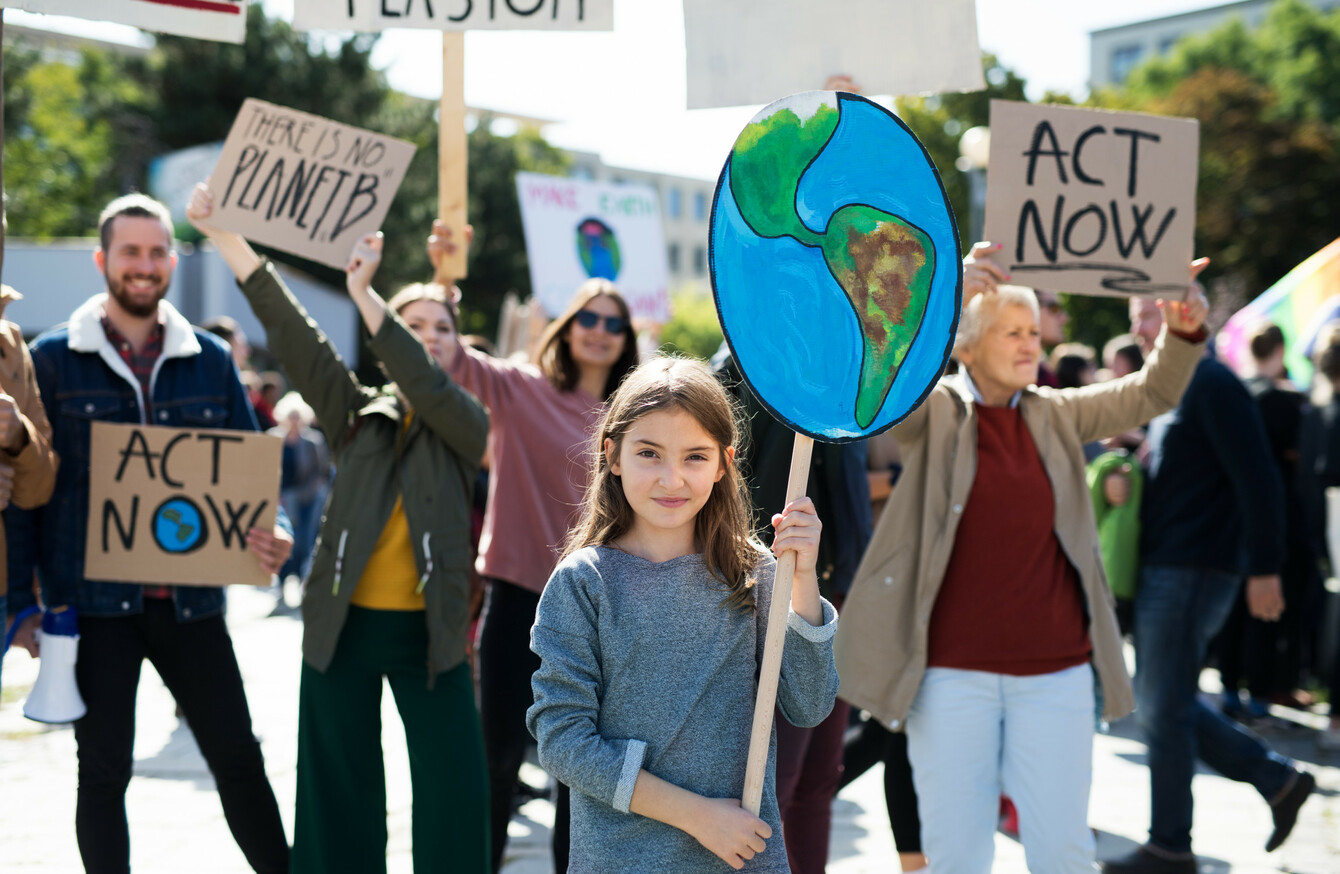 Image: Shutterstock/Halfpoint
Image: Shutterstock/Halfpoint
"IF WORKING APART, we are a force powerful enough to destabilise our planet. Surely working together, we are powerful enough to save it."
The words of veteran documentary maker David Attenborough, spoken last week at the COP26 climate summit in Glasgow, are stark and hopeful in equal measures. 
We have already seen many potentially irreversible changes to the makeup of our planet, like the accelerated melting of the Western Antarctic ice sheet, and the Gulf Stream's drastically slowing currents. 
"We're not in a good place with climate change, you don't have to switch on the TV or radio to be aware of that." says Dr Aaron Golden, a lecturer at NUI Galway. Golden was also a winner of Science Foundation Ireland's Future Innovator Prize for his research into using AI to detect the effects of climate change on food production in the developing world. 
"Everyone's aware that there is something funny going on with the weather," he says.
And here in Ireland, a bigger problem we'll soon face is a loss of land and increased flooding due to rising sea levels. A phenomenal amount of our country's population and our economic generators are in coastal areas where the sea will be rising in years to come.
While time is running out in some ways, scientists and researchers are keen to note that it is still possible to slow – or even prevent – many predicted effects of climate change. As Attenborough noted in his COP26 speech, humans are the "greatest problem solvers on Earth," and this is one of the biggest problems of our generation.
This week is Science Week, with free events and workshops running nationwide until November 14. The key focus is on Creating Our Future, a country-wide brainstorm offering you the chance to submit an idea which you believe Irish researchers could explore to help create a better future for all. From a new way to look at climate action to a new skate park for your town, your idea can touch on any topic you wish. 
In the spirit of curiosity and change, we're looking at some of the ways we as a society – and as individuals – can help to safeguard the future of our planet.
1. Start to shift your thinking
"The vast majority of people want to do the right thing when it comes to climate action, but with a problem as complex as climate change, it's hard to know where to start," says Golden.
"You look at a picture of a polar bear drifting off into the Arctic and things can start to feel hopeless." We need to shift our thinking, he says, and think about global warming as something that we to learn to work with, rather than against. Climate change is not something that can simply be reversed in one go:
"The global climate cycle has a lot of inertia and it needs to slowly spin down before you can spin it back the other way. It's going to be a part of our lives for some time and we need to learn to be resilient, and adapt our environment, in order to get through it."
Whether that means our government building better flood defences in Ireland, scientists developing crops that can withstand extreme temperatures in Ethiopia, or simply an individual rewilding their back garden to keep the bees happy, this resilience can take countless forms.
2. Become a more mindful buyer
Our society is "built around producing and consuming," says Golden, but everything we produce or purchase comes with an associated impact on the climate.
Imagine you want to replace your sofa and you order a new one online. "Think about all the bits that went into making that new sofa – the fabric, the screws, the wood – they all carry a carbon hit." Now think about how all those parts will make their way to the factory and how the completed sofa will make its way to your home, whether by plane, boat or road. Those carbon emissions are increasing at every step along the way.
Applying this lens to every purchase we're considering, and thinking about other options like buying second-hand, repairing what we have or shopping local is an easy way to reduce our own impact on the world around us. But it's not all on us, says Golden:
"The onus is on governments too, to take the lead on ensuring that people have enough information to make the right decision for themselves, and ensuring companies can make the right decisions for their supply chains." He offers one potential idea:
It would be incredibly useful if the carbon footprint of items we are buying was clearly communicated via a label, for example. Whatever it is, we need a more proactive way of trying to get people engaged.
3. Reconsider your usual routines
Even small actions can have a big collective impact, and Golden says that impact starts with taking a more conscientious approach to how we live.
We all have habits that we could afford to change a bit. It could be as simple as making some swaps to your family's diet to cut down on meat, walking to school, or making an effort to reduce the amount of plastic packaging that comes into your house.
He adds that there's no one right way to do things:
"I'm aware that making these kinds of changes can be complicated for some people. But think about what shifts in habit can work for you. If you can't walk the kids to school, is carpooling an option, for example?"
Climate change is a complex issue, and one that we're still only beginning to understand in many ways. But Golden emphasises that the more we can do together, the more impact we can have.
"Ireland is synonymous with many things: our amazing countryside, our innovative medtech. Couldn't climate action be something Ireland could get a global reputation for too?"
Curious about what the future holds? Science Week runs from November 7 – 14, and it's your chance to learn something new and celebrate the role of science in our everyday lives. And if you have an idea that you think could create a better future for us all, now's the time to share it as part of Ireland's biggest brainstorm. See the full lineup of free Science Week events and workshops at scienceweek.ie, from wildlife workshops to coding classes.