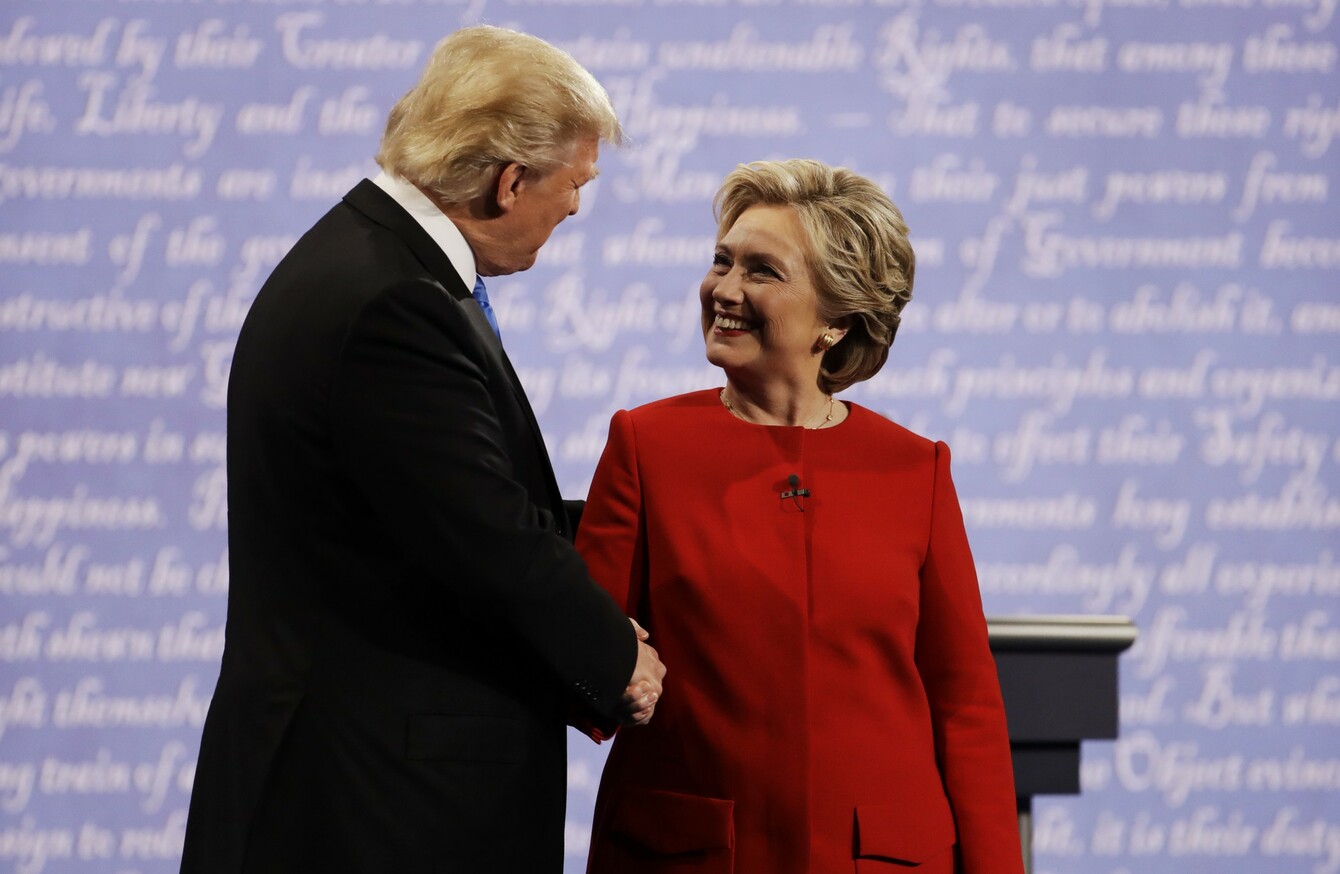 A Fox News poll that ran from Tuesday to Thursday shows Clinton pulling ahead, seeming to pick up some undecided voters.
Image: Julio Cortez
A Fox News poll that ran from Tuesday to Thursday shows Clinton pulling ahead, seeming to pick up some undecided voters.
Image: Julio Cortez
HILLARY CLINTON HAS edged ahead of presidential rival Donald Trump in a new national poll released yesterday, just days after the first televised debate.
The Democrat and former secretary of state bested her Republican rival by three percentage points in a Fox News poll, which showed her ahead 43% to 40%.
Although Clinton's lead is within the poll's three percentage point margin of error, it shows a bump for Clinton, who beat Trump by only one percentage point in the same poll two weeks ago.
Libertarian candidate Gary Johnson and Green Party candidate Jill Stein polled at eight and four percent respectively.
The results also showed that Clinton leads among women (+20 points), non-whites (+66), and voters under age 45 (+8). She gained with each of those groups since the debate.
Compared to two weeks ago, her advantage among women increased by 7 points, by 15 points among non-whites, and 8 among voters under age 45 (the candidates were tied in mid-September).
Trump is preferred among men (+17 points), whites (+21), and independents (+12). He's narrowly ahead among whites with a college degree (+4 points), and has a wide lead among whites without a degree (+35 points).
The Fox News poll found that 53% had an unfavorable opinion of Clinton, while 55% view Trump in a negative light.
The number of voters who find Trump honest and trustworthy, meanwhile, sank eight points since mid-September to 31%.
Clinton's numbers remain relatively unchanged: 35% now find her honest and trustworthy compared to 34% two weeks ago.
The Fox News poll interviewed 1,009 registered voters, and includes results among 911 likely voters. It was carried out Tuesday through Thursday.
The nationwide results come as Clinton's numbers improve in a number of critical swing states following the debate.
Florida – with its prodigious number of electoral votes – has swung back toward Clinton since Monday's political showdown, polling shows, offering her a tantalizing opening to reach the White House.
Meanwhile a Detroit News-WDIV-TV four-way matchup conducted in the battleground state of Michigan found Clinton leading Trump by seven percentage points after the debate.
The first of three, the debate was the most watched in US history with 84 million people tuning in, according to a Nielsen tally.
During the clash, the Democrat frequently forced her prickly opponent on the back foot over his relationship with Putin, his lack of experience, his racist treatment of US President Obama, and his treatment of women.
But American voters do not particularly like either candidate and many are still undecided.