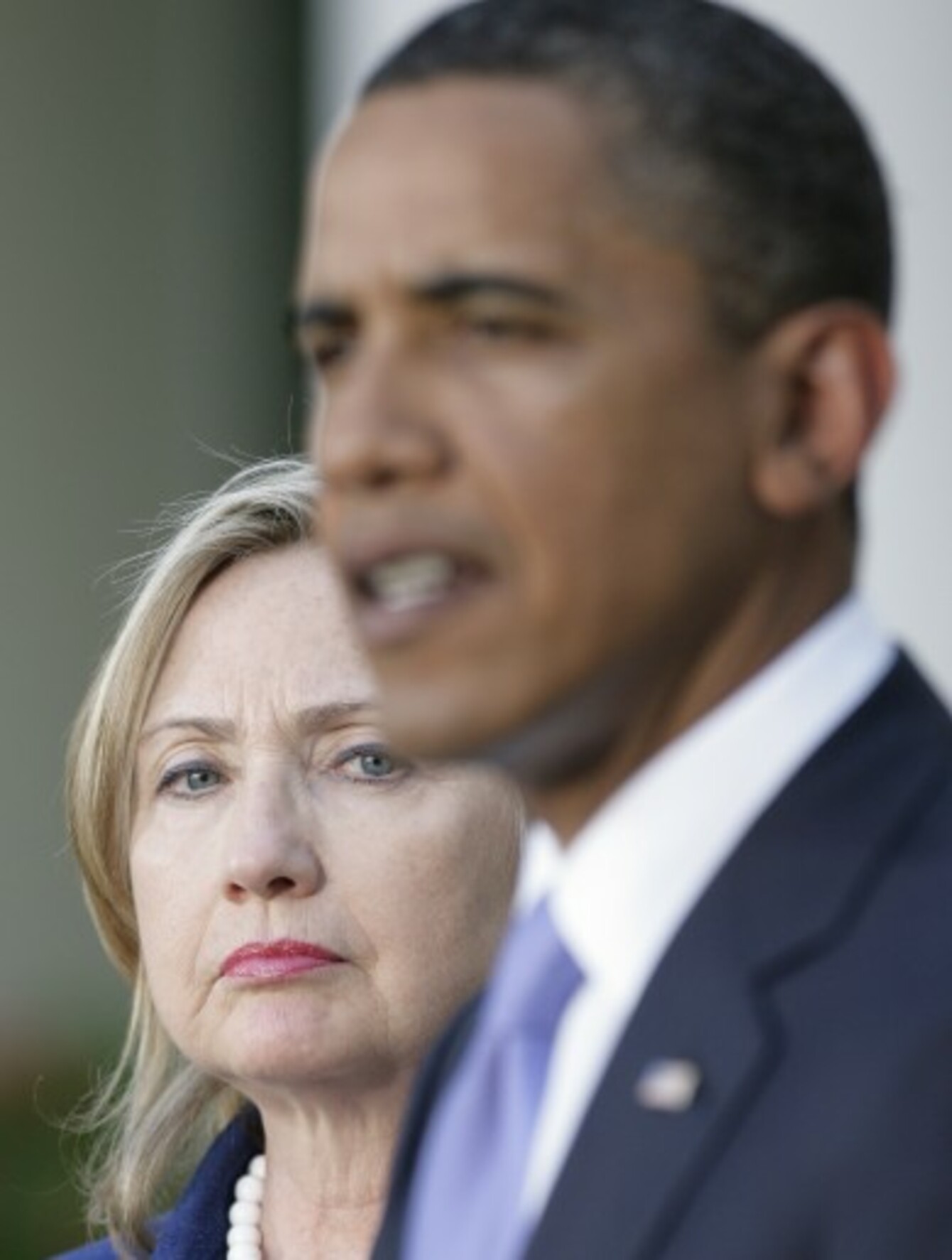 Clinton and Obama were in the most pointed conflict since 2008 this week.
Image: AP/Press Association Images
Clinton and Obama were in the most pointed conflict since 2008 this week.
Image: AP/Press Association Images
THE OFFICIAL LINE is that Hillary Clinton "doesn't know" whether she will run for the US Presidency in 2016. But for someone who hasn't decided yet, she's certainly started doing some fairly blatant political manoeuvring.
But the positioning stepped on some rather signicant toes, those of the US commander-in-chief President Barack Obama.
Hillary Clinton's interview with The Atlantic magazine last week addressed more than than just her position on the violence in Gaza, it also contained a stinging critque of Obama's foreign policy.
It even went so far as the suggest that that rise of the Islamic State is in part due to the administration's failure to arm rebels fighting in Syria which created a vacuum extremists have filled.
In June, the Obama and the White House unofficially distilled their foreign policy approach down to the simple phrase, 'Don't do stupid shit' (it's often quoted as 'Don't do stupid stuff').
Either way, Clinton took direct aim at the doctrine. "Great nations need organizing principles, and 'Don't do stupid stuff' is not an organising principle," she said.
Obama's reluctant interventionism in new conflicts that have emerged during his presidency has been one of the central tenets of his foreign policy. Its an approach that has predictably been criticised by the more hawkish elements in US politics, and now by Clinton
But why would the former Secretary of State want to criticise the foreign policy of an administration she was directly responsible for? What's more, her replacement John Kerry was strongly supported by her and her husband when he ran for the White House in 2004. Surely criticising a man you vouched for makes you look like you lack judgement?
2016
The reason seems fairly clear though. Clinton is not thinking about declaring for the Democratic nomination, she's already thinking about the election proper.
One of the problems Mitt Romney faced in 2012 is that the conservative hoops he had to jump through to secure the Republican nomination made him borderline unelectable. His image was soured among swing voters to such an extent that a moderate record was overshadowed by his public persona.
Clinton doesn't have this problem. Whether she faces a significant challenge for the nomination remains to be seen, regardless its highly unlikely to derail her candidacy.
Her and her campaign team know this and are thinking further down the line. Clinton earned significant kudos from the wider electorate for her work as Secretary of State and is surely seeking to maintain that as the siltation in the Middle-East unravels.
Obama
What's more, it's worth remembering that the Obama-Clinton battle in the 2008 Democratic primary was one so bruising that the former's selection of the latter as his main diplomat drew surprises.
At a time when Obama's approval ratings are at 43%, only marginally above Bush's at the same Presidential juncture, Clinton must feel she can make hay in reminding the wider electorate that they are not one in the same.
Reaction
#Open journalism No news is bad news Support The Journal

Your contributions will help us continue to deliver the stories that are important to you

Support us now
The Obama camp were not silent on Clinton's criticisms, briefing the New York Times that she was not as ardent a proponent of arming Syrian rebels as she hinted.
Former Obama adviser David Axelrod also responded directly with the above tweet that The Washington Post noted was a nod to Clinton's decision to vote for the war in Iraq.
"Hugging it out"
Obama and Clinton met at a party in Martha's Vinyard on Wednesday, with a White House spokesperson confirming that the Obamas and Clintons had both spent time together.
A spokesperson for Clinton had informed the press the day before that, "Like any two friends who have to deal with the public eye, she looks forward to hugging it out when they see each other tomorrow night."
Predictably, the US media were salivating in anticipation of the prospect of getting a photo of the hug but they were left disappointed when they were informed that the meeting would occur in private.
Make no mistake we've had the first true dust up of the 2016 election, who'd have thought it would have been a repeat of the battle from eight years ago.