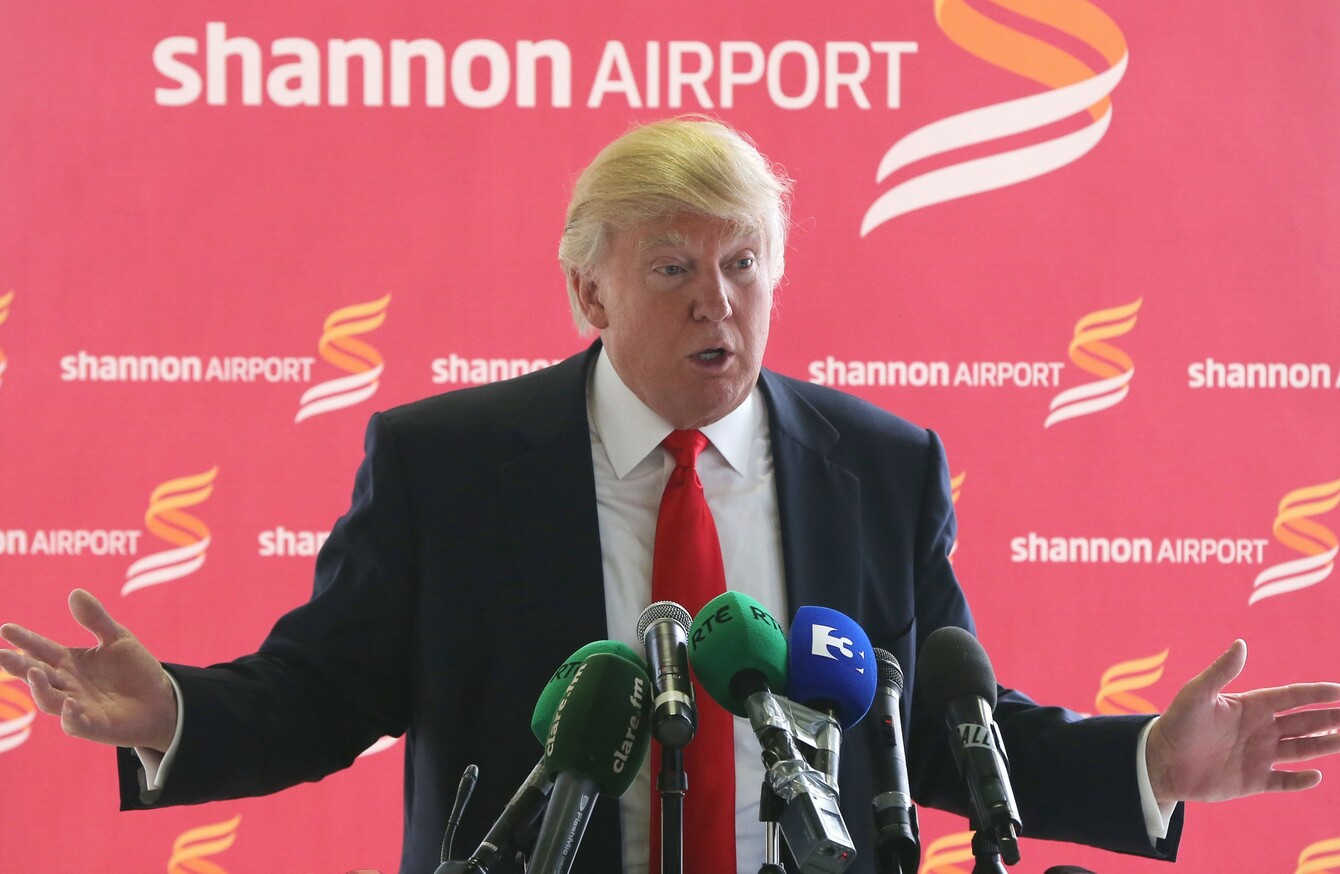 Trump at Shannon Airport in 2014.
Image: Niall Carson/PA
Trump at Shannon Airport in 2014.
Image: Niall Carson/PA
THE FIRST OF three televised debates between the two US presidential nominees took place last night – but which candidate would Ireland elect as leader of the most powerful country on earth?
Donald Trump and Hillary Clinton are virtually tied in some polls, although others have the former US First Lady leading by over five percentage points.
In a poll conducted by Claire Byrne Live/Amárach for TheJournal.ie, just 6% of the 1,000 people polled would choose Trump as US president.
This includes one in every 10 men polled, and just 3% of women polled.
The poll also has Hillary Clinton winning 78% of the Irish vote – three out of every four men polled, and 81% of women.
A sizeable proportion – 16% said they don't know, a segment split evenly enough between males (15%) and females (16%).
While the Irish at home are firmly supporting Hillary Clinton – whose husband Bill was instrumental in the Northern peace process during his presidency, clearly not all of the Irish diaspora agrees.
According to a poll run by Irish diaspora site Irish Central, 63% (2,225 voters) said Donald Trump won the first round of last night's presidential debate, while 32% said Hillary Clinton had the upper hand.
Clinton was also adjudged to have won by the markets, which rallied following her strong showing.
In a snap CNN poll of 521 voters, 62% judged that Clinton had won the debate against 27% for Trump, with most mainstream political analysts agreeing Clinton was the stronger performer.
Yet 61% of voters in a CNBC poll thought that Trump had carried the debate, indicating the polarisation at the heart of the debate.