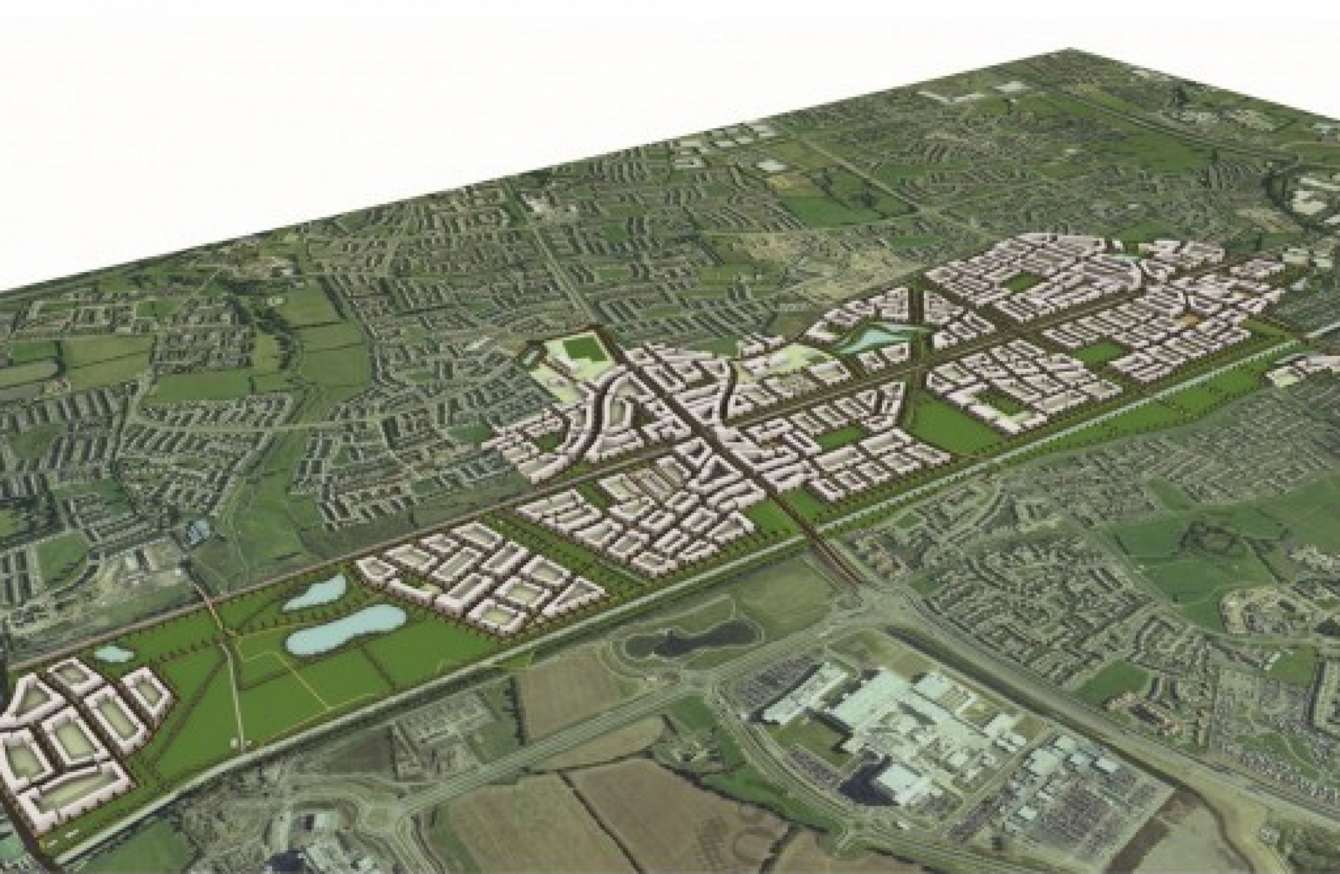 A proposed image of how Clonburris would look.
Image: South Dublin County Council
A proposed image of how Clonburris would look.
Image: South Dublin County Council
THE MAYOR OF South Dublin County Council – former TD Paul Gogarty – says that the plan for Dublin's newest town is "one of the worst ever".
The Strategic Development Zone (SDZ) will be located between Lucan, Clondalkin and Liffey Valley and will see 8,437 homes built to house 21,000 people.
The lands have been designated by the government as a Major Urban Housing Development Site and will have 90 hectares of parks, 7,300 sq/m of community space and three times that in retail floorspace.
However, a series of four marathon debates led to divisions in the council's progressive alliance. According to local paper the Dublin Gazette, over 350 motions were tabled during these debates.
Last night, during another marathon meeting, the plans were adopted with 24 votes for, nine against and two abstentions.
Sinn Féin councillor Mark Ward, who represents the Clondalkin area, proposed the plans and said he was happy to see the plans adopted.
I am pleased that we will now see at least 2700 social and affordable houses built in Conburris. In the midst of the biggest housing crisis that we have ever seen this decision is very welcome. I was aghast to see Fine Gael councillors voting against the plan in contradiction to what their Minister states is needed in social housing.
Ward said that the plans will see social housing and a "realistic transport plan".
However, Gogarty said that the proposals that were adopted "tore the SDZ to shreds".
At every turn certain councillors voted down motions to make the plan more sustainable and deliverable in terms of transport infrastructure in case it might "delay housing". Every attempt to copper-fasten more full size playing pitches beside schools was defeated, one councillor describing it as "overkill". Efforts to put in orbital bus services on the Outer Ring Road were scuppered in case they might "delay housing". We got some stuff passed still on trains, but not enough overall.
"The web being spun was that myself and other councillors were trying to "stop social housing". Incorrect and mischievous. I always argued that putting numbers into a plan that is dependent on Government policy is pointless."
Gogarty said that a similar stand by the community around the nearby Adamstown SDZ meant that things like a sports and community hall were delivered there.
"No more houses could have been built without this, which is the sort of pressure we were trying to achieve with Clonburris."
Fine Gael's Emer Higgins also voted against the plan and, like Gogarty, says she will appeal it to An Bord Pleanala.
"A Strategic Development Zone should do exactly what it says on the tin – with the housing element delivered as part of an overall strategic masterplan that also includes transport and other social amenities. A plan of this scale can only work if we have the appropriate transport infrastructure in place.
The people of Lucan and Clondalkin in particular are already wasting too much time stuck in traffic jams and we need to address these existing problems as we seek to build out the area further. This means having local road networks and traffic management plans that can handle increased traffic volumes. It also means having public transport and other public services for our existing and new communities, all of which must come on stream as new housing is built.
"The current housing shortage in Dublin is at crisis level and we need to address that. While the Clonburris SDZ needs to play its part in tackling this shortage; these lands must still be developed appropriately."
Cairn Homes, the largest landowner at the Clonburris Strategic Development Zone (SDZ), says it will be in a position to start building there next year.