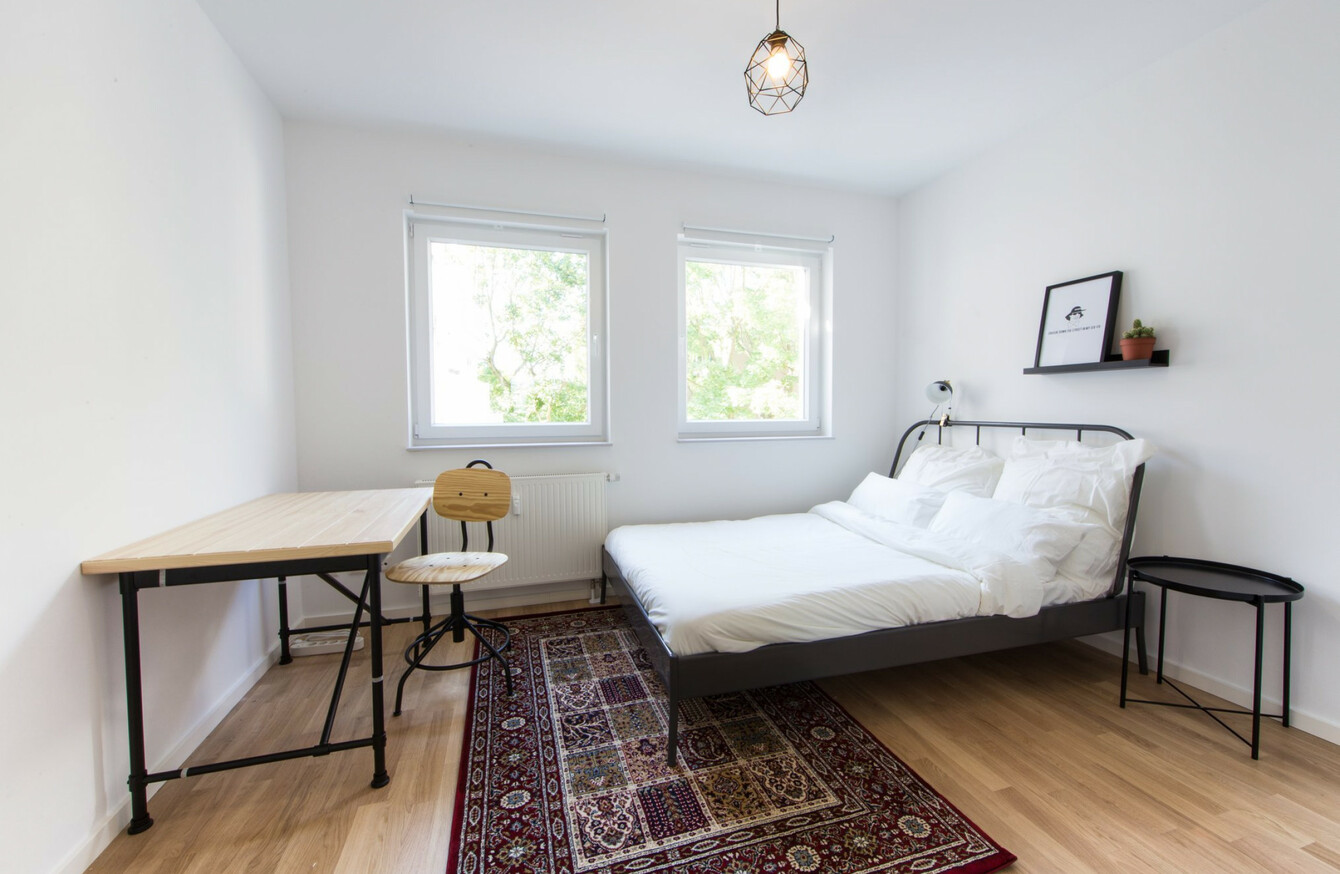 Image: Projects via FAcebook
Image: Projects via FAcebook
THIS WEEK THE Housing Minister came under fire after comments he made in relation to the development of co-living complexes in Ireland.
On Monday, Eoghan Murphy said these blocks, which offer residents a small bedroom and shower room of their own, and a large kitchen shared with the entire floor, offer an "exciting" choice to young workers.
He also said some younger people would welcome the idea of paying less rent for less space.
Plans have been submitted for the first of these co-living buildings that were made permissible under new design standard guidelines introduced in March last year.
The Bartra Capital Property Group has applied to An Bord Pleanála for permission to build a five-floor building on Eblana Avenue in Dun Laoghaire. The plan was initially rejected by the council.
If approved the plans would see the demolition of all existing buildings on the 2,629 square metre site and the construction of a 6,501 square metre building with 208 "single occupancy bedspaces".
Bartra Capital Property's CEO Mike Flannery told TheJournal.ie this week that the rooms in the development will be rented out for around €1,300 a month. This figure will cover cleaning fees, Wifi and access to facilities like a gym and a cinema.
TheJournal.ie asked the Department of Housing on Tuesday to clarify the minister's comments that these developments would offer "less space for less rent".
A spokesperson said:
"Co-living developments will offer a new option at a lower rent than more conventional one-bedroom apartments in similar locations.
"These niche projects are about expanding choice for a particular demographic in the rental market – they are not envisaged as an alternative or replacement to the more conventional apartment developments."
"The concept of shared, or co-living, is working successfully in many cities around the world including London, Berlin and New York."
Let's look at some of these models in other countries. 
In London, The Collective's Old Oak development has 550 beds and rent is £1,083 with the majority of bedrooms at 10 square metres in size. This video shows some of the shared spaces available at the Old Oak building – and a very brief peek inside one of the bedrooms. 
Source: The Collective/YouTube
Projects in Berlin has four buildings in different neighbourhoods and prices start at €700 per month.
These developments are still split into two or three person apartments with shared kitchens and bathrooms, like a regular flat-share. There are also studios for people who want more privacy and these apartments come with their own kitchen and bathroom.
Also in Berlin, Quarters offers 90 rooms in 24 shared apartments that have up to five bedrooms. So this model differs from the proposed plans for Dublin. 
Source: QUARTERS Co-Living/YouTube
A Landing Pad (ALP) in Barcelona has private rooms for €800 a month and mini-apartments for €1,400 a month. However this space is more for tech workers who are looking for a long-stay in the city than a more permanent residence.
In Stockholm's K9, rent ranges from $650 for a bunk in a six bed room to about $1,600 for the most expensive room. The New York Times reported this was steep compared with the official controlled rent of the city and roughly on par with the more expensive sublets.
'Traditional house shares'
Although the department's clarification of the minister's comments to TheJournal.ie made a comparison between these rooms and a one-bed apartment (in which a person would have their own living space and kitchen), when the minister himself later addressed his comments, he compared them to house shares.
He said "16 m/sq [the size of rooms in the Bartra plans] is larger than rooms in traditional house shares".
Real estate services firm CBRE said there there is no data available on the average size of house shares and listings tend not to include square footage of rooms when they are advertised.
However a search of house and apartment shares on Daft.ie across Dublin presented more than 250 large bedrooms with rent of more than €900 a month [in the price range of co-living rooms].
This ensuite double bedroom in Dún Laoghaire is available in an apartment shared with one other tenant for €1,150 a month.
There is also this room for €1,150 a month in a two-bed in Portobello, this room in a three-bed in Stillorgan for €1,000 a month, this room in a two-bed in Blackrock for €1,200, this room in a two-bed in Dún Laoghaire for €1,100 and this room in a Ballsbridge apartment shared with two other tenants for €900 a month.
All of these bedrooms are ensuite.
'An average salary'
Bartra's Mike Flannery said the development proposed for Dún Laoghaire was not designed to be a response to growing homeless figures and insisted misinformation about the project was being circulated by politicians.
"There is also a very big accommodation issue for young, single people who are working on an average kind of salary or thereabouts and who are not couples."
Flannery said Bartra had carried out market research which concluded that this development would be aimed towards newly qualified nurses or teachers, and other qualified workers in Dublin between the ages of 20 and 34 years old.
A registered staff nurse has a starting salary of €29, 346.
"I'm not for one second saying that this is to everybody's taste… neither is a three-bed semi to everybody's taste, and this is what's forgotten in the discourse," he said.
"I know in certain areas nurses are travelling long distances after long shifts for affordable accommodation.
"We can provide them with accommodation close to their place of work and for an all-in single bill per month, this will form part of what's comfortable for them, as a proportion of their income – 40% or thereabouts is what people are comfortable at."
Bartra has three other co-living developments in the works at locations across Dublin with a vision to move into other cities around Ireland including Cork and Galway.
"For those who want a house share for cheaper rent and are saving for different reasons, or are just more thrifty, or just don't want to interact with as many people as that, they're never going to come to our building. That is fine," Flannery said.
"They need to be taken care of by a different part of the accommodation market. "