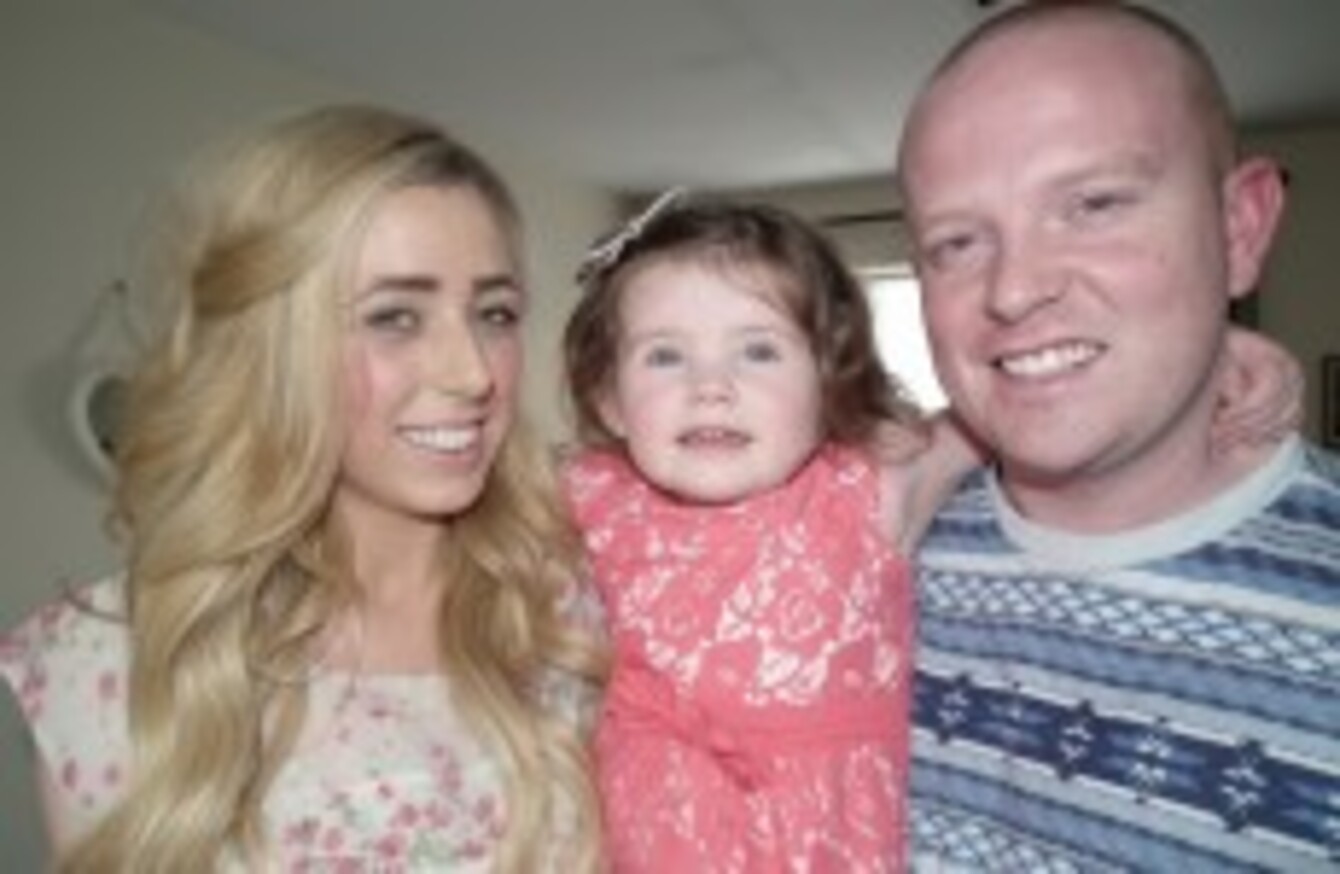 Eliie (centre) with mum Danielle and dad John
Image: Danielle Ryan
Eliie (centre) with mum Danielle and dad John
Image: Danielle Ryan
A MUM AND dad are repaying the hard work Beaumont Hospital did for their young daughter by fundraising thousands of euro for its cochlear implant programme.
Three-and-a-half year old Ellie Sweeney, from Dublin, was diagnosed two years ago with hearing loss, and her journey since then has inspired her family to fundraise for the hospital that helped her hear.
Her mother, Danielle Ryan, and dad John Sweeney have drafted their family and friends on board and so far managed to raise an impressive €17,000 for the cochlear unit at Beaumont Hospital.
Diagnosis
Speaking to TheJournal.ie, Danielle said that Ellie was diagnosed with hearing issues at around 18 months old.
Ellie was born with her hearing and developed a certain amount of speech, but by the age of a year and a half she had begun to experience problems with her ears.
"She did really well at disguising it," said her mum. As Ellie was so young, it took time to get a full diagnosis. However, doctors soon found out that she had severe hearing loss, and she was referred to Beaumont Hospital.
Ellie. Pic: Danielle Ryan
She was fitted with hearing aids, and her progress surpassed expectations: "She did a lot better than anyone thought she would". However, her hearing levels dropped again, and the hearing aids were soon no longer of use.
"You're given a lifeline and it's taken away again," said Danielle of that time.
Cochlear implants
Ellie was then accepted for a cochlear implant, and was fitted with it in Beaumont Hospital at the end of 2012. "It was huge – because she had hearing before, it was like we were starting where we left off," remembered Danielle.
Ellie went from having a few single words to being able to speak in 10-word sentences. It was like having "a different child", said her mum.
It was hard for her parents to realise that Ellie had been gradually experiencing her hearing disappearing without them realising, but the fitting of a cochlear implant showed that things were looking up.

(drdanielleryandr/YouTube)
Happy New Ear
The family have been really involved in the Happy New Ear campaign, which is aimed at getting children fitted with bilateral (two) cochlear implants instead of one. Currently, one is the standard, but in other countries two implants are standard.
In noisy or busy situations, having one implant can be "dangerous" as Ellie cannot hear her parents properly, said Danielle.
The Happy New Ear members have met with the Health Minister, and a report on cochlear implants is expected in October.
When we look at other countries… it's a given over there. We couldn't understand why our children weren't even being given this as an option.
"We shouldn't have to fight for it," said Danielle. "It should be their right."
Giving back
Seeing what Beaumont did for Ellie inspired Danielle and John to fundraise. "We kind of felt like after we saw the change in Ellie that we had to do something to give back," said Danielle. "The cochlear unit is so underfunded and understaffed compared to the British ones they are all affiliated with. We have to do something – look what they've done for us. It's like a second family in there."
The ENT surgeon, Laura Viani, even calls the children 'her own kids' rather than her patients, said Danielle.
They have been helped in their fundraising by lots of friends and family. Danielle's brother raised money by running the Dublin Marathon, while others took part in Hell and Back, and attended a recent fundraising night.
To date they have raised €14,000 and already gave €3,000 to the hospital a couple of months ago.
The aim is to "keep pushing" and continue to raise money for Beaumont.
Danielle said that the support they have received is "amazing", and she and John can't believe how generous people are with their time and money.
"Everyone is supposed to be so broke – but they are digging deep still," she said.
Ellie is chatty and very sociable, said her proud mum. "She has no problem with her confidence," she laughed. "She's able to explain what she wants and is extremely determined."
To find out more about the Happy New Ear campaign, visit its Facebook site.