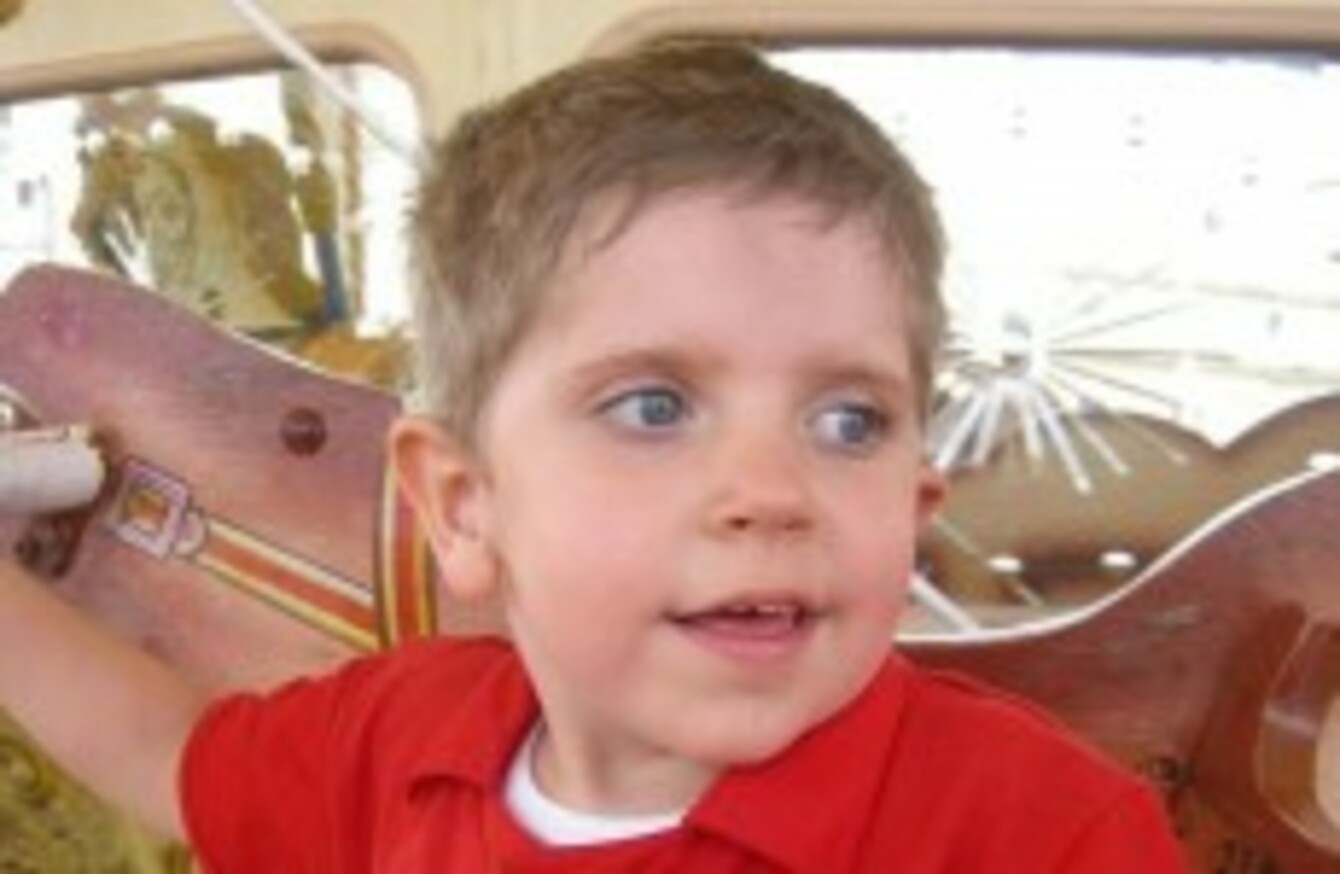 Billy Cairns
Image: Deanna Cairns
Billy Cairns
Image: Deanna Cairns
AFTER YEARS OF waiting, and months of campaigning by his mother, Billy Cairns finally has a second cochlear implant.
It's an implant behind his ear that will help him hear, and comes after a long time on the waiting list for the second operation. Up until this year, Irish children in need of cochlear implants were only fitted with one as standard.
Having the second operations taking place in Ireland means that parents won't have go to England for the operations, which would have meant a huge expense for them.
Happy New Ear
The situation changed after campaigning by the Happy New Ear group, of which Billy's mum, Deanna Cairns, is a member.
The parents behind Happy New Ear led a sustained campaign for bilateral (two) cochlear implants to be offered to children as standard.
In December of last year,the parents were delighted when the HSE announced that it had allocated €3.2 million for bicochlear implants in its 2014 service plan.
Tony O'Brien, Director General of the HSE, said that around 100 children will benefit from the funding, with 50 sequential and 50 simultaneous cochlear implants to be fitted in 2014.
Billy's story
Billy is one of those children who has been able to get a sequential implant.
"We were very lucky," said Deanna this week.
We were one of the first to get it from the backlog.
Billy had experienced issues with his existing implant, making it even more important for him to get a second implant.
"The operation went well so he's all sorted now," said his delighted mother. "We're just waiting on it to be switched on – I imagine it could be mid-October."
The hospital needs to wait for four to six weeks after the operation for the swelling to go down before the implant can be switched on.
Billy will be starting school soon, so this is all happening at an exciting time for him.
"With the last implant not doing so much for him he's kind of behind on that," said Deanna. "He knows it's there – he points to his one and then points to the other."
Surgeries begin
The parents and members of Happy New Ear are "delighted" that the operations have begun, said Deanna. "There seems to be people getting appointments. They really are ploughing on."
The surgeries for children began in July, with a backlog of children needing a second implant that had to be tackled.
It's something that should have been done years ago. It's mad that they didn't do it from the start.
Deanna said the Happy New Ear parents are incredibly thankfully to everyone who has supported them, such as friends, family, and members of the Dáil.
She also thanked the surgeons, Peter Walsh and Laura Viani, for their hard work. "We all owe them big time," she said.
Advice for campaigners
"All it took was a group of parents to campaign," said Deanna.
What advice would she give to people involved in campaigns?
You just need to go in and be strong. Don't go in all guns blazing because they won't listen.
We weren't aggressive, we just wanted what we thought was right. I think that's why we got so far.
"We can always say it changed history," said Cairns of the campaign. "It was a strong team that we had. We all did it for the one thing – the kids."