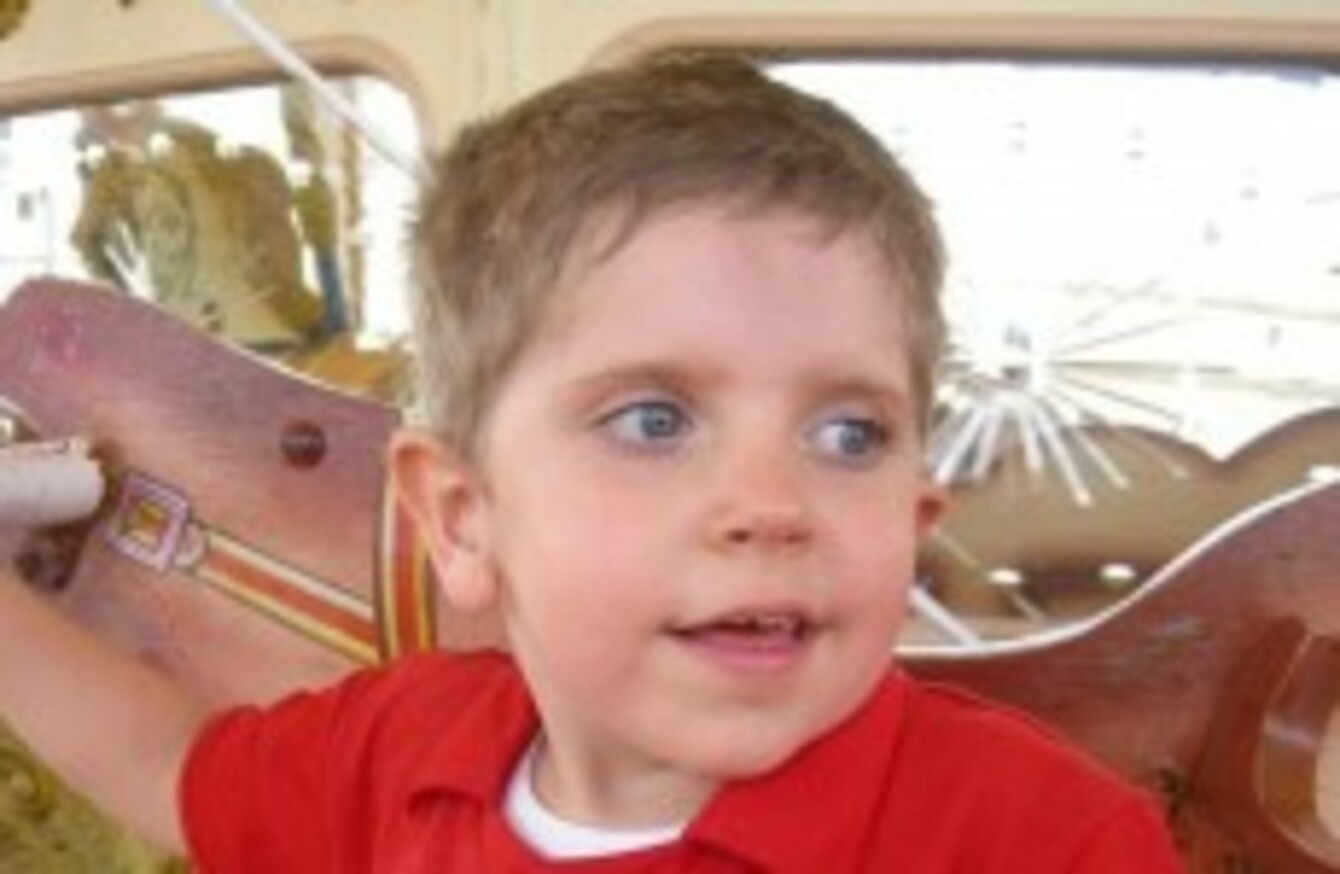 Billy Cairns
Image: Deanna Cairns
Billy Cairns
Image: Deanna Cairns
A GROUP OF parents is to hold a silent protest outside the Dáil this morning over the lack of funding in the Budget for cochlear implants for children.
The group, Happy New Ear, is campaigning for bilateral (two) implants to be given to children as standard. Currently, children who are suitable for cochlear implants are fitted with one implant as standard.
They said:
we cannot afford to let this roll for another year. The stark facts are that since we started this campaign some children have become ineligible for their second implant.
Implants
Happy New Ear had been hoping for news that Beaumont Hospital would be allocated money in Budget 2014 for cochlear implant facilities, and said it was disappointed this had not taken place.
Deanna Cairns, whose son Billy has one cochlear implant, told TheJournal.ie that the parents felt "down" when they realised that the hospital was not being allocated money.
However, as Health Minister James Reilly still has a number of weeks to firm up the health allocations, and tomorrow Sinn Féin are putting a private members motion forward on the issue of cochlear implants, the parents have decided to hold the silent protest as part of their appeal for funding.
They have been invited to attend the private members' hearing tomorrow at 12pm in Leinster House.
We hope Minister Reilly will announce that he has included us in his budget for 2014 and let us get on with living our lives and caring for our children.
Cairns said that the longer they have to wait for funding, the more children will be fitted with one implant and put onto a waiting list for second. Currently there is a large backlog of children waiting for the second implant.
She said that giving funding to Beaumont Hospital, even if it is a large lump sum, will be "cheaper in the long run as kids aren't going to need special needs assistants, speech and language therapists… in the long run it is going to save the Government money".
"We just have to keep positive and keep pushing," said Cairns. "We need to know because of the backlog. Things need to be put into place if this goes ahead."
Her own son Billy is going to be at five at Christmas, getting nearer to the cut-off age of seven. "He has one implant. It's working great – he has about 16 words since April and he's loving music now." After a failed implant had to be replaced, this new implant "has made a huge difference".
The Happy New Ear campaign will hold the one minute silence outside Leinster House today at 10.45am "for the children whose cochlear implants have failed and have been left in silence because of current Government policy of only providing one implant".