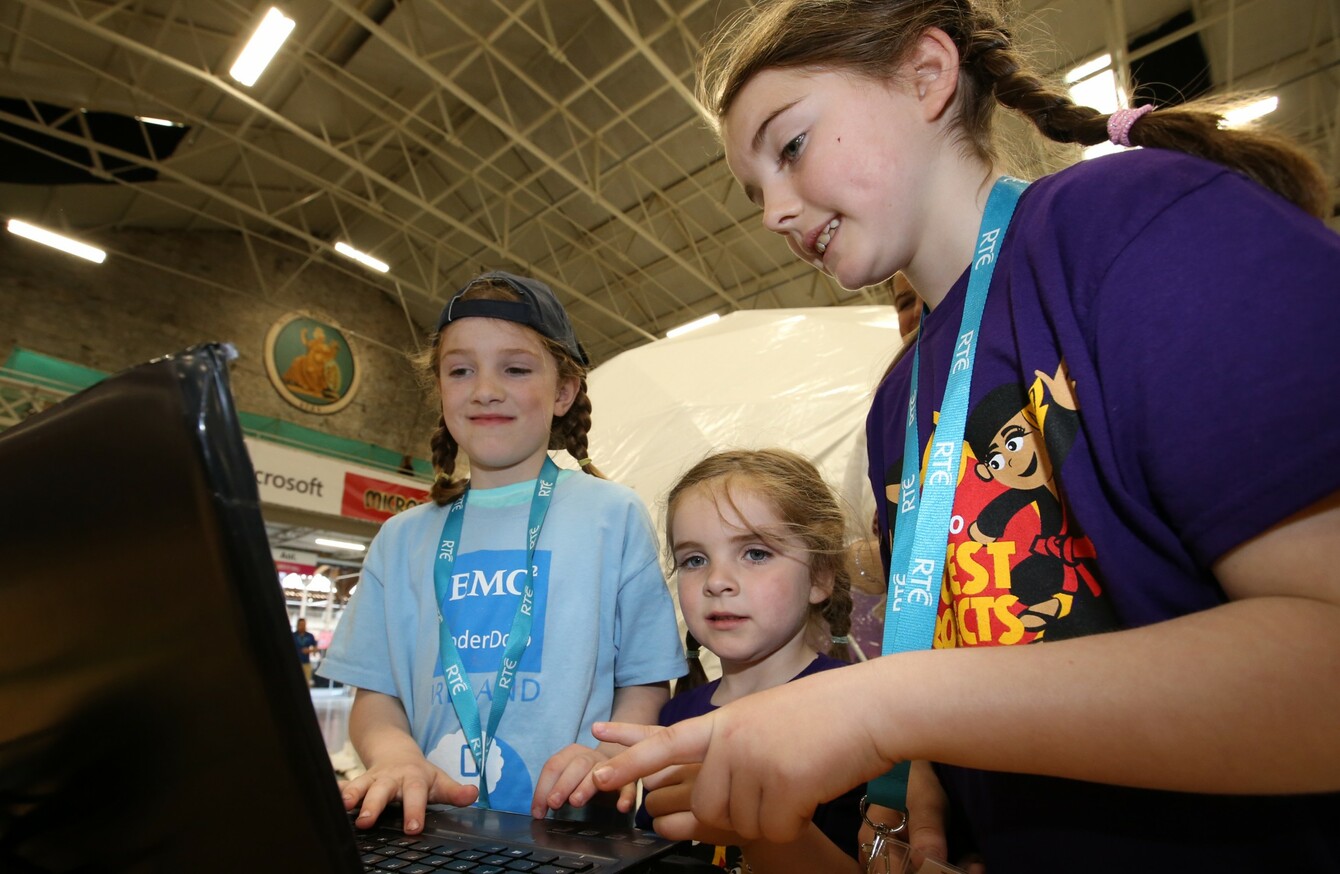 Image: Sam Boal/RollingNews.ie
Image: Sam Boal/RollingNews.ie
IT'S HARD TO deny the influence Coderdojo has had on encouraging Irish kids to learn coding.
The non-profit organisation has played a major role in bringing such skills to kids and teens, not only in creating an accessible way to learn it but also creating a wider community around it.
While there are plans to introduce programming and computer science to primary and secondary schools, the clubs have helped introduced thousands of kids to programming languages.
All of it started five years ago when the first CoderDojo class was set up, founded by James Whelton and Bill Liao in Cork. After setting up a lunchtime club in his school and realising he wouldn't be able to continue it as he finished his Leaving Cert, Whelton looked for other ways to continue it.
It was when he approached Liao, an investor based in Cork, that things got moving. Liao realised it could help address two things: give kids in underprivileged areas the chance to learn how to code and help fill a talent gap for programmers.
"Most companies who come to me and don't get it [funding] have a CEO or COO and say they're going to outsource their coding. It's like starting a gourmet restaurant and outsourcing your main dishes to McDonalds to produce," said Liao.
After convincing the National Software Centre to let them use one of their rooms for free, they held their first class and realised they were onto something.
The main thing was ensuring it was free so that anyone could join and access it. While that is one factor to its success, the inspiration it took from the world of martial arts also played a role, extending beyond just using the term dojo.
"I came up with the name CoderDojo as I believe in martial arts as a kind of cool way to learn things for free or at a low cost," explained Liao. "It wouldn't have worked if it was called Saturday Morning Programming Club for Kids".
At a dojo, once you reach a basic level of proficiency, the expectation of you as a student is to mentor other students and eventually become a master. The best dojos, the ones that are most sustainable, are the ones where the mentors have learnt at the dojo.
That format lends itself to a situation where students can become mentors, usually older kids helping out younger or newer members with languages like Scratch –  a programming language designed around making games and animations – before moving onto more complex languages.
Having that format is something Timothy McGrath, a fourteen-year-old from Killorglin in Co. Kerry, enjoys about it.
Having been involved with his local club, both as a student and mentor since it started up four years ago, it's allowed him to start other projects like setting up a coding competition in Kerry with two of his classmates and create a headset called Pi-Vision, which helps blind people find their way around.
Part of his knowledge comes from helping other kids learn how to code, something that has helped reinforce the knowledge he has.
"It's great as you're learning as you're teaching so let's say something that you haven't done in ages like Scratch, and somebody beside you is stuck on it, you're revisiting that and then learning again and reminding yourself [of the topic].
It's brilliant that it's free, some people wouldn't have the money if you had to pay and also, it's a big community all over the world, making contacts is easy.
Challenges
Part of the strength of CoderDojo is how it can be set up almost anywhere, provided you have computers and a working internet connection. For those in rural areas where a fast internet connection is rare, setting one up and running it is a greater challenge.
This was a challenge Iseult Mangan faced when setting up a club in Cloghans Hill National School in Galway. Based in a small rural area, the club faced the problem of limited internet access and limited access to laptops and computers when it first started up. Also, not having a background in coding meant she had to learn it from scratch.
However, the effort was more than worth it when she sees how much of an impact it has on kids.
You're opening doors for them. It's funny, I'm a teacher and I'm used to teaching kids things but… letting them explore it themselves, you're facilitating a lot of it. You're showing them things but you're letting them search, engage and ask questions as well.
Another person who runs her own CoderDojo, also from Galway, is Éilis Treacy, a principal in Eyrecourt. It was originally set up three years ago as the nearest one in Birr was full so it made more sense to found one there.
"It's been huge really… it's really helped kids like that discover they have those talents and expand on it," she said.
It's a lovely environment where the kids, who mightn't be seen as the coolest, excel at this and they always have something they can work on at home. It's a talent they can show off to other kids… it's so up to date and current and kids are into it.
In the first year, the club didn't have internet access either, but that experience and running it helped Treacy with another different project: setting up the first ever club in Tanzania in August.
Speaking to those involved in running these clubs, a general theme began to emerge. Making it free is extremely important and the optional element means everyone participating is there by choice instead of obligation. The result is an enthusiasm shared by kids and adults, creating an environment that makes it easier to learn and grow.
That's not to say there weren't problems during its five years. Being a non-profit meant raising funds was always a concern – helped out by partnerships with tech startups and companies – but others like getting more girls involved was an initial challenge.
"One of the mistakes we initially made and found a cure for was for the first two years, it was only boys," explained Liao. We intended for it to be girls and boys but intention alone wasn't enough, we had to do a lot of work to figure out how to get girls to come and code and enjoy it".
It turned out it was pretty simple: we just put the girls in charge. That's not the first thing you think of when you think about learning coding.
And inclusion is at the heart of it. Any child can walk in and start learning and any parent can come along and get involved, even if they don't know the first thing about programming. A level playing field opens up many opportunities and it's those stories that Liao says makes this organisation worth it.
"The stories we get of inclusion are the ones I love the most," says Liao. "Whether it's the young traveller who won Coolest Projects (a competition ran by CoderDojo) or the note we got from a kid in a wheelchair saying the thing he loved most about CoderDojo is his chair is invisible".
The ones that make me cry are the ones that I'm proud of.