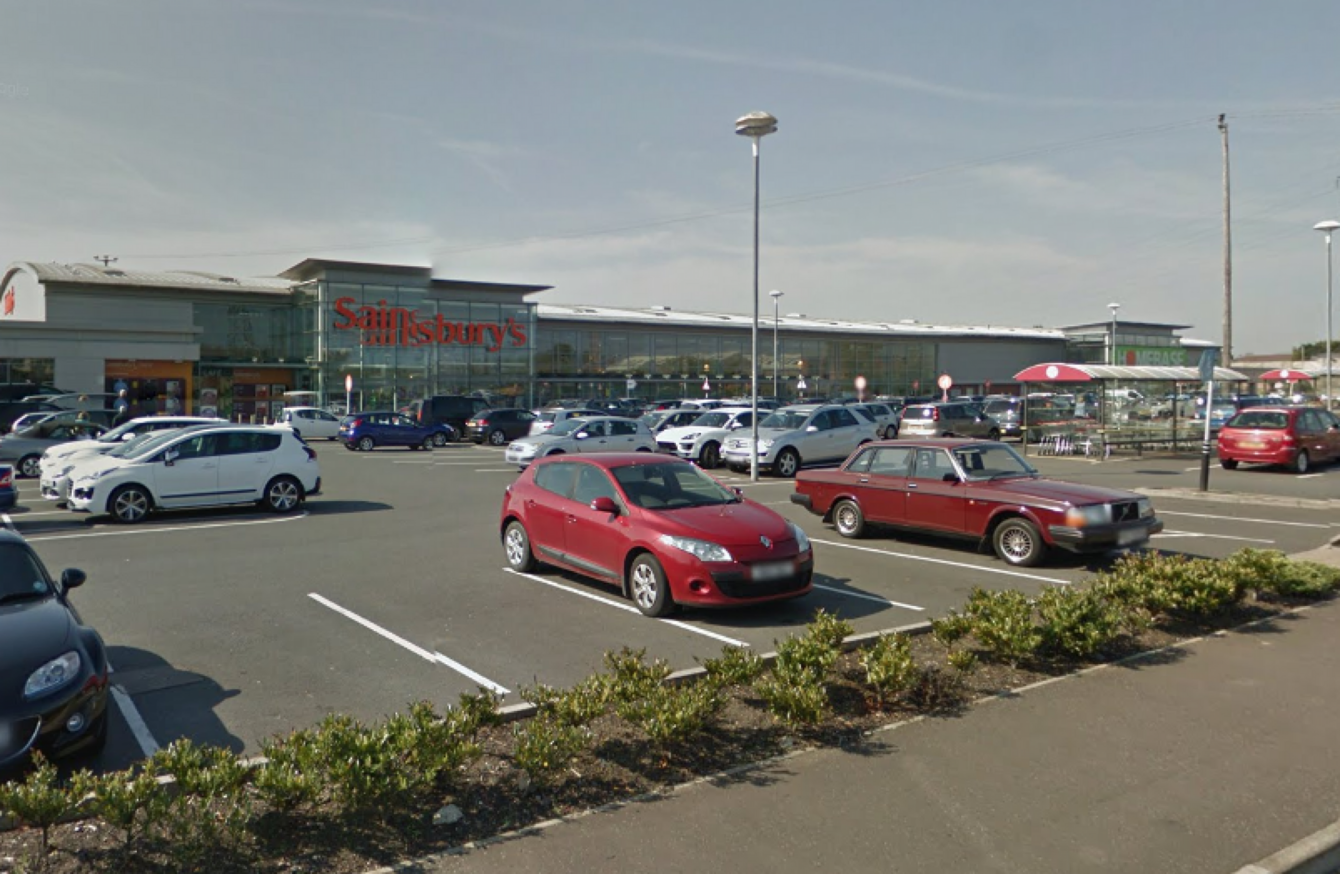 Sainsbury's car park was packed when the murder took place.
Image: Google Maps
Sainsbury's car park was packed when the murder took place.
Image: Google Maps
POLICE IN CO. Down have labelled the shooting dead of a man in front of his son in a supermarket car park as "cold-blooded murder".
The shooting happened yesterday afternoon outside the Sainsbury's store in Bangor with the PSNI now confirming that the 35-year-old victim's son witnessed the murder.
"This cold blooded murder was carried out in broad daylight in front of families who were out enjoying this Bank Holiday weekend," Superintendent Brian Kee said last night.
"The recklessness of this murder is all too evident. It is beyond belief that the gunman shot the victim when he was out with his son."
This young boy witnessed everything and he will undoubtedly carry that memory for the rest of his life. We are very lucky that we are not also dealing with the death of this child today.
Witnesses say the area was packed at the time of the shooting with four to six shots reportedly heard by those near the scene.
Ulster Unionist MLA Alan Chambers told RTÉ's Morning Ireland that he arrived on the scene about 10 minutes after the shooting and that paramedics were working on the victim for at least 45 minutes but could not save his life.
"I saw the victim lying on the ground beside his car and the front door was lying wide open. Six paramedics working on the victim," he added.
Investigation
The murdered victim has been named locally as Colin Horner with The Belfast Telegraph reporting that he was a well-known loyalist and friend of South East Antrim UDA boss Geordie Gilmore, who was also murdered in March.
The PSNI says that it will be seeking to take statements from the many witnesses who were at the scene and are urging them to contact police.
Superintendent Kee adds that the force will be maintaining a visible presence in the Bangor area following the shooting.
"The murder investigation is being taken forward by detectives and will be progressed over the coming days and weeks. At the centre of all of this we have a grieving family and local residents coming to terms with a brutal shooting in the heart of their community," he said.
Local police, who will be supported by specialist colleagues, will continue to maintain a presence in the area to provide reassurance to residents.
The murder has been condemned by politicians from all parties with DUP MLA Alex Easton describing it as "sheer madness".
"This shooting is totally wrong. I condemn it in the fullest terms," he said.
This act took place in broad daylight when members of the public were shopping. Such an action is nothing short of sheer madness. The people behind this act had no regard for life.