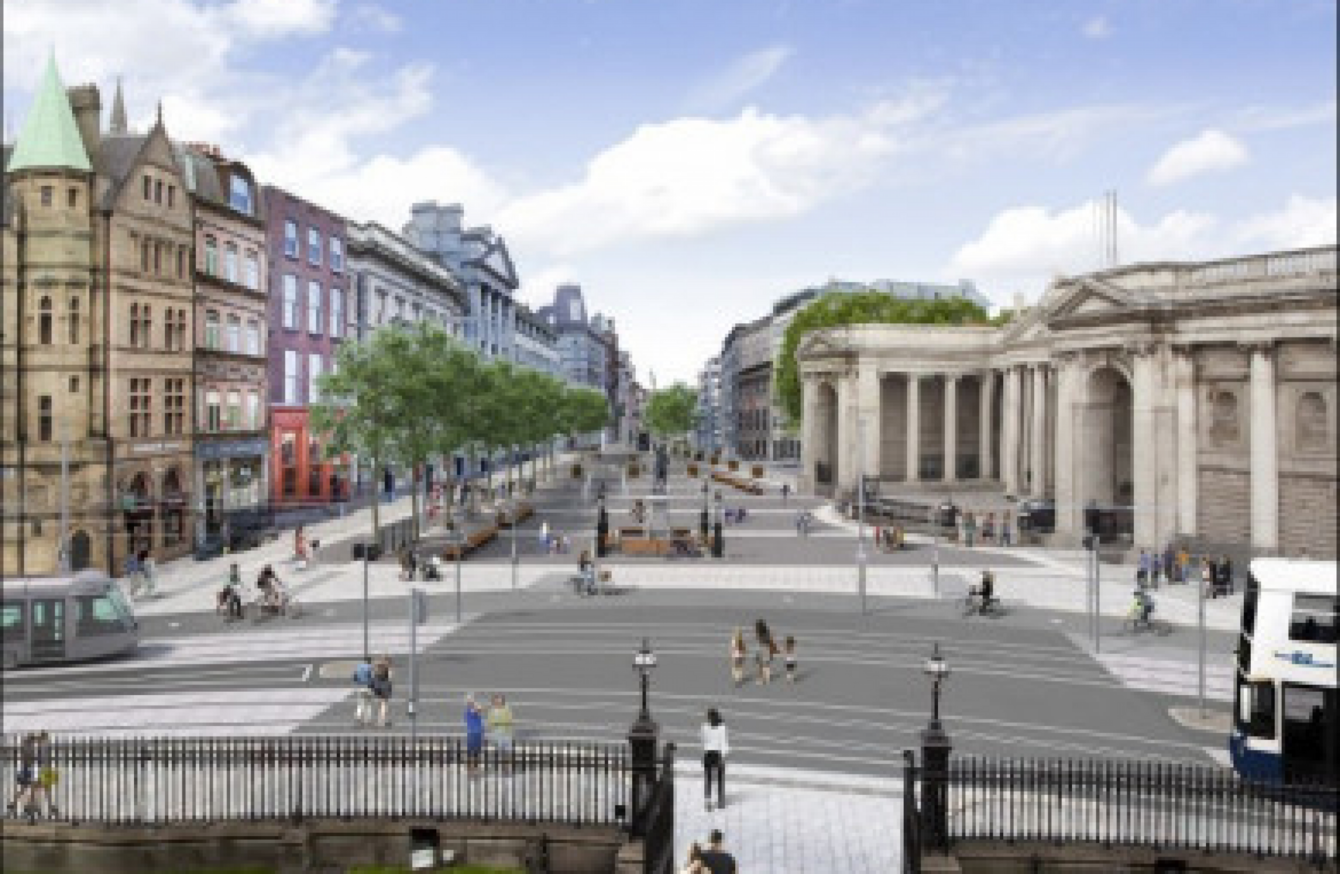 How the plaza will look.
How the plaza will look.
A HEARING ON Dublin City Council's traffic restrictions at College Green for today will not go ahead – but Dublin City Council may announce plans within weeks.
The public meeting was planned for today to discuss Dublin City Council's plans for the pedestrian-prioritised €10 million plaza at College Green. The plaza would see all traffic banned from the Dame Street and College Green area in an east-west direction.
This will allow the Luas Cross-City travel more freely and allow pedestrians walk from Stephen's Green to O'Connell Bridge with minimum fuss.
However, An Bord Pleánala notified relative parties last week that the meeting would not go ahead.
The postponement relates to a mistake in a newspaper ad for a public consultation on the plan.
A newspaper notice was issued in November specifying the commencement of a 21-day public consultation period.
However, it came to An Bord Pleanála's attention that this information was incorrect and that requirements outline that the consultation period must be 30 days.
Speaking at last night's Dublin City Council meeting, council CEO Owen Keegan said that the ad was placed with advice from An Bord Pleanala "in good faith".
Gridlock
However, Keegan said that a decision needed to be made due to the presence of the Luas.
"The Luas has been in operation since mid-December and superficially appears to be working, it is only working because of a reduction in pedestrian priority in the core city centre.
"It has been council policy for a decade to have higher pedestrian priority. It will take you twice as long to cross at Grafton Street and we don't think that's acceptable."
Keegan pointed out that the Luas frequency and planned longer trams means that doing nothing was not an option. He said that while he would meet with stakeholders such as taxi drivers, he was committed to increased pedestrian priority.
He said such a plan could come in three to four weeks.
"If we do nothing, the city will grind to a halt. We're not trying to undermine the planning process."
An emergency motion from independent councillor Nial Ring that called on DCC to wait for the An Bord Pleanala hearing was defeated by 41 votes to 13 votes.
Ring had said:
"Any attempt by the chief Executive to circumvent the process, will, in my view, undermine public confidence in the planning process and, by extension in the city council, its officials and us members. I believe it is in the best interest of all parties, including those who support and oppose the College Green Plaza, that we call on the Chief Executive to refrain from using his executive legal powers to implement his plans for College Green.
"Democracy, public confidence in our planning process and the hard earned and deserved reputation of An Bord Pleanála will all be best served if the Chief Executive allows the planning process take its due course"
Another motion from Green Party councillor Ciaran Cuffe which called on the council to "manage city centre traffic in the interim in a manner that safely supports the transport needs of residents, workers, retailers and visitors to the city in a sustainable manner" was passed by 47 votes to 5.
Cycle path and pedestrians
Cyclists, meanwhile, want to ensure that the plaza has a defined cycle track.
Cian Ginty, editor of IrishCycle.com, said that without a defined path, pedestrian safety would be an issue.
"If you don't have a defined cycle path, you will cause confusion. It will cause confusion particularly for pedestrians with sight problems.
"It's about the realities of College Green. This is the council not designing for cycling but thinking they are. The cycle path has to be well-defined. This will be a very busy area.
"In Amsterdam, two-way paths are more well-defined than normal in tourist areas."
Writing on this site, Fine Gael councillor Paddy Smyth said the plaza plan would "create a pedestrian friendly spine though the city centre".