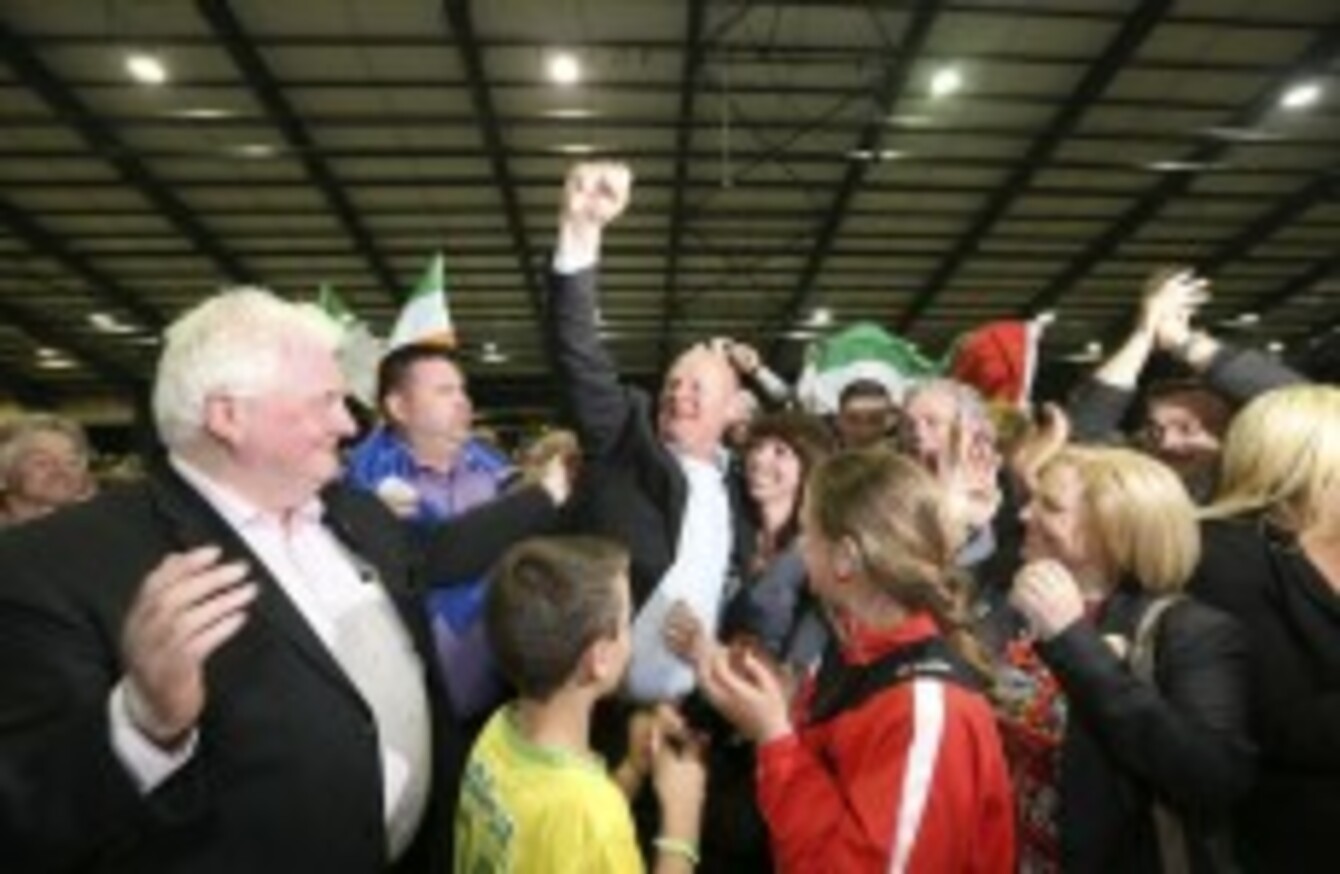 Sinn Féin's Daithí Doolan celebrates his election.
Image: Sam Boal/Photocall Ireland
Sinn Féin's Daithí Doolan celebrates his election.
Image: Sam Boal/Photocall Ireland
IT BECAME EASIER and easier yesterday to work out who in the RDS was with what party.
The body language became reminiscent of an evolution chart, the bodies of the respective parties becoming more and more slouched.
At the top, Sinn Féin members. Walking tall, giddy almost, as the party took 18 seats on Dublin City Council – a maximum return. As word filtered that Lynne Boylan will take a European Parliament seat and Paul Donnelly had performed admirably in the Dublin West by-election, their excitement increased.
Slightly less happy, but still noticeably pleased were the People Before Profit Alliance and Green Party supporters, whose parties picked up seats. Whenever the PBPA picked up a seat, chants of "the workers united will never be defeated" filled Simmonscourt.
On the middle of the scale, Fine Gael supporters seemed to be happy enough, though their large number of unsuccessful candidates meant that it was hard to gauge just how pleased they were.
The Fianna Fáil camp were more focused and, though their performance in Dublin has been called brutal, the taking of two seats in Clontarf definitely lifted spirits.
And then, there was Labour. For them, it was a funereal atmosphere as the extent of their wipeout countrywide was revealed.
Senior party figures came and went, Ruairi Quinn making a brief visit to his nephew Oisín, who lost his seat despite his high profile as Dublin Lord Mayor.
Joan Burton came by and brushed off talk of a heave against Eamon Gilmore and other TDs milled around.
One told a journalist that "it hadn't gone as well as we hoped". A supporter nearby was less charitable.
As the day wore on, more and more Labour apparatchiks showed, but their enthusiasm dampened. Even those who looked to be safe were muted; the kind of celebrations had when you've passed your Leaving and a friend has failed.
In all, it was a day for Sinn Féin, and this being the RDS, a day for rugby.