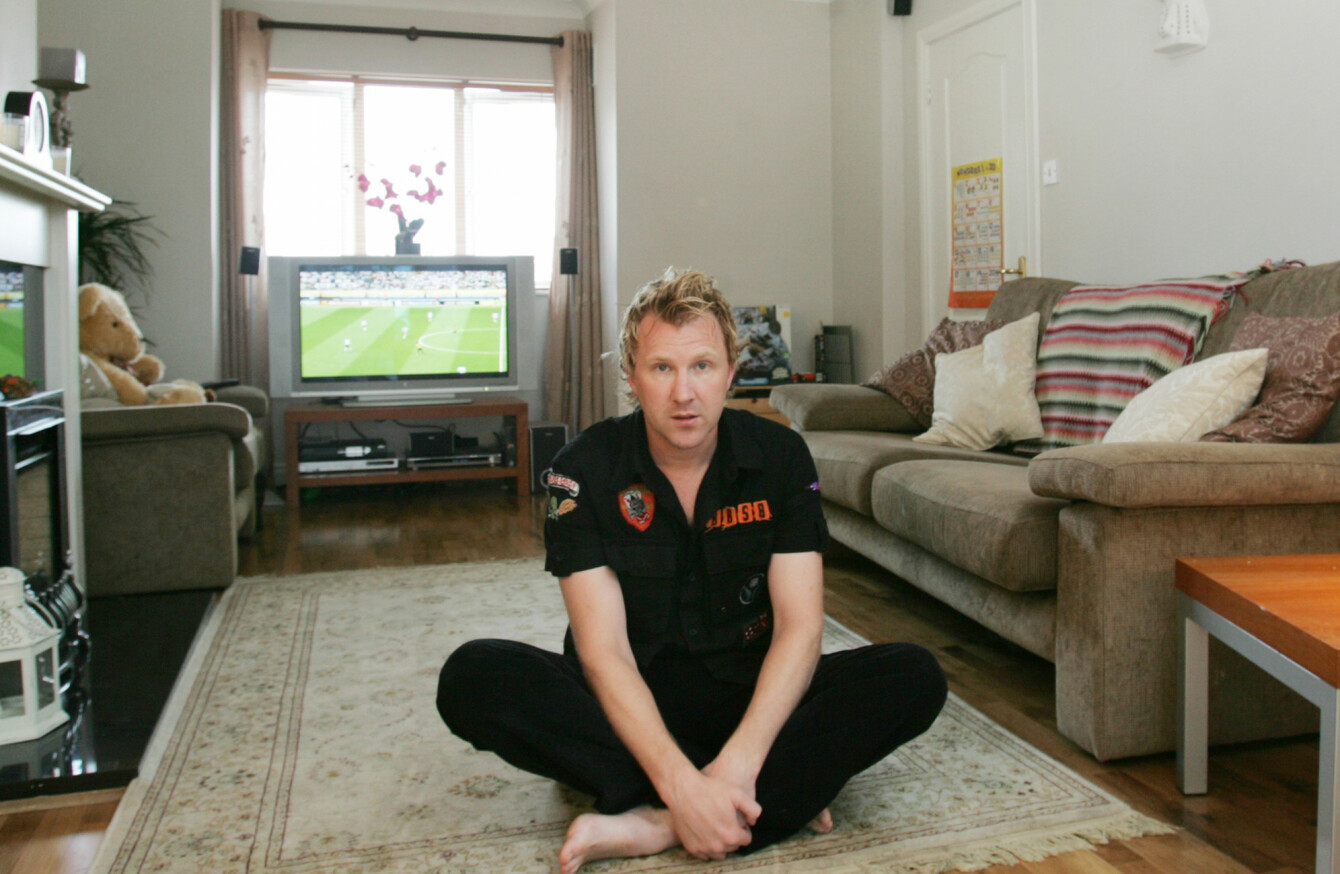 File photo of Jason Byrne
Image: Leon Farrell/Photocall Ireland
File photo of Jason Byrne
Image: Leon Farrell/Photocall Ireland
IRELAND'S GOT TALENT judge Jason Byrne has avoided a driving ban after he pleaded guilty to driving without insurance and driving without a driving licence.
The stand-up comedian, who was a disqualified driver on the day he was stopped by gardaí as he had accumulated 13 penalty points for speeding offences, only drove as he was in "severe difficulty" to collect his nine-year-old son from school.
He said he was afraid his son would walk home on a dangerous rural road after his wife could not pick the child up.
Swords District Court heard on the day he was stopped by the Garda Traffic Unit at a checkpoint in the village he lives in, he admitted to the garda he had no driving licence and no insurance as he had 13 penalty points, meaning he was automatically banned from driving.
On hearing that Byrne had informed the garda he had penalty points, Judge Brian O'Shea said he was impressed with his roadside honesty.
"I am part impressed by his honesty at the roadside," said Judge O'Shea.
"There is significant weight to the honesty in that."
Byrne (45), with an address at Oldtown, County Dublin pleaded guilty at Swords District Court to driving without insurance and driving without a driving licence on 13 June on the R122 near his home in Oldtown village
Byrne's defence barrister Patrick Jackson said the comedian "took a chance" on the day.
"His nine year old son was at primary school in a rural area and the defendant's wife was due to collect their son," explained Mr Jackson.
"However, there was a significant succession of unfortunate events as he couldn't get in contact with his wife. He also tried unsuccessfully to get in contact with a neighbour to collect his son. He was afraid his son may have tried to walk home on a dangerous rural road. He made a decision to drive and took a chance."

Unsafe
The prosecuting garda agreed with Mr Jackson that the road "wouldn't be a safe road" for walking on.
When Judge O'Shea asked if any of the 13 penalty points Byrne had accrued for speeding offences had expired, Byrne replied "tomorrow" and that his licence is due to be returned to him then.
"There is some degree of recklessness of the general adherence of road traffic laws and it seems to me you had a relatively benign view of road traffic matters. You were was a disqualified driver but you did declare that to the garda," remarked Judge O'Shea.
Judge O'Shea said he has significant concerns of Byrne's ongoing speeding incidents – which date from 2009, 2014 and 2016.
"You are going to have to declare to your insurance company you were driving without insurance on that day. If you were involved in an incident you'd have no insurance and the reason we all have to pay higher premiums is to fund people like you who drive without insurance. Those are my concerns," said Judge O'Shea.
Addressing the court, Byrne apologised for his actions.
"I shouldn't have done it and I have never done it before and I won't do it again."
Taking Byrne's word that he won't drive again without insurance, Judge O'Shea said he won't impose a disqualification as the defendant has no previous convictions for similar.
When he imposed a €500 fine for having no insurance, Byrne asked if he could pay the money to Temple Street Children's Hospital, which the judge agreed to allow him to do.
He took the charge of having no driving licence into consideration.
"It won't undo your conviction and you now have a significant number of points again," said Judge O'Shea and warned Byrne to "be very careful driving".
Replying, Byrne quipped: "I will, I'll drive in reverse."
Speaking afterwards Byrne said: "It was a spur of the moment thing and I shouldn't have driven. I was panicking about my son. I am glad I can give the money to Temple Street.
"If you break the law, you break the law and that's it. The thing is that I was just unfortunate with the penalty points. No-one got hurt thankfully."