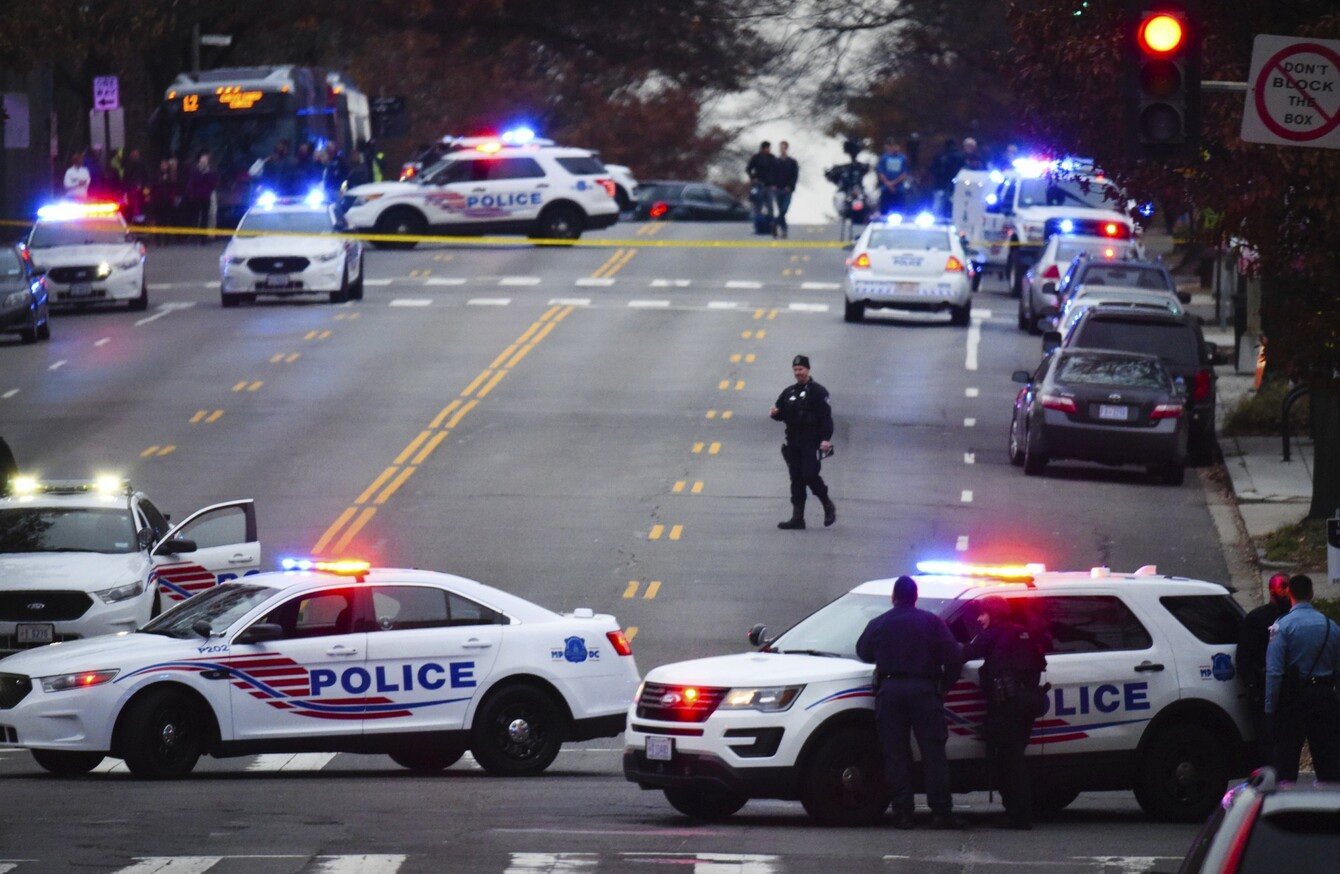 Police secure the scene near Comet Ping Pong in Washington DC.
Image: Sarah L. Voisin
Police secure the scene near Comet Ping Pong in Washington DC.
Image: Sarah L. Voisin
A MAN HAS been arrested after firing an assault rifle inside a popular pizzeria in Washington that was the target of a fake news story during the presidential election campaign, police said.
No one was injured in the incident yesterday at the Comet Ping Pong restaurant in the upmarket Chevy Chase neighbourhood. Edgar Maddison Welch, a 28-year-old man from North Carolina, was taken into police custody.
The pizzeria was the subject of a bogus report published in October that alleged it was at the centre of a child sex ring organised by Democratic presidential candidate Hillary Clinton.
As the story spread online, fanned by right-leaning conspiracy theorists on discussion sites 4chan and Reddit, the restaurant owner received hundreds of threatening messages on his Instagram account.
Welch told police he went to the eatery to "self-investigate" the conspiracy theory dubbed 'pizzagate'.
Self-investigation
Metropolitan Police Department spokeswoman Aquita Brown said police received a call yesterday afternoon about a male with a weapon on Connecticut Avenue, in an affluent neighbourhood of the nation's capital.
Welch walked into the front door of Comet Ping Pong and pointed a firearm in the direction of a restaurant employee, the Washington Post reported.
The employee was able to flee and notify police. Welch then fired the gun into the floor.
Police responded and arrested Welch without incident. They recovered an assault rifle, Brown said. Welch was charged with assault with a dangerous weapon.
Two firearms were recovered inside the restaurant and an additional weapon was recovered from the suspect's vehicle, police said in a statement.
The Comet Ping Pong is in a neighbourhood of well-tended private homes and apartment buildings on leafy streets that lead to a mix of shops, restaurants and the Politics and Prose bookstore.
"For now, I will simply say that we should all condemn the efforts of certain people to spread malicious and utterly false accusations about Comet Ping Pong, a venerated DC institution," owner James Alefantis said in a statement.
Let me state unequivocally: these stories are completely and entirely false, and there is no basis in fact to any of them.
"What happened today demonstrates that promoting false and reckless conspiracy theories comes with consequences."
- © AFP, 2016 With reporting from the Associated Press.
Comments have been closed as a person has been charged.