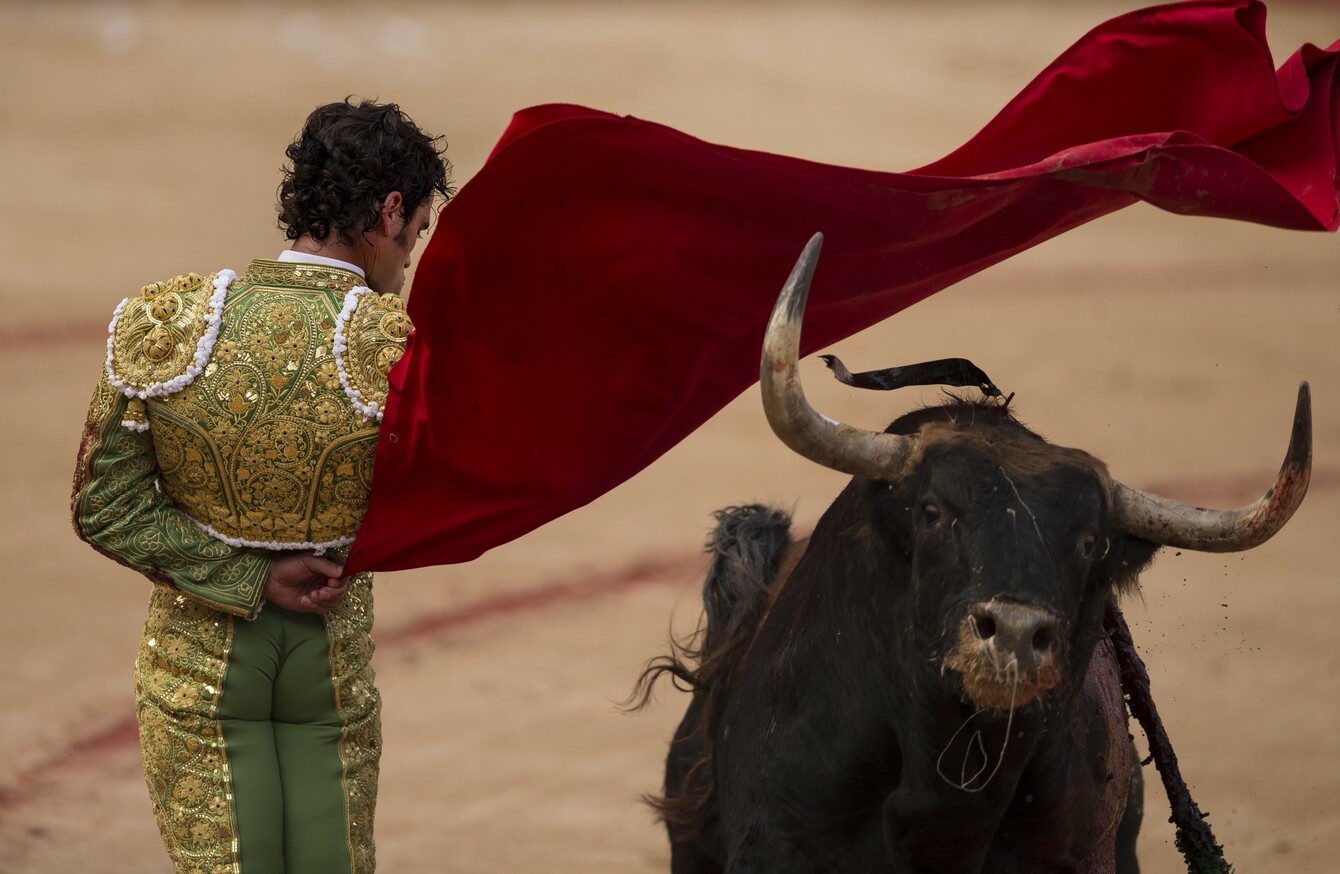 Image: Daniel Ochoa de Olza/Press Association
Image: Daniel Ochoa de Olza/Press Association
EVERY SATURDAY MORNING we take a look at all the best comments left on the site by our readers over the past seven days.
This week there was a lot of talk about Nice, Black Lives Matter and the woman who lost her case against Tesco.
The 5 most popular comments this week
1. A woman lost her claim against Tesco for her trolley falling and injuring her after a court found she'd overloaded it by putting her two children in. Graham Thew commented:
High 5 that judge
His comment got 2012 green thumbs.
2. Gardaí, nurses and teachers protested their pay and conditions, with a Garda saying he could earn more working at Aldi. Jay Finn said:
The Garda is taking home less than 300 a week??? That's (to use a word that is overused to the nth degree) disgraceful!!!
His comment got 1364 green thumbs.
3. After a matador was gored to death in a bullring, Spanish tradition dictated that both the bull responsible and its mother be put down to discontinue the bloodline. Animal rights activists began protests. Gary commented:
Should the mother of the matador be killed also for breeding a dumbass that would stand that close to a bull.
His comment received 1196 green thumbs.
4. Three houses were set ablaze in Belfast after bonfires to mark the 12th of July, the anniversary of King William III's victory at the Battle of the Boyne, went out of control. Harry asked:
It's 2016 why aren't these displays of venomous bigotry banned
His comment received 1135 green thumbs.
5. A former rugby player who beat up and robbed a taxi driver was jailed for nine months after his passport was found in the taxi. Nick Allen said:
 Delighted the fool left his passport in the taxi. It must drive him mad
His comment got 1097 green thumbs.
The top 5 articles which received the most comments this week
1. Five police shot dead as sniper suspect says he wanted to "kill white people" (That got 391 comments)
2. Liveblog: The worst moment in Nice's history: How the horror unfolded as crowd watched Bastille Day fireworks (That got 333 comments)
3. Hundreds attend Black Lives Matter demos in Cork, Dublin and Galway (That got 315 comments)
4. A Black Lives Matter demonstration is taking place in Dublin this evening (That got 258 comments)
5. "Monstrosity": Horror moment when truck ploughs through crowd in Nice (That got 235 comments)
Standout comments
Roger Holmes wrote about his decision to get back on his bike two years after a traumatic accident in order to raise money for the Irish Cancer Society. He is currently cycling across the US.
Nick said reading the story had brightened his day.
Inspirational, I was in bad form this morn and this chap has changed my day. How cool is that thanks mate I'm off to donate to his gofundpage
Mafia boss Bernardo 'The Tractor' Provenzo, who had a €2.5 million bounty on his head, passed on after a long illness. Robert O'Rourke saw the humour in the situation:
They made a film about this lad, "The Tractor". I haven't seen it, but the trailer is very good.
A runner collapsed during the Clontarf half marathon and received a shock from a defibrillator, as well as CPR, in order to save his life.
One of those who administered CPR, Mick de Barra, commented:
I was one of the runners who initially responded and commenced CPR, it was an incredible team effort by all the runners who assisted, paramedics, Nurses and Doctors, well done to the Civil Defence and Dublin fire Brigade members who also assisted, the chain of survival works.
Then the resuscitated man himself, Dave Phillips, responded:
Hey Mick, I'm the guy you saved! :) it is hard to put into words the deep feeling of thanks and wholehearted appreciation that I have for you and everyone that came together to keep me alive today. It was messy, it was scary, and it was undeniably one of the most profound acts I have ever experienced. You truly appreciate the kindness of strangers when they are literally keeping your lungs working. I have no doubt that had that happened elsewhere on the course, or even out on a run by myself, I wouldn't be here. Thank you Mick, and everyone else involved today. I am one very lucky, and immensely grateful son of a bitch! We all need to know CPR!
See any good comments? Send them to orla@thejournal.ie.