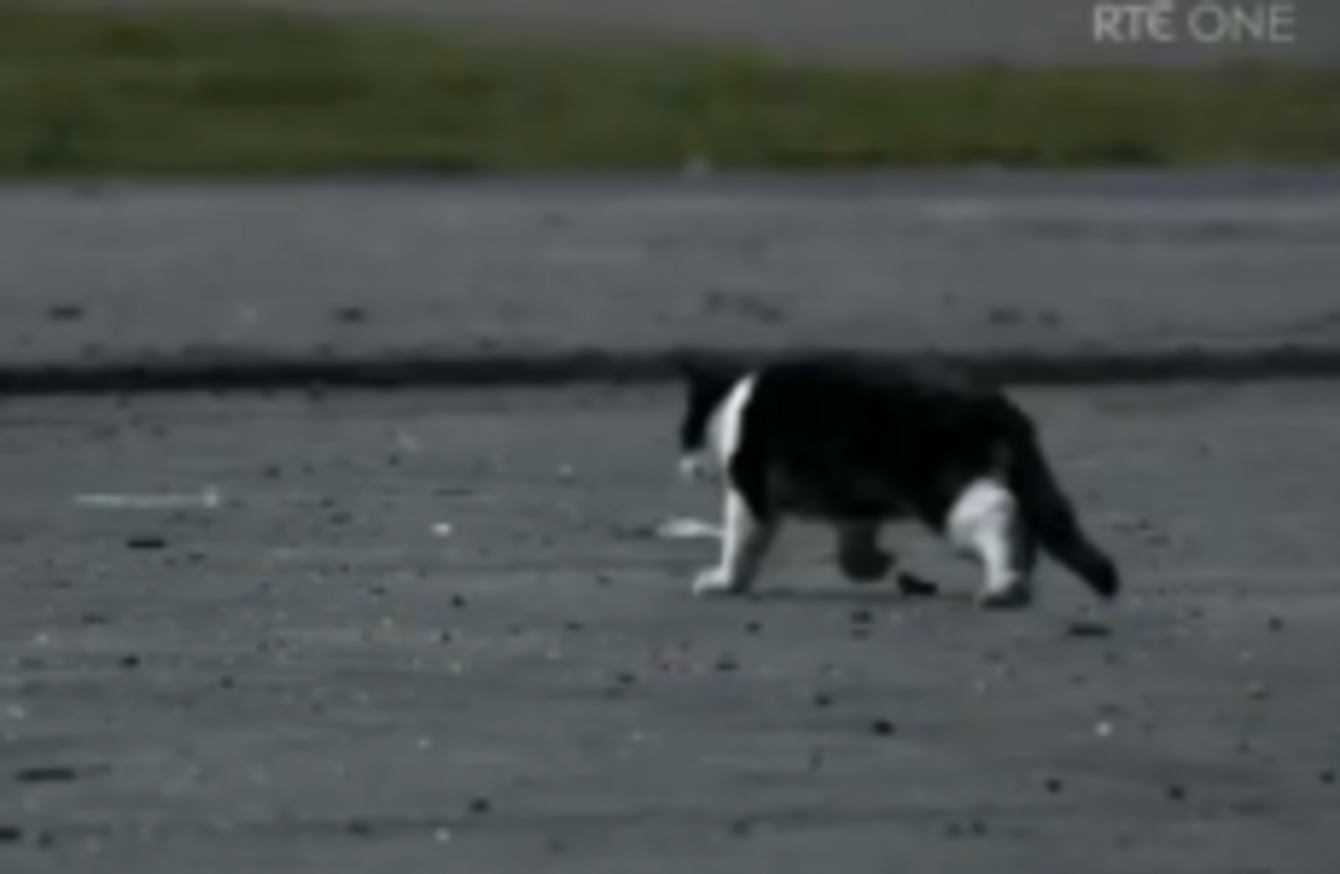 Cleo, Love/Hate cat and instigator of debate at TheJournal.ie
Image: Screengrab/RTÉ
Cleo, Love/Hate cat and instigator of debate at TheJournal.ie
Image: Screengrab/RTÉ
EVERY SATURDAY MORNING, we take a look back at all the best comments left on the site by our readers in the past seven days.
This week, there was plenty of debate and discussion about the strike by junior doctors, what Ryanair boss Michael O'Leary had to say about pensioners, and, of course, the fate of 'Cleo' the Love/Hate cat.
So here, in no particular order, are the standout comments from the week gone by…
The top 5 articles which received the most comments this week
1. Column: Making lewd remarks to women on the street is not 'banter' (351 comments)
2. TD who called Sinéad O'Connor mad as a brush apologises (346 comments)
3. Poll: Should pensioners pay for their TV licences? (245 comments)
4. Poll: Do you support the striking doctors? (237 comments)
5. "Pensioners should pay for their TV licences and travel" – Michael O'Leary (232 comments)
Some of the best comments left on the site this week
Nile Rodgers [David Jensen/EMPICS Entertainment]
A conversation was sparked about unusual items left on buses, after we published an infographic detailing the most common and most bizzarre things that get left behind (a life-size cardboard cut-out of Chic frontman Nile Rodgers being, by far, the most unusual).
Tanya Espania chipped in with the following:
I saw a granny hop off the bus leaving a boy about two behind munching on a biscuit, I didn't realise they were together till she came back on the bus to get him…
Ronan McGrath, focusing on what was obviously the most important aspect of the story, asked "what type of biscuit?" The reply:
Looked like a hob nob.
Dave Murphy's comment on a story about the Vatican accidentally minting coins with the word 'Lesus' instead of 'Jesus' works on so many levels:
A clerical error.
BlueSkyThinking
demonstrated some, em, blue sky thinking with this remark on a story about stolen radioactive material:
Maybe they should only search for the thieves when it's dark?
And, on a more serious note,
Catherine Sims
was one of the many readers impressed by what Malala Yousafzai had to say about pacifism on John Stewart's Daily Show.
She is so wise and yet so young. Brave, dignified, articulate and a survivor. She wants to learn and be educated but in reality she is the one doing the teaching. Here's hoping her message reaches all ears.
The 5 most popular comments this week
#Open journalism No news is bad news Support The Journal

Your contributions will help us continue to deliver the stories that are important to you

Support us now
[Photocall Ireland]
1. First up, Anna Lark got 1,505 green thumbs on a story about complaints over the depiction of a cat being shot in crime drama Love/Hate:
On a show that has had a rape scene, scenes of severe brutality, murder, drug abuse and prostitution a cat charity gets offended when something (that would in all probability not happen) happens to a cat. Calm down he was aiming for a teenage boy, the cat was just in the way. Pour out some milk for our fallen brother and move on.
2. With 1,232 thumbs, Ed da Red came up with what would have been a perfect TheJournal.ie hashtag for a story about CAB auctioning off a gang boss's timepiece via eBay:
Crimewatch
3. On our Tuesday morning poll asking  "do you support the striking doctors," P O Leary received 1,091 thumbs for the following:
There is not enough red bull in the world that could keep any person awake and alert for 24 hours to make decisions on people's health.

I am with the junior doctors on this one.
4. On our story headlined "1,900 'welfare tourists' caught in three years' Gerard Carey's four-word comment got approval from 963 people:
Tip of the iceberg.
5. Finally, Michael O'Leary generated a lot of debate this week with his comments on free travel for pensioners. Ecostore.ie joined in, generating 828 thumbs with the following:
I heard him on Newstalk …. His argument was for people in Dublin 4 and other leafy suburbs ( ie well off people ) automatically getting child benefit / free tv licence / free travel …. not all of these people need it or deserve it ….. He is 110% correct there !