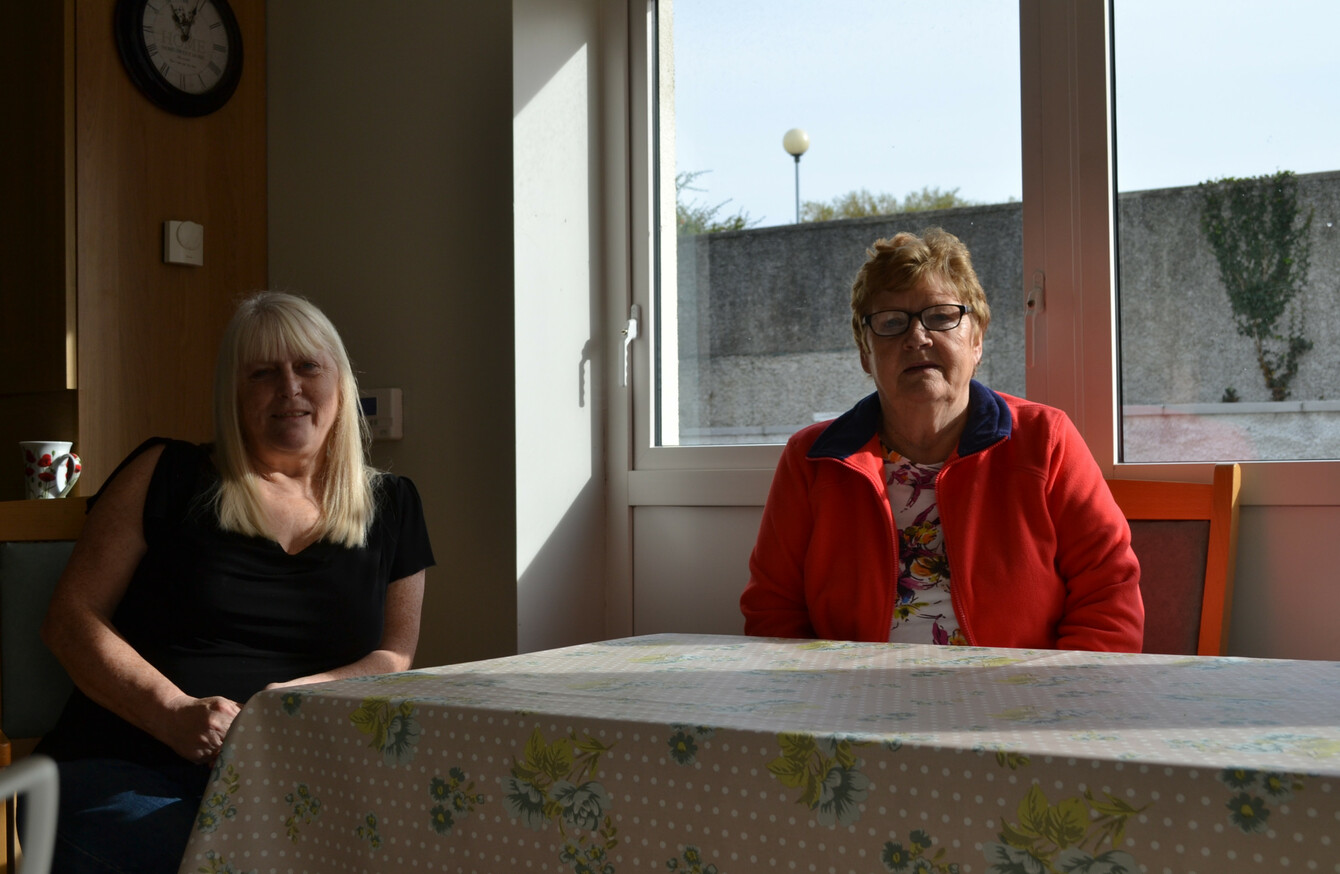 Sarah Duggan (left) and Margaret Baker (right) in the community room of their apartment complex in Ballygall.
Image: Cormac Fitzgerald/TheJournal.ie
Sarah Duggan (left) and Margaret Baker (right) in the community room of their apartment complex in Ballygall.
Image: Cormac Fitzgerald/TheJournal.ie
MARGARET BAKER LIVED for most of her life in the flats in Ballymun, before they pulled them down.
After that, she moved to an apartment in Poppintree where she lived for six years.
"I lived in the flats all my life in Ballymun and then they pulled down our lives," said Margaret.
"Then I moved there… It was horrendous. Horrible. Everyone knocking at your window. I had nothing to protect my window from the footpath.
It was so loud all the time, I couldn't even watch television.
This week, Margaret sat in the community room of her new apartment complex in Ballygall – close to Glasnevin and Finglas in north Dublin.
She moved to this new complex in 2015, and hasn't looked back since.
I wasn't alive for six years, then I started living again when I moved here.
Fold Ireland
Margaret's new home is part of a development of recently regenerated apartments in the area.
Social housing body Fold Ireland  redeveloped a number of old Dublin City Council flats for elderly people, which were first built in 1969.
The flats gradually deteriorated throughout the years, before the council decided to empty them in the mid-2000s.
Sarah Duggan (64), who also lives in the complex, used to live in the old flats for 12 years.
"I lived in that block. Oh my God. It was tiny, absolutely tiny," she told TheJournal.ie.
"You had your kitchen, your bedroom. your living room all in the one room.
"My children would want come up to visit us but they wouldn't fit… so they couldn't come in and visit.
I used to call it the cell. This place have given me a new lease of life. It's completely different
Fold initially had a plan to regenerate the flats in the late 2000s with 100% financing from the then-Department of the Environment (now the Department of Housing).
However, the project was put aside due to the severe nature of the economic downturn in 2008 and funding drying up.
In 2014, the charity began a regeneration of the complex after it was able to access private funding from Bank of Ireland as well as CALF (Capital Advance Leasing Facility) funding.
Community 
Today, the once-run down complex has been transformed into 50 modernised and fully accessible apartments housing a community of 78 older couples and individuals.
Fold recently won the top prize at the community Irish Council for Social Housing's 8th Biennial Community Housing Awards.
The apartments are for the elderly (roughly, over 55) and focus on facilitating and encouraging independent living as much as possible.
"They're are designed for people to age in," said head of development and housing Tina Donaghy.
Because we move people in there doesn't mean to say they're elderly or infirm. The accommodation just meets their needs now and into the future.
Each apartment is equipped with a Telecare unit – a remote care alarm system through which residents can call for assistance if they need help.
Each resident also has a fob that allows them to operate a gate to allow cars in and to work the lifts.
Sarah and Margaret both said they felt safe and secure in the complex.
Margaret has been working on starting up a residents' social club, to coordinate community action and events, while Sarah has also gotten to know other residents and made good friends.
Groups from the complex regularly go across the road to the Quarry House pub to play bingo.
One man has been working on a community garden that cuts through a portion of the complex.
Community care is at the heart of Fold Ireland's philosophy. It's mission statement is to:
Provide the best housing, care and support to those in need of such services.
Tina Donaghy said that the organisation plans to expand to provide safe, secure housing for people in need.
As the interview finished, Margaret and Sarah both rushed off in opposite directions. Margaret went to work on plans for the social club, and Sarah was taking a weekend trip with 13 other residents to Waterford.