Liveblog
IT'S TUESDAY and you're nearly half way through the week.
We'll be with you until 9am this morning, bringing you all the latest traffic, transport and weather news.
Morning!
Catherine Healy here on TheJournal.ie's commuting liveblog, helping you get to where you need to go.
Spotted something we should know about? Email catherine@thejournal.ie, tips@thejournal.ie or tweet me @Chealy_.
Not while driving, of course.
That cold snap seems to be easing, slightly.
Met Éireann says the day will be cloudy and windy with strong winds in exposed areas and scattered outbreaks of rain.
Highest temperatures will be between eight and 11 degrees.
In Dublin, traffic lights are out of action at the junction of North King Street and Queen Street.
And here's how the rest of the capital looks:
There are standard delays on the N4 Lucan Road inbound from the M50 interchange to the Palmerstown.
Traffic is heavy on Parkgate Street onto the North Quays, which are busy from Wolfe Tone Quay to Arran Quay and then at Bachelors Walk
Eastbound along the Grand Canal is starting to get busy eastbound at Harold's Cross.
Traffic is picking up southbound on Guild Street with delays from Seville Place to Samuel Beckett bridge
There are inbound delays through Drumcondra on the Swords Road 
On the Phibsborough Road inbound, it's busy from Hart's Corner to Doyle's Corner
The M50 is still moving well in both directions.
In Cork, traffic is moving well through the city.
Remember that Exchange Street and Dominick Street are closed for works between Shandon Street and Firkin Crane until 6pm tomorrow.
Mulgrave Road is also closed to inbound traffic until Friday, with diversions in place until then.
In Galway, meanwhile, there are the standard delays heading into Galway Technology Park on Ballybrit Crescent.
Traffic lights will be out of action west of Quincentenary Bridge at the Newcastle Road junction until Thursday, while the Gaol Road will remain closed at the southern and western boundaries of Galway Cathedral for the next week.
Were you watching last night's RTÉ leader's debate? Our resident fact-checker, Dan MacGuill, sifted through all the big claims: catch up on his analysis here.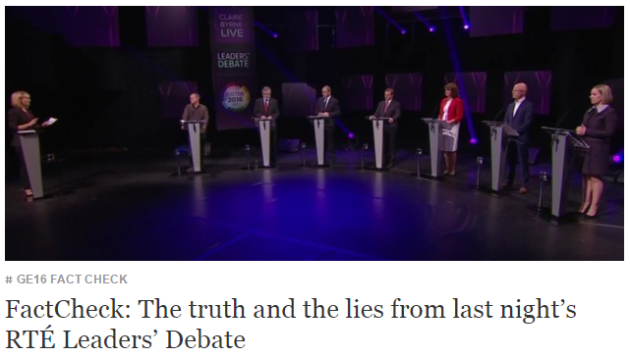 Watch out if you're taking the M11:
A nationwide status yellow wind warning is now in place until 3pm today, so take care of other road users and look out for wind-blown debris on minor roads in particular.
Let's see how things are looking back in Dublin city centre: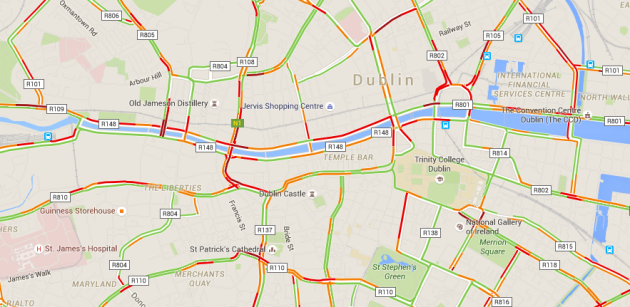 There are reports of a collision on Dublin's Rathfarnham Road at the junction with Dodder Park Road. Expect some delays if you're passing through.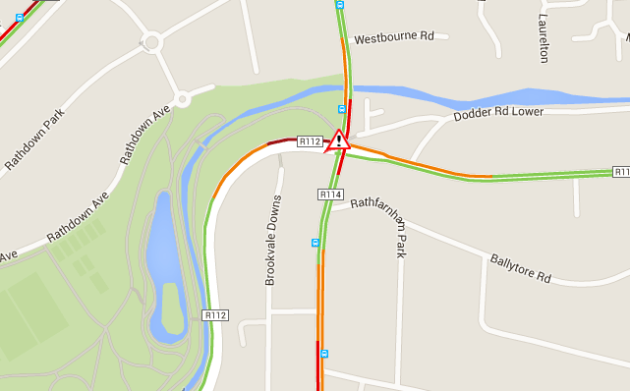 AA Roadwatch says there's been a breakdown on the Swords Road inbound at Collins Avenue junction in the left lane.
Traffic is busy then through Drumcondra up to the junction of Dorset Street and Eccles Street.
Traffic is busy but moving on the M50 southbound from J6 Blanchardstown to J10 Ballymount.
To put this morning's weather in context, here's what Ireland looks like right now on a live wind map.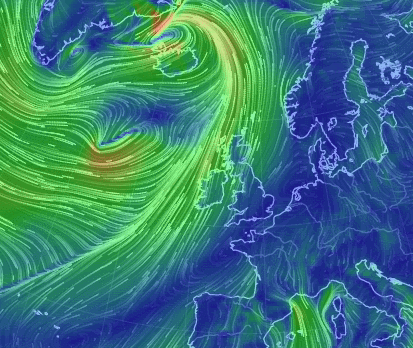 In Galway, traffic is now busy on the N84 Headford Road inbound from Ballinfoyle to the Bóthar na dTreabh junction.
There are some southbound delays on the N17 Tuam Rd from Loughgeorge to Claregalway and again approaching the Bóthar na dTreabh junction.
Watch out if you're taking the N54 Clones/Monaghan Road:
It's busy through Mulhuddart on Dublin's Navan Road and it's slow further in from the railway bridge to the Ashtown roundabout.
Traffic is also heavy on the Stillorgan Road from Trees Road junction to Fosters Avenue, as well as on the Rock Road inbound from the Frascati Shopping Centre to the Booterstown Ave junction.
In Fairview, there are delays from the Malahide Road junction through to Connolly Station on Amiens Street.
Here's a handy summary of major roadworks taking place across the country this month:
The Rathfarnham Road collision has now been cleared.
On the M50, traffic is heavy but moving southbound from J7 Lucan to J10 Ballymount, while it's busy northbound from J12 Firhouse to J11 Tallaght.
Things are also looking slow at the Red Cow interchange: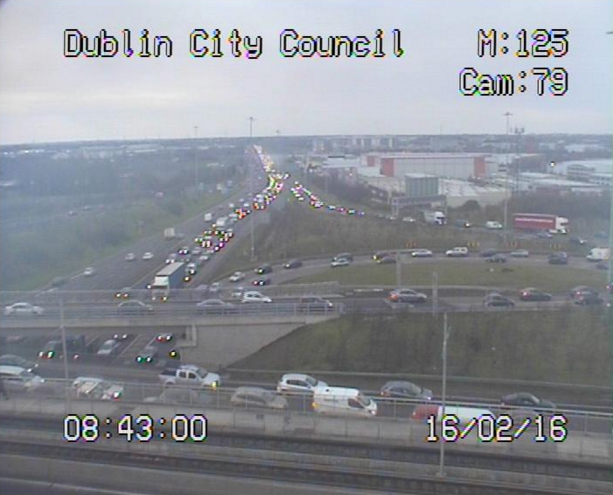 Take note if you're approaching Capel Street:
Time to wind up the commuting liveblog for today – see you back here tomorrow!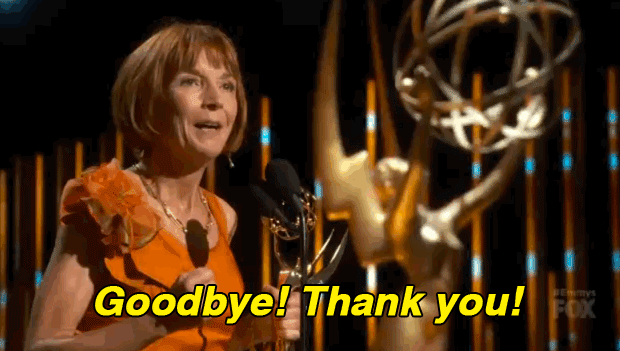 Contribute to this story: