Liveblog
GOOD MORNING AND welcome to Thursday's commuting liveblog.
It's Órla Ryan here.
I'll be with you until 9am with all the latest traffic, travel and weather info to get you safely to where you need to go.
We'll kick things off in the capital where Dublin City Council's Traffic Management Centre has reported there is a spillage on Donnybrook Main Street at Kielys pub.
AA Roadwatch is reporting that roads are wet in Castlebar, Carrick-on-Shannon, Tralee, Thurles, Portlaoise and Cavan town.
The organisation has advised road users to slow down and increase their braking distance.
So, how's the weather looking today?
Here's the latest from Met Éireann:
It'll be cold and cloudy with occasional rain over the western half of the country this morning, but mostly dry in the east.
However, rain will extend to all areas by early afternoon and turn heavy in places. A clearance to scattered showers will follow eastwards this evening. Highest afternoon temperatures will range from five to nine degrees Celsius. It will become breezy later with a fresh southerly wind.
How is traffic where you are? Let us know by tweeting @thejournal_ie or emailing tips@thejournal.ie – but only if it's safe to do so.
In other news, the election recount in Longford-Westmeath is heading into its sixth day.
Fine Gael's James Bannon has been eliminated – he was excluded on the 14th count after losing out by just six votes.
AA Roadwatch is reporting that there has been a collision inbound on the M3 at J3 Clonsilla in the right lane.
Further inbound, they say traffic is slow on the Navan Road from the railway bridge to Ashtown roundabout.
Irish Rail has shared this lovely sunrise photo sent to them by Luke Scollan on his commute this morning.
Luke isn't the only one, several commuters have shared their sunrise shots with Irish Rail. Great colours to be seen today!
Live Drive is reporting there has been a collision on the N7 inbound.
Using Dublin Bus this morning? They're having some issues with their real-time app.
The earlier collision inbound on the M3 at J3 Clonsilla has been moved to the hard shoulder and emergency services are at the scene, according to AA Roadwatch.
Are you guilty of frummaging on public transport? I think we've all done it…
What words would you add to the Urban Travel Dictionary?
Dublin Bus is still working to resolve issues with its real-time system.
If you're in a train station named after a leader of the Easter Rising, you might notice some portraits of them to commemorate the 1916 centenary.
Source: Iarnrod Eireann/YouTube
In 1966, 15 rail stations were renamed after Rising leaders to mark its 50th anniversary. More information on the project can be read here.
AA Roadwatch has said there are reports of a truck broken down on the N25 Cork/Waterford Road west of Killeagh.
Travelling in a city? Here's the latest traffic news from AA Roadwatch:
DUBLIN: Inbound on the N4 Lucan Road it's busy from the M50 Interchange to Palmerstown. Further in, the right turn for Kilmainham is busy from Con Colbert Road and then from South Circular Road to Heuston Station on St Johns Road West.
Nearby, Parkgate Street is busy onto the North Quays – which are busy in parts from Wolfe Tone Quay to Bachelors Walk.
It's very busy inbound through Fairview from the Malahide Road junction to Five Lamps on Amiens Street.
It's busy but moving southbound on the M50 from J6 Blanchardstown to J10 Ballymount.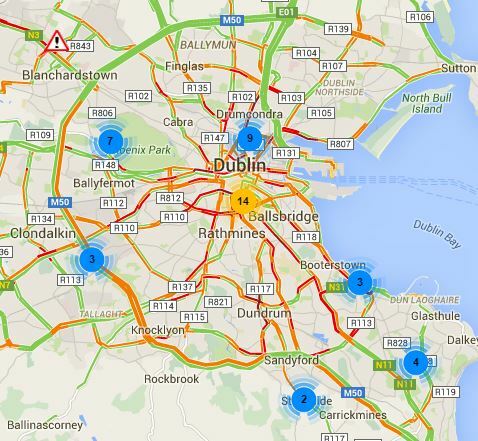 Source: AA Roadwatch
CORK: It's slow on the Rochestown Road heading towards the N28 Ringaskiddy Road. Traffic is slow approaching the Dunkettle Interchange on the N8 Dublin Road and also from J10 Mahon on the N40 South Ring Road. It is busy in the city centre northbound on Patrick Street and Parnell Place.
GALWAY: There are the usual delays heading into Galway Technology Park on Ballybrit Crescent from the Briarhill side and delays on Seapoint Promenade in Salthill heading towards the city centre. It's also busy around Eyre Square.
LIMERICK: Traffic is busy over Sarsfield Bridge.
WATERFORD: Traffic is light.
After a mammoth recount in Longford-Westmeath, all 158 seats in the 32nd Dáil have been filled.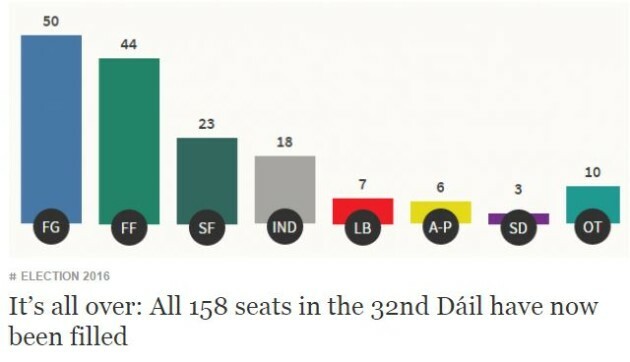 Source: orla
The election of Fine Gael's Peter Burke and the return of Labour's Willie Penrose means the make-up of the Dáil is complete, although the outcome in terms of forming a government remains far from clear.
With 50, Fine Gael has the most number of seats but this is 26 less than it secured in the 2011 general election and 16 less than it had going into last week's election.
Travelling on the N7? Live Drive is reporting that a car has broken down on the road:
Here's the latest traffic update from AA Roadwatch:
MEATH/ DUBLIN: Traffic is moving a lot better now on the M3 from before J4 Clonee past J3 Clonsilla where a collision has been cleared. Further in, traffic is slow on the Navan Road from the railway bridge to the Ashtown roundabout.
CORK: The Ballinhassig/Carrigaline Road (R613) is closed between Ballinhassig and Five Mile Bridge until 7pm today for works. Use an alternative route.
There are no further reports of a truck broken down on the N25 Cork/Waterford Road west of Killeagh.
WATERFORD: A stop/go system is in place for works on the N25 Cork/Waterford Road at Knocknagranagh near Dungarvan until 8pm today.
GALWAY: A stop/go system will be in place for works on the N17 Galway/Sligo Road north of Tuam at Mountpotter until tomorrow, from 7am to 7pm each day. Delays are likely.
There are reports of a vehicle on fire on the M9 Dublin/Waterford Road.
We're going to wrap up the liveblog for this morning, but we'll be back tomorrow at 7am.
Thanks for staying with us.
Contribute to this story: