Liveblog
Hello and welcome to TheJournal.ie's commuting liveblog.
We'll be with you until 9am, bringing you all the latest traffic, transport and weather news this morning.
Good morning commuters! First things first, here's a summary of the weather. It's another cold day out there with morning temperatures at a maximum of just three to six degrees.
It will be mostly cloudy with showery outbreaks of rain and sleet in the west spreading to all parts this morning and early afternoon.
As a result of the cold weather, there are ice warnings from gardaí and the AA.
AA Roadwatch is warning about frost and ice in parts of Leinster, Carrick-on-Shannon, Roscommon Town, Letterkenny, Cavan, Thurles and Cork City.
There are also reports of black ice on the N56 in Donegal.
More reports of ice in a number of areas. In Cavan, on the N3 between Virginia and New Inn, the slippery conditions are causing problems.
Ditto, in Glanmire, Co. Cork on Church Hill. Let's just assume you should be cautious.
A number of different accidents in Cork are causing problems.
Cork's 96FM says that a jeep has overturned on the main Killarney to Mallow Road at the top of the hill in the village of Cullen. It's blocking part of the road and causing delays.
In Cork City, AA Roadwatch says there are reports of a car overturned on Inniscarra Road after Leemount
Elsewhere in the Rebel County, there's been a crash in Togher at the junction of Clashduv Road and Togher Road.
Problems here too:
If it's safe to do so, let us know how the roads are where you are. You can tweet us @thejournal_ie or send an email to ronan@thejournal.ie.
An M50 update, @LiveDrive reports that the southbound side is moving well from the M1 to junction 7 at Lucan. Further on, there are some delays between the Red Cow junction and Firhouse.
That report is backed up by a commuter who got onto us to warn of delays around junction 11.
There's a heavy backup of traffic at the junction of the N32 and Malahide Road at the Dublin Airport Hilton.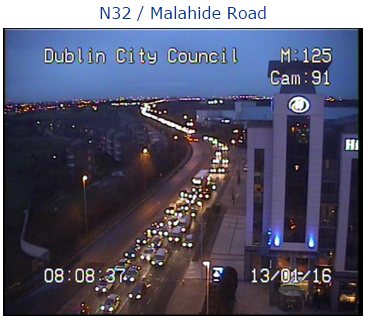 Source: Dublin City Council
The ice is causing more problems. We reported earlier about black ice in Donegal and it seems it's widespread across the county.
AA Roadwatch is also reporting icy conditions all across Cork.
There are heavy delays in Glanmire this morning.
Gardaí are at the scene of a crash on Lover's Walk while Anthony P in our comments section says there are also delays in nearby Glyntown.
Source: TheJournal.ie
Those delays we were talking about south of junction 7 on the M50? There's a broken down car.
Gardaí are at the scene, expect delays.
So far, the icy weather hasn't been affecting rail travel. The only delay being reported is a 15 minute backup on the Luas Red Line, but that's because of a signal fault.
Source: TheJournal.ie
In non-commuting related news, this is the funniest thing this reporter has seen in a long time. Watch only if you have an evil sense of humour.
Pretty much sums it up, delete '#Cork' and it's still an accurate warning.
On an already busy morning for Cork traffic, there's also a crash on the back road between there's the N28 Ringaskiddy Road at Carr's Hil.
Contribute to this story: