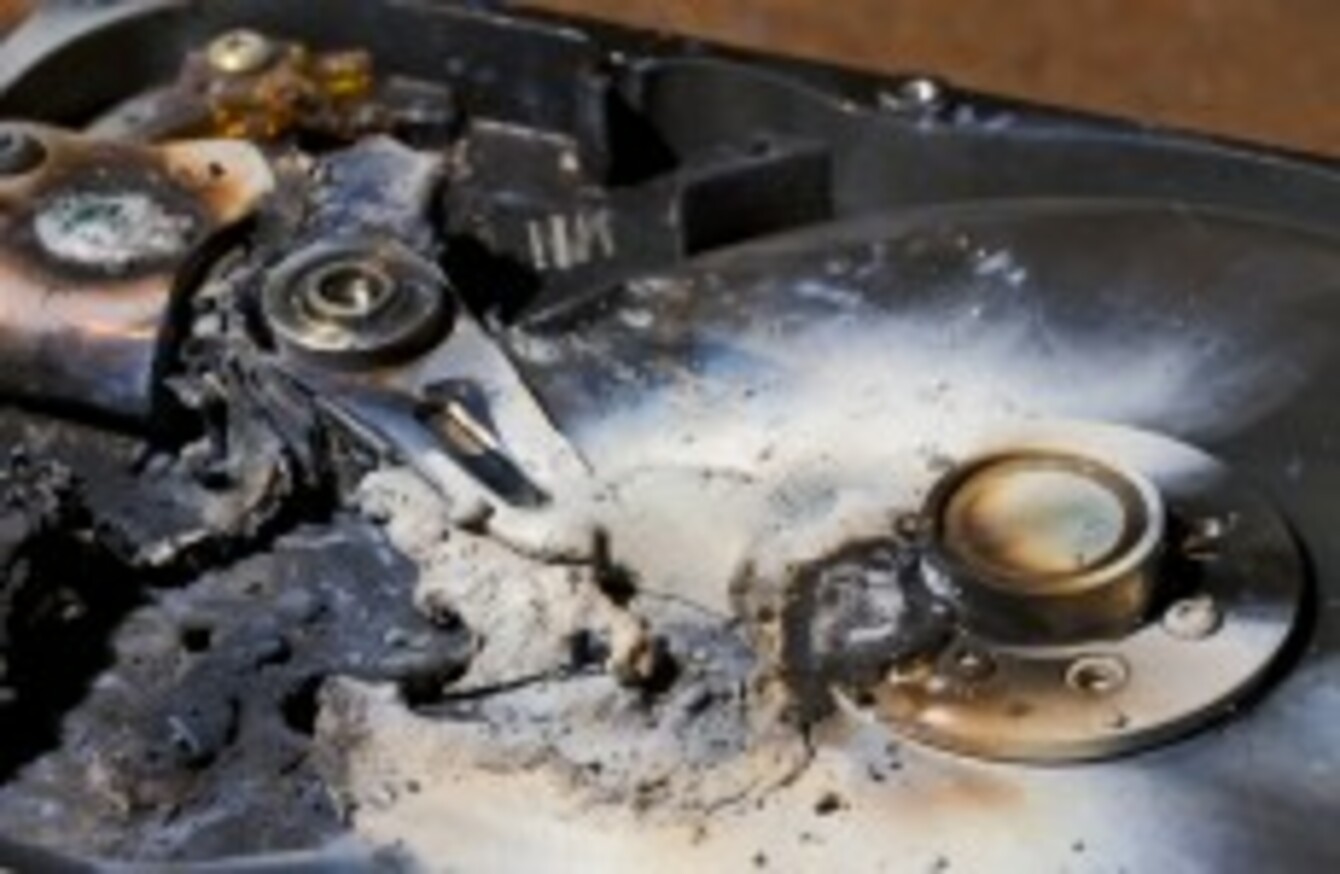 You don't want your hard drive to look like this (or anything else really), but most failures won't be as obvious as this.
Image: Shutterstock/Biehler Michael
You don't want your hard drive to look like this (or anything else really), but most failures won't be as obvious as this.
Image: Shutterstock/Biehler Michael
WE'LL BE STRAIGHT with you. Backing up your hard drive is very important, cause if it goes then you're in a mess.
It could happen for a number of reasons, your computer may fail, you could just end up deleting something accidentally and have no way of recovering it or external forces like theft or damage could your files inaccessible.
Even if you do most of your work online (through the cloud for example), you will have something important saved that you would hate to lose. This isn't a measure solely for tech-savvy people or for those who do heavy work on their computers, it's something everyone should do sooner or later.
Thankfully, it's simple to do, you just need to do a little preparation first.
Where are you backing up?
Before you get started, it's recommended that you use an external hard drive to back up your computer. You can back up your data on a cloud hosting service if you wish, but it's usually cheaper and easier to rely on physical devices.
There are numerous versions out there of varying sizes, but you have a choice between a Solid State Drive (SSD) or a traditional hard disk drive (HDD).
The two are different in their own ways – SSD are faster and more durable, but HDD are cheaper, which means you can get much more space for less – but it really depends on how often you're going to use it. If you'll use it daily, an SSD is useful to have, but if it's just for saving files that you won't use that regularly, HDD is a better fit.
As for the space needed, it's a good idea to check how much space is available on your computer and get one that has double the space.
It may seem like you won't need that much space at first glance – especially if your hard drive is taken up with games which can be installed again – but since you'll be saving multiple backups over time, it's better to have the extra space.
How to back up your data
For this, we're going to assume you use Windows or Mac OS but either way, you may be asked to erase (or reformat) your hard drive first before it's ready to back up your data so if you have important data saved on it, save it elsewhere before you continue.
If you're using Windows, go to start and search for 'backup'. the option 'Backup and Restore' will appear.
For Mac, you have Time Machine, which is found through the same methods (go to finder and type it in or find it in 'Applications).
And that's it. Just follow the instructions provided and you'll be ready to back up your device. While it's backing up, it will take a bit of time to complete so make sure you don't need to do anything important in the meantime.
How often should you back up?
After you've done it (honestly, don't leave it until later, do it now), the answer is it depends on how often you update your computer will depend on how many new files you save on your computer. For most people, updating it every couple of weeks would be enough unless you regularly save large files on it.
Both services will serve reminders, but it's good practice to set your own for every couple of weeks so you don't forget. Better yet, turn on automatic backup so you don't have to worry about it as much.