Image: Leah Farrell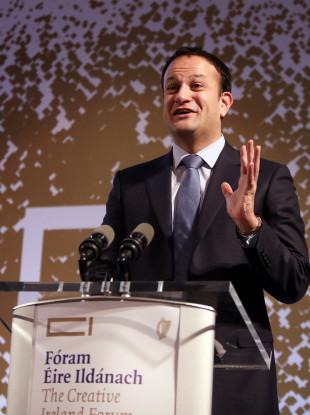 Image: Leah Farrell
TAOISEACH LEO VARADKAR has said he can see no reason why the confidence and supply agreement with Fianna Fáil can't be extended past the next Budget.
The confidence and supply agreement between Fine Gael and Fianna Fáil runs until the Budget next October.
"I think at a certain point, we will have to have a conversation. It is as you know an agreement between Fine Gael and Fianna Fail so at certain point we will have to have a conversation.
"Built in to it is a review and potentially it could be continued and I certainly see no reason why it can't be continued beyond the third budget," said the Taoiseach, adding:
But obviously that is a matter for me to discuss with Micheal Martin in the first instance and we haven't yet then the two parties subsequently.
The Taoiseach said he is not minded to move that conversation to the first quarter of 2018.
"Not the first quarter no, but I wouldn't like to see it drop dead the day after the budget either. That wouldn't be in anyone's interest and it would not be in the best interests of the country certainly to have a government on Budget night with confidence and supply agreement but not the day after.
"So I imagine that conversation will be had at some stage next year but it is not a conversation I have had yet with Micheal Martin so I probably should have it first," said Varadkar.
In an interview with TheJournal.ie, Fianna Fáil leader Micheál Martin spoke positively about the successes of the confidence and supply arrangement, stating that at the beginning there were a lot of critics.
"I think there is a fair degree of credit due to Fianna Fáil for facilitating a government in the aftermath of a very uncertain outcome back in 2016. I think a lot of the cynics have been proven wrong to that extent in terms that they thought we would pull it at the first opportunity," said Martin.
He said there have been "bumpy rides" along the way, stating that the the crisis with Frances Fitzgerald and the Tusla affair before that were extremely serious.
#Open journalism No news is bad news Support The Journal

Your contributions will help us continue to deliver the stories that are important to you

Support us now
Martin said lessons have been learned from those experiences.
"Objectively standing back from it, we've had two budgets passed, even recently we have be co-operating effectively on FEMPI. These are tough Bills – if you were an exploitative party you would be making life uncomfortable for government," said the Cork TD.
While many look at the difficulties between the two parties, Martin said a lot has been achieved under the arrangement, but as the agreement enters its final phase, Fianna Fáil want to see more delivery on key issues.
"Where I would be critical is the lack of delivery on housing and health, also the absence of decision making of some ministers that don't seem to be totally on top of their briefs.
"In housing and health we will certainly be keeping the pressure on – no question. Also on the issue of broadband. I mean it is shocking  that nothing has happened in two years in terms of advancing the tender for rural Ireland. It is the key to sustainability to rural Ireland. I can recall at the formation of government and they said the tender would be issued by Autumn," said Martin, adding:
We are committed to confidence and supply, but we are not giving anyone a blank cheque. Obviously we want to see delivery on the core issues in the confidence and supply, because it is a policy document first and foremost.