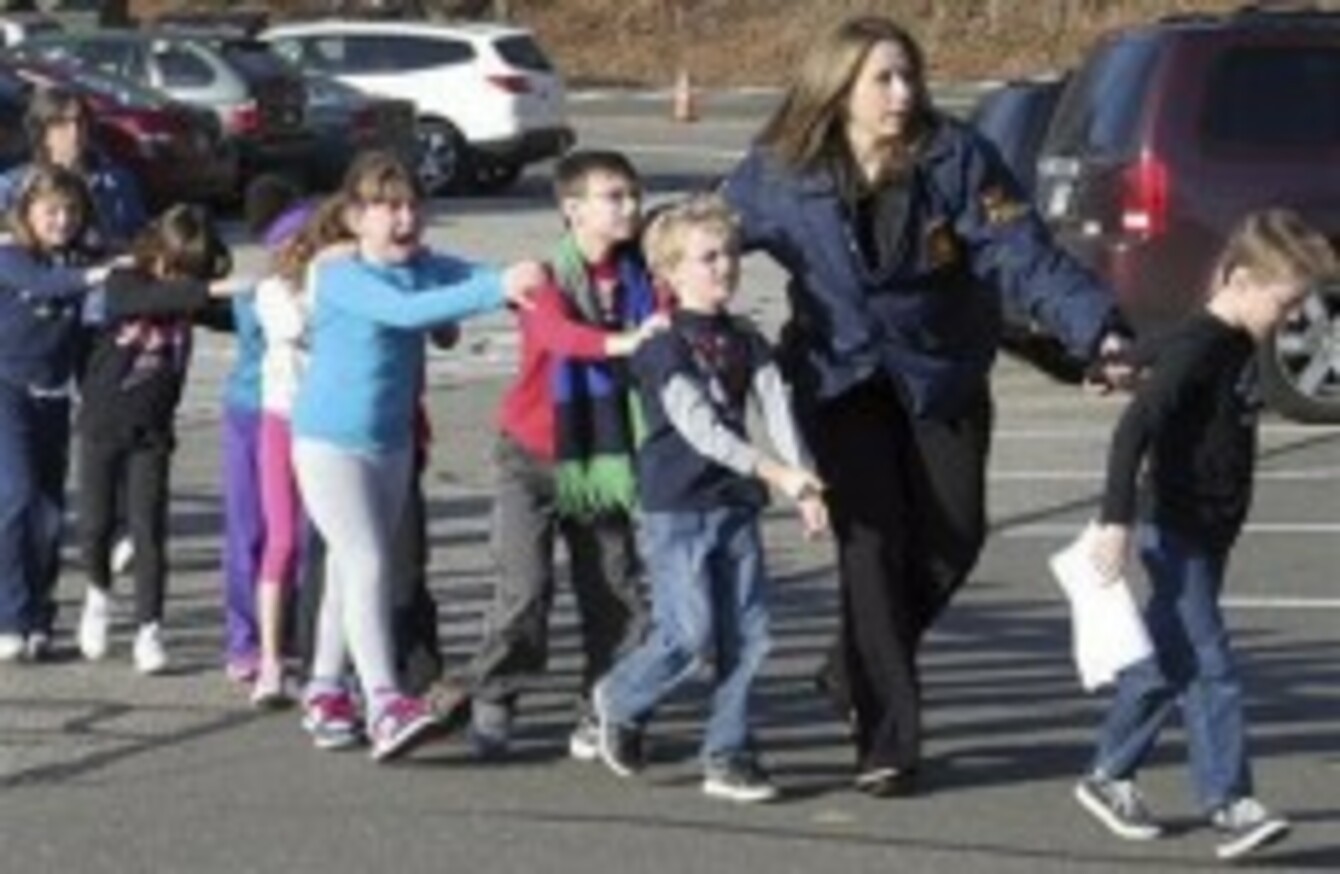 In this photo provided by the Newtown Bee, Connecticut State Police lead children from the Sandy Hook Elementary School
Image: AP Photo/Newtown Bee, Shannon Hicks
In this photo provided by the Newtown Bee, Connecticut State Police lead children from the Sandy Hook Elementary School
Image: AP Photo/Newtown Bee, Shannon Hicks
Updated 19.51
A SHOOTING AT a Connecticut elementary school today left  27 people dead, including 18 children, the school principal and the gunman.
The shooter was found dead inside the school, and apparently had four guns on him including a rifle.
CNN has identified the shooter and local and state police have surrounded a home in Newtown in connection with him.
It is believed the man also killed his mother who was a teacher at the school but Connecticut authorities have not officially released any names.
The President Barack Obama has expressed his condolences and pledged whatever resources the school needs.
John Miller of CBS News said that he was told that the shooter was the father of a student and is around 20 years old. He was also said to have been masked and heavily armed, but this has not been confirmed by police.
A woman waits to hear about her sister, a teacher, following the shooting. (AP Photo/Jessica Hill)
Newtown school pupils told CBS News that "teachers told us to go in the corner and cover our eyes, so we all huddled".
Connecticut State Police said in a press briefing that the scene was secure and there is a great deal of search warrant activity going on in and out of the state. New Jersey is apparently one of the areas of interest to police.
"The public is not in danger," state police spokesman Lt. J. Paul Vance said in the press briefing.
State Police are on the scene following the shooting. (AP Photo/Jessica Hill)
The shooting is believed to be one of the worst in US history, following the mass April 2007 shootings at Virginia Tech when a gunman left 33 people dead.
The Hartford Courant said that many of the shootings took place in a kindergarten classroom, and one entire classroom is unaccounted for.
An aerial view of the school:
(AP Photo/Google)
It is not known yet how the gunman gained entry, and ABC Local said that the school locks its exterior doors during the school day.
The superintendent's office said the district had locked down schools in Newtown, about 60 miles northeast of New York City, following the first reports of the incident. Schools in neighboring towns also were locked down as a precaution.
The Mayor of Danbury has described it as a "horrible, horrible day":
State police said Newtown police called them around 9.40am A SWAT team was among the throngs of police to respond.
A photo posted by The Newtown Bee newspaper showed a group of young students being escorted by adults through a car park in a line. The photo was also tweeted by WTNH News 8.
Parents leave a staging area after being reunited with their children. (AP Photo/Jessica Hill)