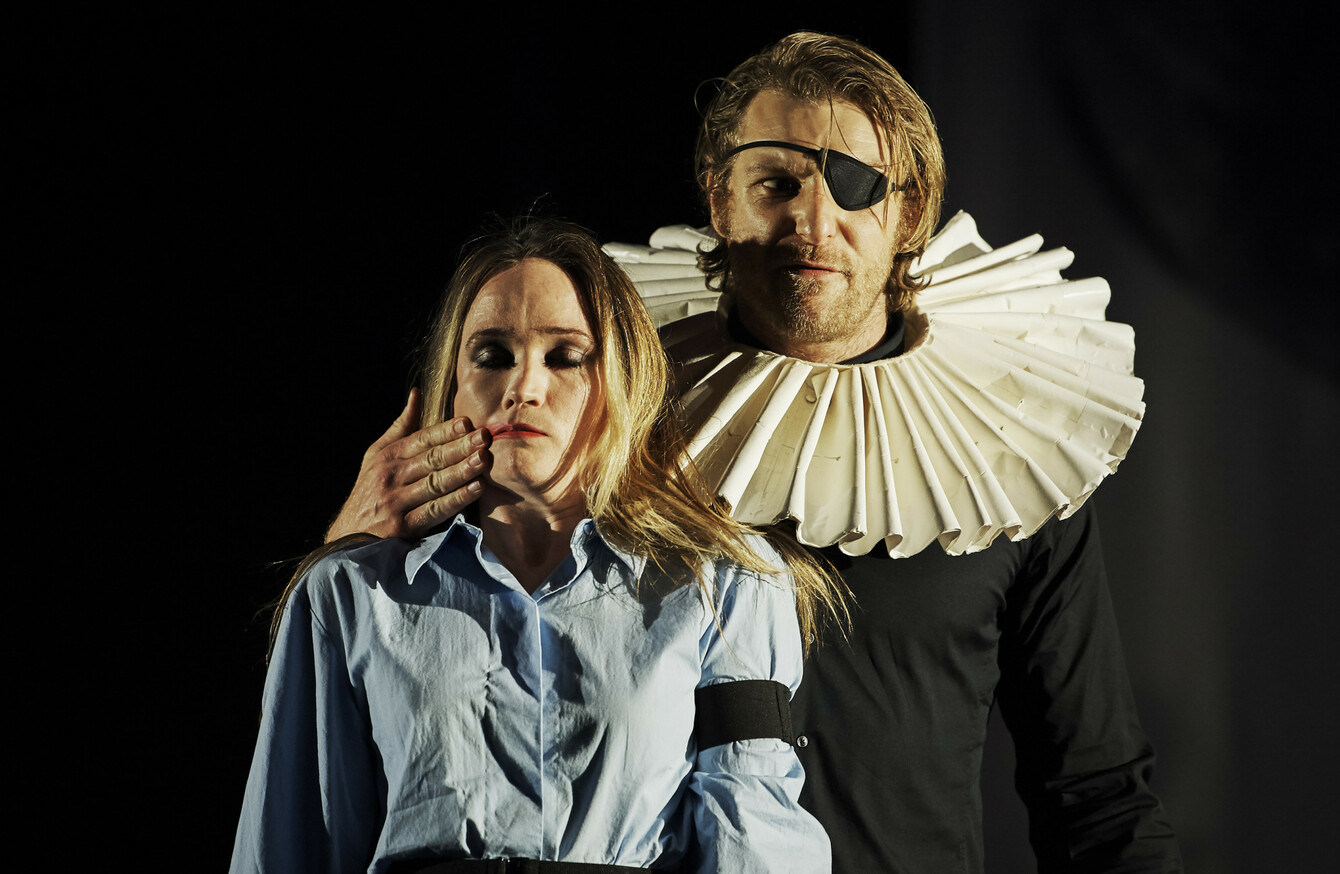 Anna Sheils McNamee and Conor Madden in Pan Pan's The Rehearsal, Playing the Dane at the Abbey Theatre.
Image: Ros Kavanagh
Anna Sheils McNamee and Conor Madden in Pan Pan's The Rehearsal, Playing the Dane at the Abbey Theatre.
Image: Ros Kavanagh
IN MARCH 2011, Irish actor Conor Madden was on stage playing Hamlet when the unexpected happened – he was accidentally struck in the face with a sword, and cut.
Some of the audience at the Everyman Palace Theatre thought that Madden's subsequent collapse was part of the play, until they were told by the artistic director that the show could not go on.
Madden was left with a flesh wound that healed quickly. But the incident also caused a minor brain injury that affects him to this day.
Tonight, Madden takes to the stage seven years on, to play the same role. (He settled his court action against the Second Age Theatre Company Ltd over the incident in 2014.)
The show, The Rehearsal, Playing the Dane (where three men vie for the role of Hamlet) is on at the Abbey until Saturday 26 May, and as he prepared to take on the role again Madden spoke to TheJournal.ie about the impact of that incident back in 2011.
'I fell like a sack of spuds'
Madden – who's starred in Love/Hate, Vikings and Raw, as well as a slew of theatre roles – says the injury initially affected his speech and walking, and that he was left with balance problems (ataxia) that persist to this day. "My speech was was unintelligible. The worst thing said by the neurologist was 'you will recover but we don't know to what extent'."
Madden still doesn't know what caused what the brain injury. The sword didn't pierce beyond his skin. "The brain and the skull are different densities, so when you move your head very quickly the brain doesn't move as fast as the skull," he explains. It could also have been the energy from the sword travelling through to his brain, he adds.
He fell down "like a sack of spuds" after being struck, and says he was in hospital for a month afterwards, which included some rehabilitation.
"In the moment I just thought 'uh oh' – that was my first thought; and then I thought you know, basically, that you're alone when you die. That was the second thought I had: that just hit me, you're alone when you die, even when you're surrounded by your family."
He was 24 when it happened, and says he "just went day by day" when it came to his recovery. Madden is now 31 and married, and says it's only in the last two years that he's come to terms with the impact of the injury on his life.
"Because the nerve damage and the brain injury takes so long to heal, after two or so years, my life went back to normal even though I had serious effects like ataxia and double vision."
'Serious lasting effects'
He continued working in theatre – even taking the same show on the road abroad. "And so I didn't really think about it at all – I just kind of got on with my life," says Madden.
I'm 31 now and it's only in the last year or two years that I have begun to realise these are serious lasting effects. It caused an incredible amount of an existential crisis: who the hell am I now? You don't like yourself at all. I didn't like myself for a long long time. Not liking myself means you don't like anyone around you – family, friends, if you don't want to be around you.
The injury even raised questions about whether he and his wife should have children, because of the impact on his emotions that the brain injury had.
"It's life-changing. No matter how small your brain injury is… no matter how long your brain injury i, it changes you. Your identity. How you see yourself. When that changes you go 'I don't know who I am anymore'. I just don't know, so that makes you angry. It makes you upset."
However, he says that noticing this and coming to terms with it over the last few years has allowed him "to be more understanding of people besides myself".
"If people are rude, before I could have acted quite badly, rudely, back to them, whereas now you you go 'life is hard for everybody'. It has definitely helped me realise something."
Now he's back to take this role on in Ireland again for the first time since 2011.
The show involves him taking part in an audition for the role of Hamlet, which in turn requires him to tell the story of what happened on the night he was injured.
"In the show I describe what I did before the brain injury. [At first] I started to remember the literal feeling of lying through the air [during the incident]."
With a brain injury, Madden said "you look fine… and it's called a hidden injury". He says that what the experience has left him with is the realisation that a brain injury can happen to anyone – and it's not always visible.
"Having a disability is the only minority group that anybody can join at any time – you don't know," he points out. Around 13,000 people her year in Ireland can be affected by an acquired brain injury, according to Acquired Brain Injury Ireland.
As he takes to the stage tonight, Madden knows he's a different man to the one he was before the accident in 2011 – but he's also looking forward to tackling the role of the Great Dane once again.
Pan Pan Theatre's The Rehearsal, Playing the Dane opens this evening at the Abbey Theatre and runs until 26 May. For more information and tickets, click here.