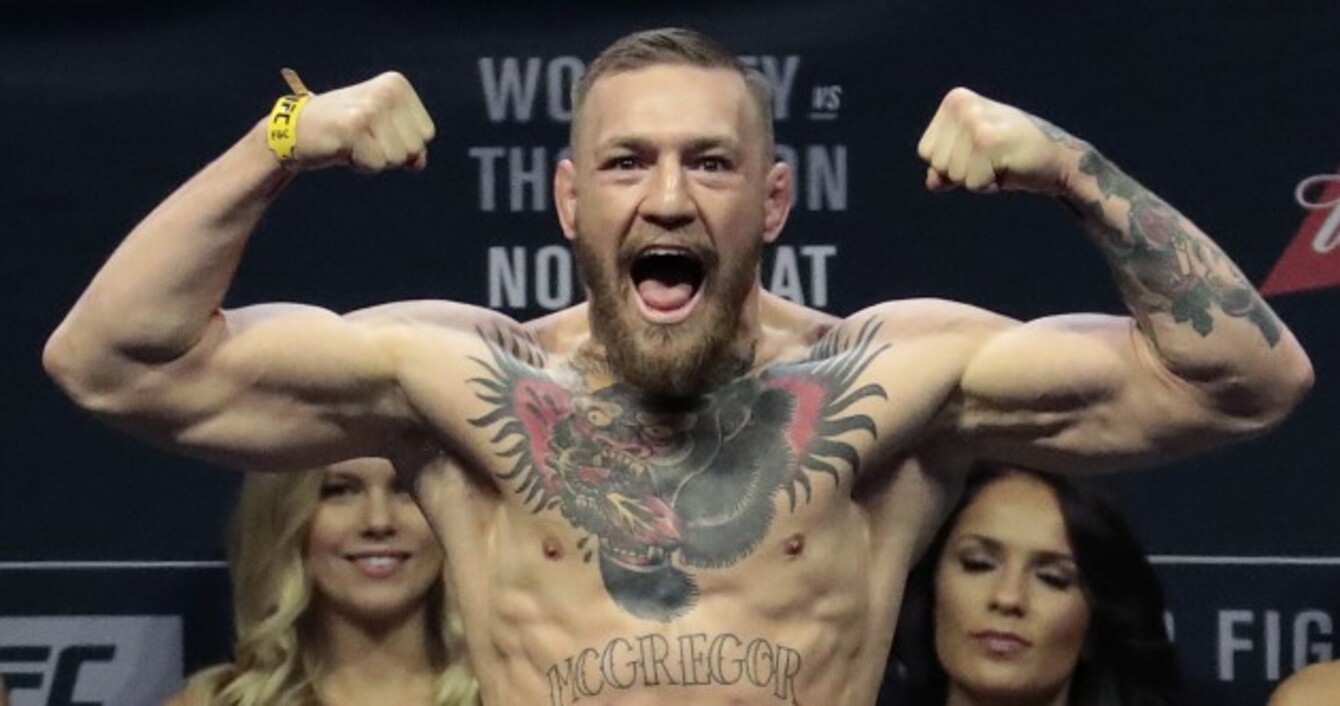 Image: Julio Cortez/PA Wire
Image: Julio Cortez/PA Wire
HALF OF PEOPLE in Ireland believe MMA (mixed-martial arts) should be recognised as a legitimate sport.
The latest Amárach/Claire Byrne Live poll for TheJournal.ie shows that 50% of Irish people would like to see Sport Ireland recognise the sport, made popular by Conor McGregor and the UFC.
Of those asked, 34% said they do not want MMA to be added to Sport Ireland's roster of legitimate sports.
A further 16% of respondents said they did not know whether the fight sport should be legitimised or not.  
MMA has been in the political spotlight recently after Sports Minister Shane Ross labelled elements of the sport "disturbing". He told the Irish Daily Mail that his department is looking at regulation – but stopped short of revealing his own personal opinion on whether it should be considered a sport.
After the death of Portuguese fighter Joao Carvalho in Ireland last April, the International Mixed Martial Arts Federation called for the government and Sport Ireland to recognise MMA as a legitimate sport. Progress has been made in the nine months since, according to Sport Ireland chief John Tracey.
Injury concerns
Fears over possible brain injuries are common across most fight sports and MMA is no different.
Last weekend, the Sunday Independent reported that a Beaumont Hospital neurologist has treated five fighters who had suffered brain haemorrhages.
McGregor's coach John Kavanagh told the newspaper that most fighters worry about the long-term impact of taking numerous blows to the head.
He plans on making brain scans compulsory for all his fighters at his gym.
"It's a heavy financial burden. I don't deny that. But, thanks to Professor Dan Healy at Beaumont Hospital, fighters can now avail of these scans for only €150, which is unbelievably cheap. They're paying over £500 for that in the UK. At €150, it would be remiss of coaches not to capitalise on this opportunity," he wrote in The42 in December.
Kavanagh also said McGregor being named as RTÉ Sportsperson of the Year was important because it "further enhances the reputation of MMA as a legitimate sport in the eyes of the public".
"Nevertheless, I know people's views are still very strong on both sides of that debate. That's the nature of being involved in a combat sport," he added.
Boxing still experiences that too.
"There was a small temptation to tweet about the irony of the national broadcaster's Sports Person of the Year award winner going to someone in a sport which isn't officially recognised as a sport in this country. However, our recent meetings with Sport Ireland have been very positive."
The Claire Byrne Live/Amárach Poll for TheJournal.ie is based on the views of 1,000 adults.