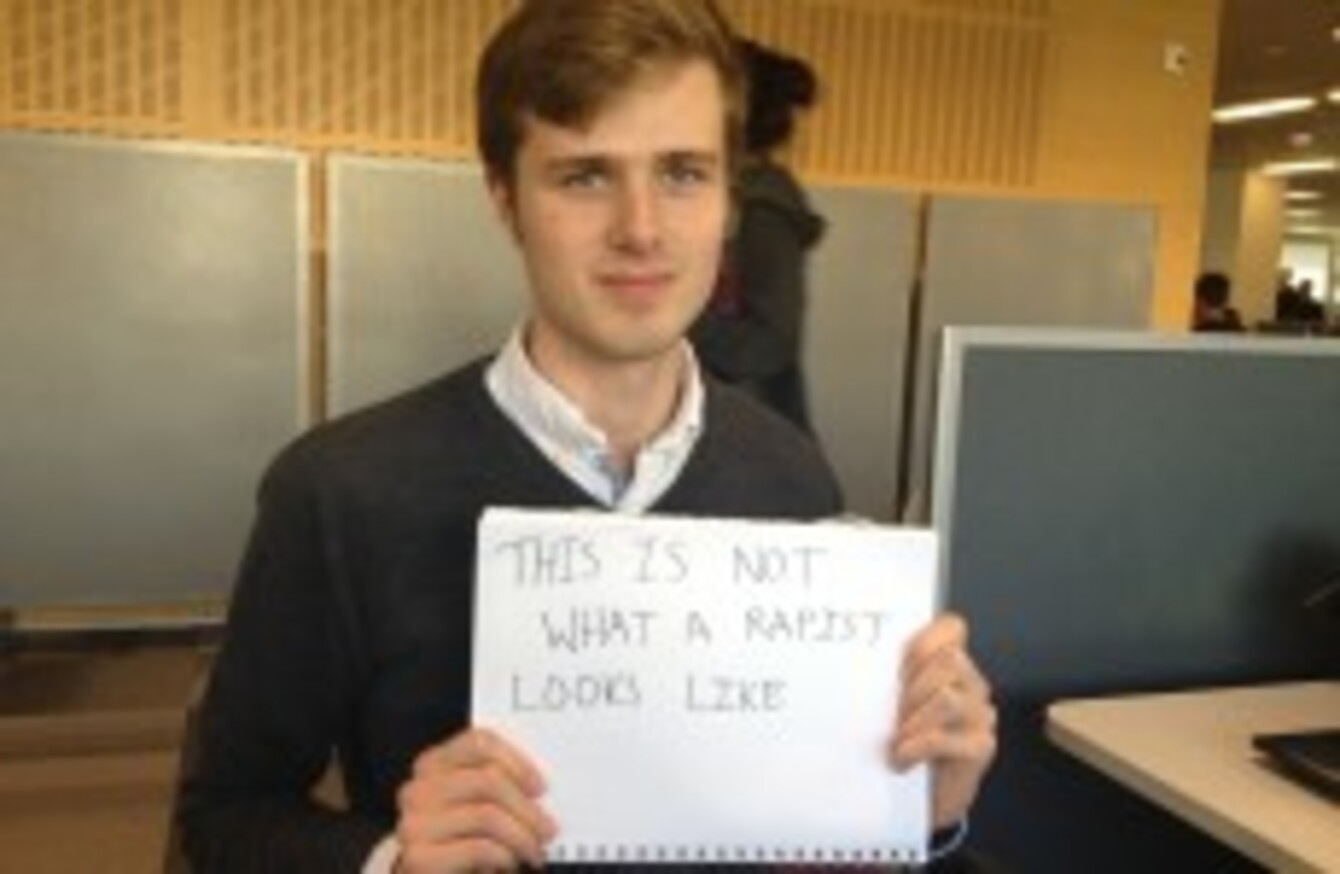 Image: The Tab
Image: The Tab
LAST WEEK, A student at the University of Warwick in England caused a stir when he spoke out against sexual consent lessons he had been invited to, claiming he did not need them.
George Lawlor posted a photo of himself holding a sign which read: 'This is not what a rapist looks like'.
Writing for student website The Tab, he described being invited to the optional lessons as "the biggest insult I've received in a good few years".
It implies I have an insufficient understanding of what does and does not constitute consent and that's incredibly hurtful. I can't stress that enough.
I already know what is and what isn't consent. I also know about those more nuanced situations where consent isn't immediately obvious as any decent, empathetic human being does. Yes means yes, no means no. It's really that simple.
His post went viral and he has received support from a lot of people who also took offence to the idea of these classes.
Baffled
But one Irish student's reaction to Lawlor's post has also been gaining momentum.
Nessa Dinneen, who attends the University of Limerick, wrote a blog post of her own in which she said she believes consent classes in universities should be compulsory for everyone – men and women.
The 20-year-old was shocked by the comments she saw online about it, as people made disturbing parallels between compulsory consent classes and rape.
I was completely and utterly baffled. I could not believe that people thought it was ok that this guy was essentially whinging about having to attend a class against his will and comparing it to being forced to have sex against your will.
In her post, the young woman describes a number of her own bad experiences with sexual consent.
#Open journalism No news is bad news Support The Journal

Your contributions will help us continue to deliver the stories that are important to you

Support us now
They include strangers in clubs grabbing her bum, and a horrifying night when her friends cheered on a forceful guy who had followed her into the ladies toilets and tried to get into the cubicle with her.
None of the experiences would be classed as rape, but Dinneen points out that all of the men in the anecdotes could do with taking lessons on consent.
Men don't need to be taught not to rape. They need to be taught what rape is. What full consent is in different scenarios. So that the things that have happened to me in only the last two years don't happen to girls in the future.
"Because the sad fact is that even after writing this post I'm still going to have similar experiences to the ones I've described, if not worse. And sad fact number two is that every girl who is reading this is guaranteed to have a few stories of her own similar to mine and many will have ones that are much much worse. It may be shocking to say but I've actually been pretty lucky."