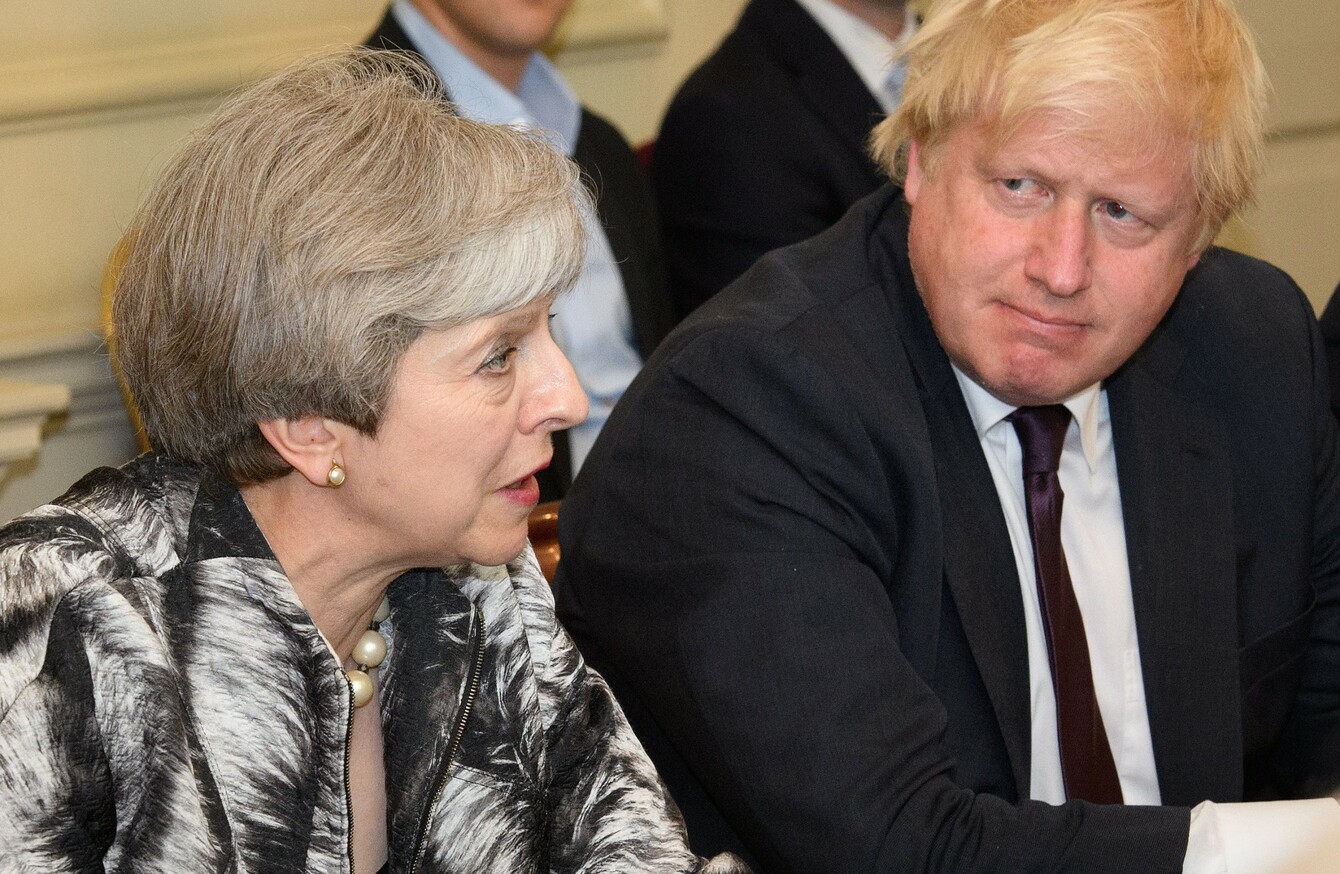 Image: Leon Neal/PA Wire
Image: Leon Neal/PA Wire
CONSERVATIVE AND LABOUR MPs are said to have met for secret talks, as Theresa May comes under increasing pressure for her failure to win a majority and her approach to Brexit.
Yesterday the Evening Standard – whose editor George Osborne was dropped as Chancellor of the Exchequer by May last year – reported that a group of "sensible" Tory MPs were meeting with their Labour counterparts to ensure a soft Brexit in the upcoming negotiations with the EU.
A senior cabinet minister told the Standard: "This is no longer a question just for Government. It is clear to me that Parliament will want to assert its role in a way it did not before."
From a position of holding all the cards, Prime Minister May is now left with few options as she strives to reach a deal with the DUP to prop up her party and give it a majority in the House of Commons.
She told backbench MPs she was sorry and promised to get "them out of this mess" in a meeting yesterday.
In perhaps the strongest indication that May won't have it all her own way in the Brexit negotiations, Conservative leader in Scotland Ruth Davidson has said that "this isn't just going to be a Tory Brexit". Davidson's position in the party has been strengthened after they won 13 seats in the country.
She told the BBC: "I'm suggesting that the Conservative Party works with those both within the House of Commons and with people without to ensure that as we leave the EU, we have a Brexit that works for the economy and puts that first.
There was a real sense around the Cabinet table today, as you would expect from centre right politicians, that is the primacy we're looking for.
Labour and its leader Jeremy Corbyn, meanwhile, were emboldened by Thursday's election. MP for Streatham Chuka Umunna told LBC radio yesterday that the result had effectively ruled out a hard Brexit.
The ongoing negotiations with the DUP look set to delay the Queen's Speech – the traditional beginning of a parliament where the Queen reads out the priorities of the incoming government.
"Obviously until we have that we can't agree the final details of the Queen's Speech," said May's deputy, Damian Green, referring to an agreement with the DUP.
May will meet DUP leader Arlene Foster later today.
Crunch time in Brussels
The political chaos in Westminster comes barely a week before the UK begins the formal negotiation process of leaving the EU.
Before that, May will travel to France this evening for talks with French President Emmanuel Macron. They are due to have dinner together before attending the football friendly between France and England at the Stade de France.
The prime minister had hoped to be in the French capital with a strong popular mandate for a "hard" Brexit.
#Open journalism No news is bad news Support The Journal

Your contributions will help us continue to deliver the stories that are important to you

Support us now
Instead she finds herself weakened and isolated as she meets Macron, a 39-year-old neophyte who rode to victory in last month's presidential elections and is on course for a landslide victory in France's legislature.
"Being seen to be the prime minister" could help "shore up her authority at home," according to Colin Talbot, professor of government at the University of Manchester.
It could also be the place for May "to change her position on Brexit," he added.
Since coming to power, May has advocated a "hard" Brexit, which would entail Britain leaving the European single market and cutting immigration from the bloc.
Macron and May are also expected to discuss the need for closer cooperation at the European level to fight terrorism, which they discussed at the G7 in Italy and at a NATO summit in Brussels late last month.
"I would expect that conversation to continue tomorrow. They may well discuss aspects of Brexit but the main focus will be on counterterrorism," May's spokesman said yesterday.
With reporting from AFP