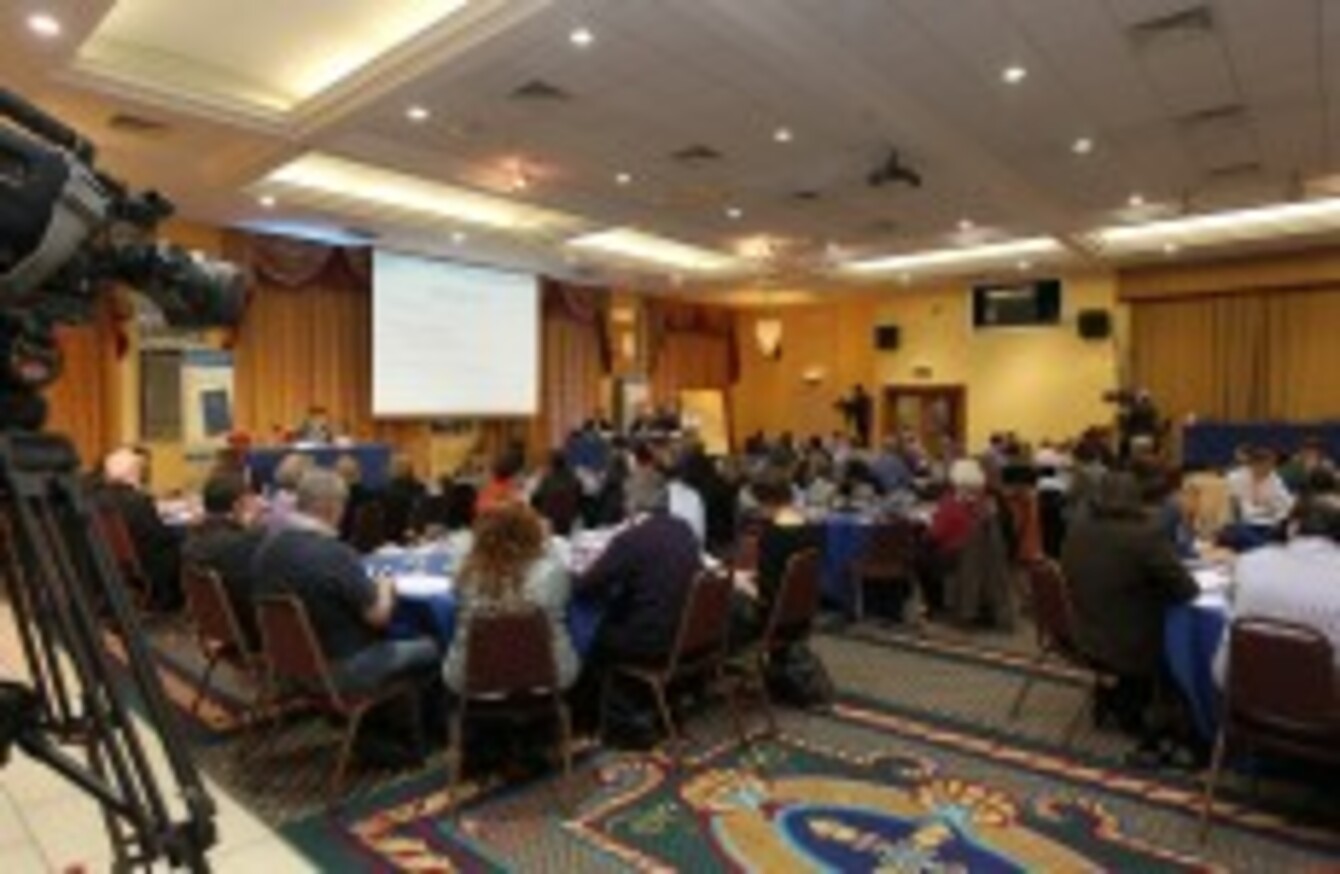 File photo of the convention in February last year.
Image: Sam Boal/Photocall Ireland
File photo of the convention in February last year.
Image: Sam Boal/Photocall Ireland
THE CONSTITUTIONAL CONVENTION has today voted in the subject of Dáil reform, making a number of recommendations including an enhancement of the Ceann Comhairle's role, reform of committee membership and powers and a change to the whip system.
Over the two days, members of the convention heard presentations from academics and specialists on the role and functions of Dáil Éireann and the challenges facing modern parliaments in Ireland and in other countries. Members include both politicians and members of the public.
A panel discussion with former Taoiseach John Bruton and former Minister Noel Dempsey among others was held and today members were presented with a number of options:
Reference to the Office of the Ceann Comhairle should be enhanced to give it more status
Provision for a secret ballot to elect the Ceann Comhairle be inserted into the Constitution
Include reference to Committees in the Constitution
Amend Article 17.2 of the Constitution (relating to prior government approval for expenditure proposals)
They also asked to vote on a number of changes to standing orders and parliamentary practices.
Members voted in favour of all proposed changes. 88 per cent of members were in favour of a secret ballot to elect the Ceann Comhairle. A whopping 99 per cent of them voted to recommend that the Dáil Reform Committee should bring forward proposals for genuine reform, reflecting the convention discussion.
Interestingly, 63 per cent said 'family-friendly' hours should be introduced for TDs.
These were the results of votes on changes to committees:
On the issue of the whip system, 84 per cent said there should be more 'free votes' on Dáil and committee business and 68 per cent voted in favour of creating a procedure to allow TDs to make recommendations that involve a charge to the public purse.
Chairman of the Convention Tom Arnold said "How Dáil Éireann does its business goes to the very heart of our democracy and throughout the weekend it was apparent that Convention members felt very strongly about the issue of Dáil Reform."
It is an exceptionally complex issue and members of the Convention heard a number of presentations from experts as well as drawing from the experience of former and presently sitting parliamentarians.
"Proposed reforms were discussed and debated in the context of the affect they would have, if they could in fact end up weaken or strengthen government and the democratic process," he added.