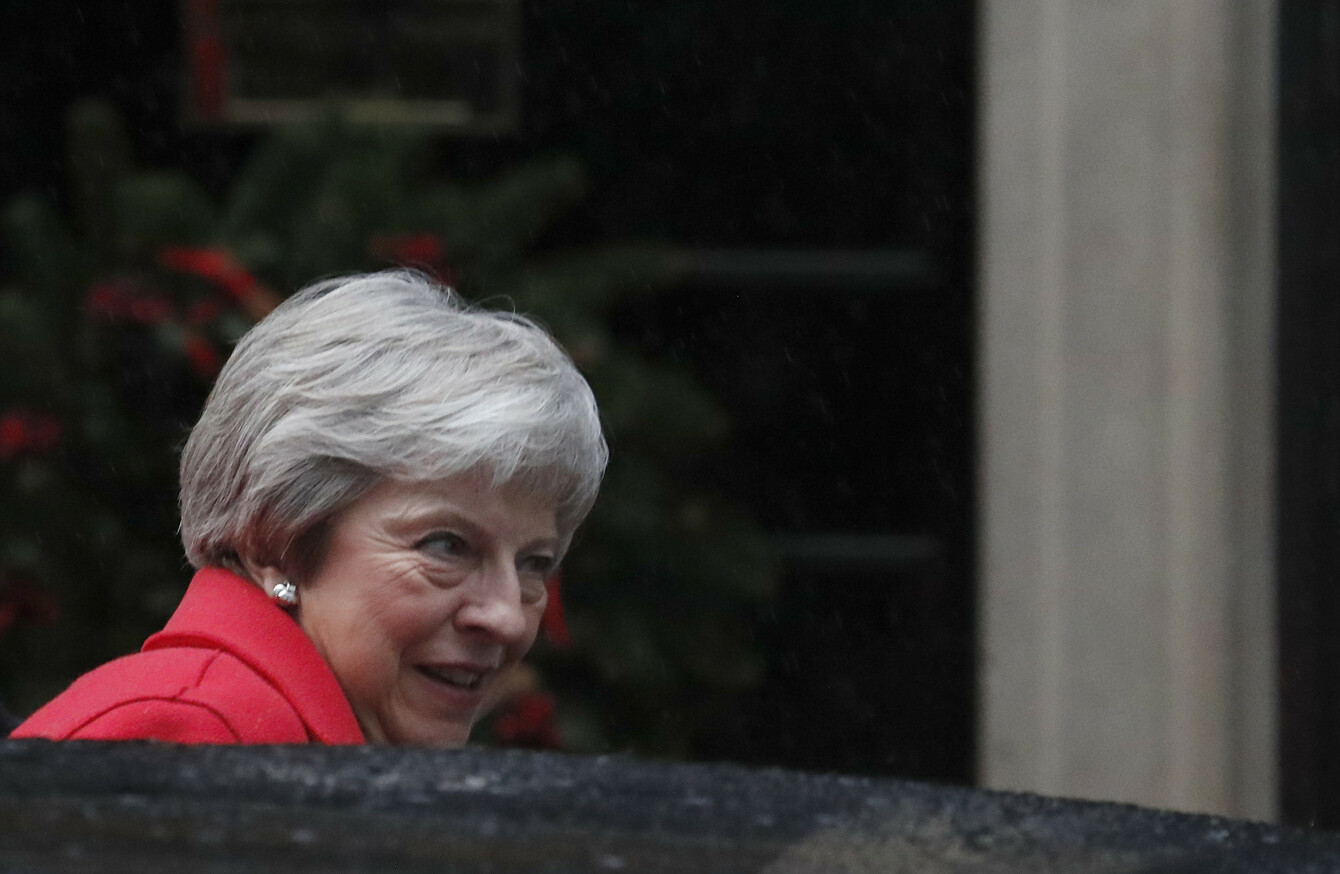 Image: Frank Augstein
Image: Frank Augstein
Updated Dec 5th 2018, 7:10 AM
UK PRIME MINISTER Theresa May is to publish the full legal advice on her Brexit deal today, after a bruising defeat in the House of Commons.
The House of Commons voted 311-293 to force the government to publish the full legal advice it received from the attorney general about the divorce deal May struck with the European Union last month.
The legal advice will be published at 11.30am today, according to RTÉ.
The government had failed to publish the advice in full despite a resolution passed by MPs last month.
MPs also voted against the government on two other motions – including one that would give MPs the power to decide what to do next if parliament votes down the Brexit deal next week. Although this isn't legally binding, it gives an indication of May's support.
May's critics believe the Attorney General's report is full of embarrassing details about Britain being forced to follow EU rules for years to come while having no say in its decisions.
Her government argues the prime minister has the right to receive legal advice in private, but after the latest parliamentary defeat promised to release the full report ahead of next Tuesday's contentious Brexit vote.
"This house has now spoken and it's of huge constitutional and political significance," said opposition Labour Party member Keir Starmer.
Lawmakers also backed an amendment that will give them a bigger say in what happens if May's deal is voted down – an outcome that looks likely.
It would let MPs draft a "Plan B" that May will face intense pressure to follow.
A defeat for the prime minister next week could trigger a no-confidence vote leading to early elections, leaving the Brexit process in utter chaos.
May faced these challenges and the ominous rumblings from disgruntled pro-Brexit members of her own party as she stepped before a packed and agitated session of parliament to kick off five days of intense debate.
"The only solution that will endure is one that addresses the concerns of those who voted 'Leave' while reassuring those who voted Remain," May said.
This argument has gone on long enough. It is corrosive to our politics and life depends on compromise.
Her message of unity was interrupted repeatedly by heckling from both pro-EU and Brexit-backing lawmakers.
Opposition Labour Party leader Jeremy Corbyn called May's plan "a huge and damaging failure for Britain" that came from "two years of botched negotiations".
Brexit shambles
The pro-EU camp's attempts to secure a second referendum on staying in the bloc meanwhile received a sudden boost from an opinion issued by a legal adviser to the European Court of Justice (ECJ).
Advocate General Campos Sanchez-Bordona said Britain had the right to halt the entire Brexit process without the agreement of other EU states.
"That possibility continues to exist until the withdrawal agreement is formally concluded," he said.
The Scottish National Party's pro-EU MP Alyn Smith proclaimed: "We now have a roadmap out of the Brexit shambles."
But May warned that abandoning the negotiated plan "would take us back to square one".
#Open journalism No news is bad news Support The Journal

Your contributions will help us continue to deliver the stories that are important to you

Support us now
"We cannot afford to spend the next decade as a country going round in circles on the question of our relationship with the European Union," she argued.
Renegotiate Brexit?
The vote next week has huge implications for the future of Britain, and that of May herself.
Labour said a defeat for the prime minister would likely trigger a confidence vote to bring down her government.
She has also been constantly challenged by hardline eurosceptics in her own party and might face an internal leadership contest as well.
Hardline Conservative Brexiteers say May's compromise deal does not represent enough of a break with Brussels.
The Democratic Unionist Party (DUP) also objects to special provisions for the North.
The party voted against the government Tuesday, formalising a rupture with May's Conservatives.
Many of May's critics want her to go back to Brussels and negotiate a better deal – a prospect that EU leaders have ruled out.
- © AFP 2018, with reporting from Gráinne Ní Aodha