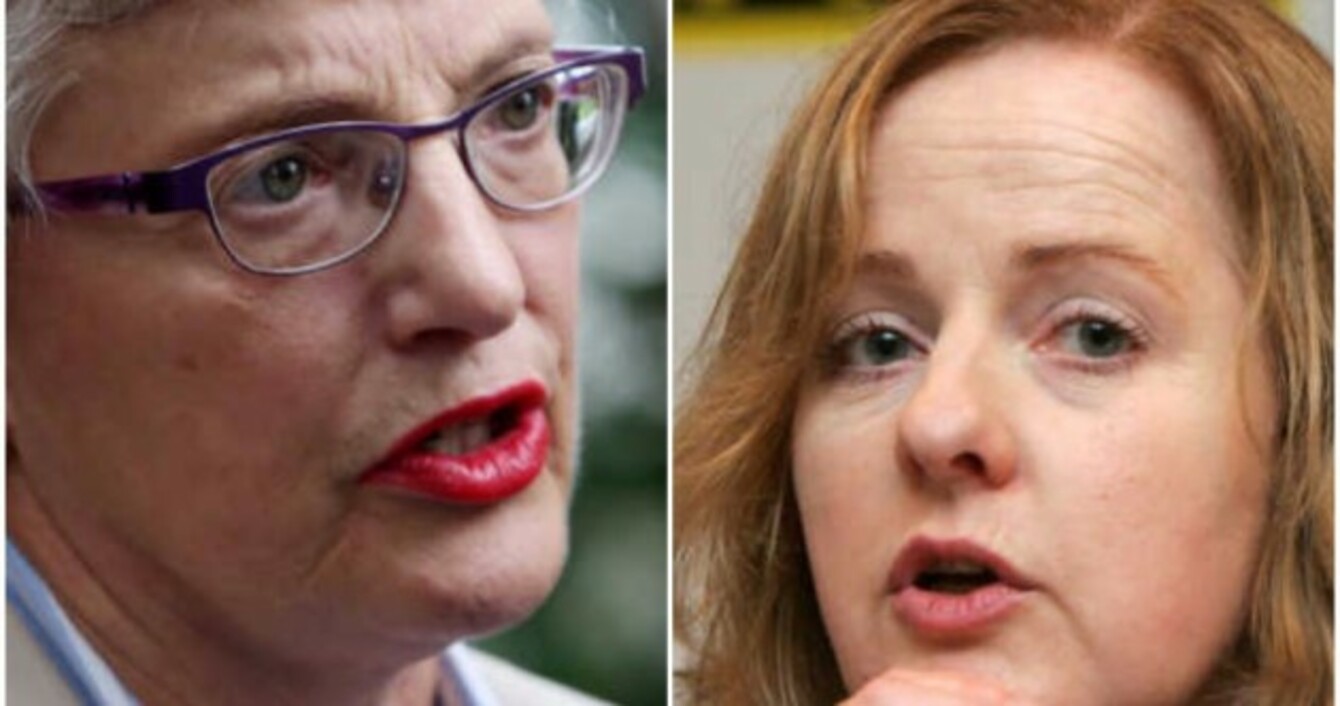 Children's Minister Katherine Zappone and AAA-PBP TD Ruth Coppinger
Image: Rollingnews.ie
Children's Minister Katherine Zappone and AAA-PBP TD Ruth Coppinger
Image: Rollingnews.ie
RUTH COPPINGER IS calling on members of the Independent Alliance and independent TD Katherine Zappone to 'stick by their principles' and stand up to Fine Gael on the Repeal the Eighth Bill due before the Dáil next week.
Speaking to TheJournal.ie, Coppinger said the AAA-PBP are calling on Zappone, John Halligan, Shane Ross and Finian McGrath to support the bill, given their pro-choice beliefs.
The Private Members Bill is due to be debated on Tuesday 25 October, with a vote taking place two days later.
The bill calls for a referendum to be held to repeal the Eighth Amendment to the Constitution and allow for the Dáil to legislate for abortion services in Ireland.
Tonight, Taoiseach Enda Kenny said the bill "cuts across" the work of the Citizens' Assembly.
'She was elected on a pro-choice platform'
Coppinger had some particularly critical words for the Children's Minister after she confirmed that she will vote against the bill next week.
I think she has now being greeted with disbelief and absolute rage because she got elected on a pro-choice platform – no limits, fully pro-choice and got votes on that basis.
Before the election she said I won't go into a government that won't have a referendum on it. She went into the government without a referendum. Then she went on the march with the Repeal jumper on and now she won't vote for a repeal bill.
In fairness the other three [John Halligan, Finian McGrath and Shane Ross] made a bit of a stand on the fatal foetal abnormalities bill, but she has just lost all credibility. She is very damaged by it, and I don't know if she knows that.
Responding to the comments made by Coppinger, a spokesperson for the minister said:
"Deputy Coppinger does not by any means speak for all who make up the Repeal the 8th campaign – I don't know if she knows that.
"Minister Zappone was greeted with warmth and a spirit of solidarity on the March for Choice – to suggest otherwise is simply wrong.
"During the General Election, the formation of Government and during many interviews since the Minister has been clear in her view that a Citizen's Assembly offers the best possible opportunity to repeal. The Assembly is now a reality with the 8th amendment the first item on its agenda."
Ross and co.
The Independent Alliance met this week to discuss its position.
It's understood they have the same thoughts on the bill as they did on Mick Wallace's legislation on fatal foetal abnormalities. Their position then was that there should be a free vote on the issue.
If that is granted, it's expected that Sports Minister Shane Ross, and junior ministers John Halligan and Finian McGrath, would support the AAA-PBP bill.
Junior minister Sean Canney and Kevin 'Boxer' Moran are expected to vote against the bill (as Fine Gael members will do).
Previous divisions
Wallace's bill divided the minority government in July, with members seeking a free vote, much to the dissatisfaction of government.
In the end, Ross, Halligan and McGrath voted against the government. Minister for Children Katherine Zappone, an Independent TD, voted with Fine Gael on the issue.
The bill was defeated by 95 votes to 45.
Coppinger is calling for members of the Independent Alliance to do the same this time around and said they would be compromised if they rolled back on it next week.
'Stand by their principles'
She called on the three TDs "to make a principle stand because they voted, the three of them, for this bill, the same bill, 18 months ago in May 2015″.
John Halligan spoke in favour of it, so why 18 months later would you disagree with it.
Now I understand they are looking for a free vote on it, and it is good that they have held the line against Fine Gael's threats, but it is seems like the government are talking about some kind of mechanism that would put some sort of amendment to the bill that would delay it – we utterly reject that.
It's been reported that Standing Order 148 could be used to delay the debate. Coppinger said it is normally used when a bill is ill-conceived or without sufficient debate and rejects its use.
She added that unlike Wallace's fatal foetal abnormalities bill, where there were criticisms over alleged discrepancies, next week's bill has been cleared legally.
"They can't use that excuse again, this has been cleared," she said.
The Dublin West TD added that the Citizens' Assembly should not be used as some sort of "flag of convenience" to support the government.
The full interview with AAA-PBP's Ruth Coppinger will be published this Sunday at 7am.