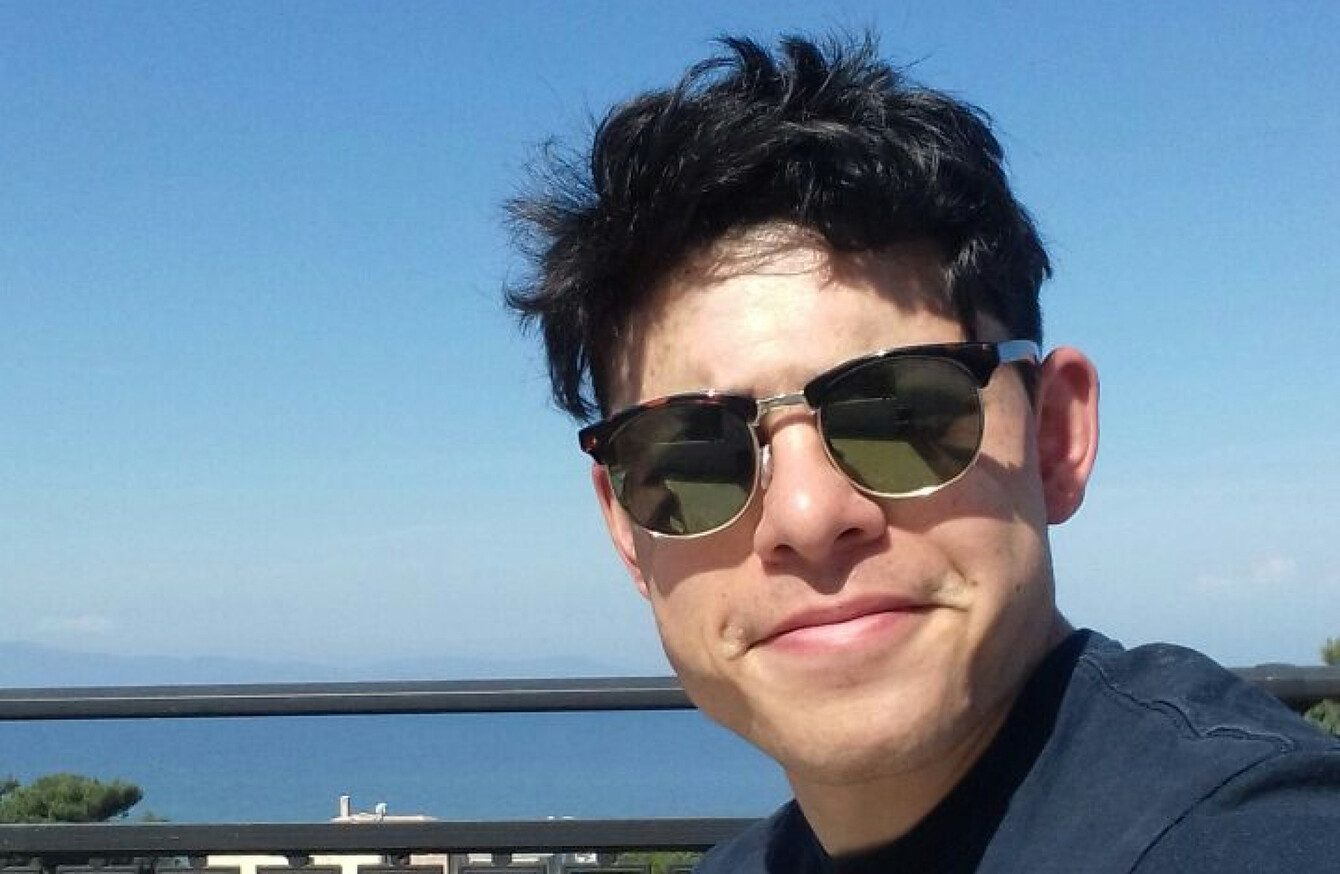 Seán Binder
Image: Image: Binder family
Seán Binder
Image: Image: Binder family
A MAN FROM Cork who was arrested in Greece three weeks ago is now facing at least another 40 days in jail after his appeal to lift his temporary detention was denied on Monday.
Seán Binder, who grew up in Togher Co Cork, is facing up to 20 years in prison after police arrested him on suspicion of human trafficking, money laundering, espionage and being a member of a criminal organisation. 
The 24-year-old had been working as a volunteer with Emergency Response Centre International (ERCI) in Greece when he was detained along with four other volunteers. 
After the appeal to end his detention was denied, Seán was not surprised, according to his mother Fanny Binder.
He's trying to prepare for the worst in order to be able to get through it. 
"Another appeal will be lodged at the end of this month but it could be another month before we get the result of that," Fanny told TheJournal.ie.  
The arrested members of ERCI were detained on the Greek island of Lesbos, where thousands of migrants are housed in squalid conditions in cramped camps. 
"The activities of an organised criminal network that systematically facilitated the illegal entry of foreigners were fully exposed," a police statement said.
Members of the group were in contact with migrants on social media groups and "actively assisted" their illegal entry into Greece from 2015 onwards, according to the statement.
To keep tabs on migrant flows, the accused also illegally monitored Greek coastguard and EU border agency Frontex radio traffic.
Any information gathered was not shared with Greek authorities, the police said.
Overall, six Greeks and 24 foreign nationals were implicated in the case, they added. 
Fanny told TheJournal.ie that there is no evidence to support the accusation made against Seán.
"He wanted to help and serve the people in need. His father was a refugee himself," she said. 
Fanny met Seán's father when he fled from Vietnam to Germany after the Vietnam war. 
Seán moved to Ireland from Germany when he was five-years-old and considers Ireland as home according to Fanny. 
The Department of Foreign Affairs confirmed that it was aware of Seán's situation but as he is a German citizen it said that it "stands ready to assist our German colleagues where appropriate". 
'They did nothing wrong'
Seán, a graduate of Trinity College Dublin, was originally arrested in February but was not detained. 
He handed himself in to police three weeks ago when a warrant was issued for his arrest and after he heard his fellow ERCI volunteer Sarah Mardini had been detained. 
Mardini, a 23-year-old Syrian refugee student and scholarship recipient of Bard College in Berlin is believed to currently be in a women's prison in Athens.
Her sister Yusra – a UNHCR goodwill ambassador – participated on the refugee team at the Rio 2016 Olympics.
A year earlier, the sisters had employed their swimming skills to pull the water-logged boat that brought them over from Turkey with another 18 people onboard.
"They did nothing wrong, they want to help people out of idealism," said Yusra's swimming coach Sven Spannekrebs.
"I was on Lesbos a few weeks ago and saw what all the volunteers are doing: A great job," he told AFP.
Spannekrebs said Mardini and Binder were "long-term volunteers for ERCI (and) never engaged in any illegal activity as suggested by the authorities". 
Following the arrest of the ERCI activists, the group posted a statement on its website denying the accusations made against the organisation following the detention of some of its volunteers.  
"Αs soon as they were called, the staff and volunteers of ERCI came before the authorities in Lesvos voluntarily and in accordance to the requests, to provide explanations and be questioned about the current investigation.
"Finally, we express our total respect and trust in the integrity and the impartiality of the Greek judicial authorities and its members."
Lesbos has been a key gateway into the European Union since the start of the bloc's migration crisis in 2015.
At the height of the influx, some 5,000 migrants and refugees, mostly from war-torn Syria, landed on the island's beaches on a daily basis.
It now has the highest concentration of migrants in Greece, with the worst conditions in the camp of Moria where over 8,300 people live, according to UN figures – about triple the nominal capacity.
Most wait months for their asylum applications to be processed. Living conditions are squalid and violent flare-ups common.
'It's out of my hands'
Costas Georgiades, a family friend of the Binders and fellow volunteer for ECRI  who was also being investigated by authorities, told TheJournal.ie that while Seán waits to appeal his detention again he is expecting a transfer to a prison in Chios. 
"He is currently being held in the police station in Lesbos, as you can imagine it is not the most ideal place to be, it is only a temporary detention facility, he has been there for over 25 days.
"Because it is an ongoing criminal investigation, it is really hard for any political intervention, however, the German Embassy has been supportive within the boundaries that they are allowed to operate," Georgiades said. 
Fanny added that if Seán is transferred to Chios his living conditions may approve but while he is in Lesbos she is able to visit him every day. 
"I do my best to be as close to him as possible, it's all I can do really, it's out of my hands," Fanny said. 
With reporting from © – AFP, 2018