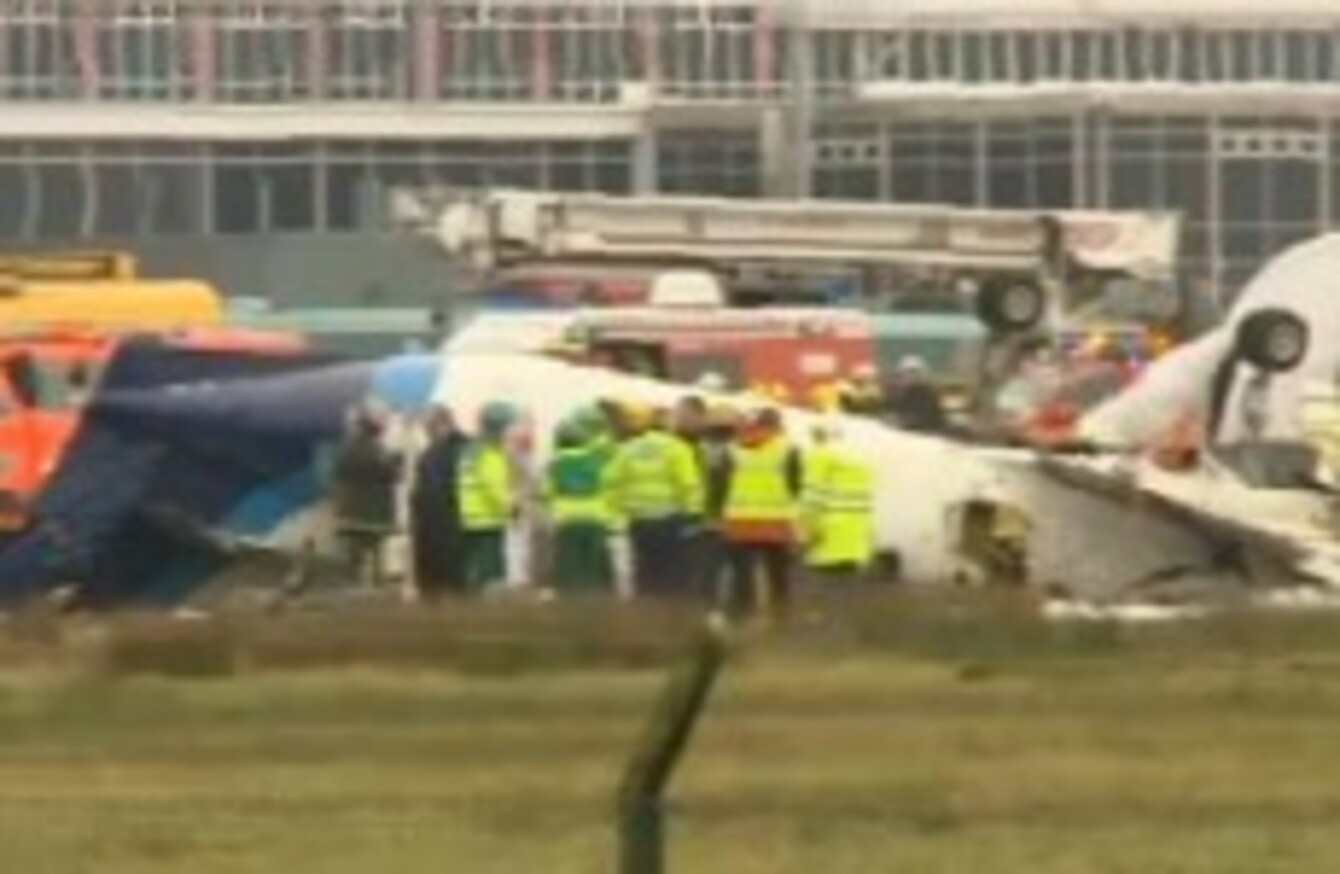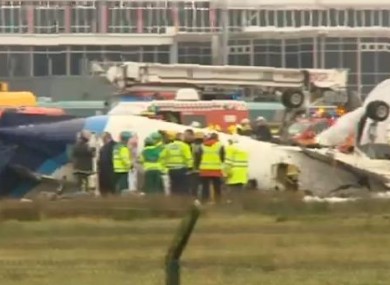 Updated 4.40pm
SIX PEOPLE are confirmed dead following this morning's crash involving a Manx Airline commuter plane at Cork Airport.
No names of the dead have yet been released. RTE is reporting that British, Irish and Spanish passport holders were on board the plane.
Tom O'Sullivan, communications officer with Cork County Council, confirmed that six other people were taken to hospital. None of them are critically injured.
Four of the six have serious injuries, and two were suffering soft tissue injuries, according to Dr Gerry McCarthy from Cork University Hospital. One of the survivors has been named as Donal Walsh, a graduate of Waterford Institute of Technology.
In an interview with RTE Radio's News at One, he said he was hopeful they would all survive.
A total of 12 people were on board the flight – ten passengers and two pilots. There was heavy fog in the area at the time of the crash.
Eamonn Brennan of the IAA said the aircraft, a Fairchild Metor Liner with flight number BPS 7100, had departed Belfast at 12 minutes past 8, and would have been due in Cork at 9.10am.
There was a category 2 fog in the area at the time. He told RTE Radio that the plane tried to approach two other runways, before attempting a third approach on Runway 17. "It crashed on the Western side of the runway," he said.
Visibility was very poor but all of the instruments were functioning properly, he added.
"It wouldn't have been anything more than normal circumstances for Cork."
A spokesman for the Dublin Airport Authority has confirmed that the emergency services are on the scene, and the Cork Airport Major Emergency Plan was activated at 10.18, and stood down at 11.04am. A total of eight ambulances and a number of fire engines were diverted to the scene.
The fire on the plane had been extinguished by 10.40am, but the plane is still upside down with its nose dug into the ground.
A statement from the Irish Aviation Authority said:
Flight Avia No FLT400C  a metroliner SW4 with ten passengers and two crew has crashed at Cork Airport.  No details of injuries or fatalities are available. The aircraft made an approach to Runway 17 in low vis conditions (Category 2) and went around  and did not land and attempted a second  landing on Runway 35. The aircraft then went around a second time and came back for an approach to Runway 17. On the second approach to Runway 17 the aircraft crashed adjacent to Taxiway C. Rescue and  Fire crew are in attendance.  There is a fire and debris has been scattered onto the runway and over a wide area. The accident will be investigated by the Air Accident Unit of the Dept. of Transport.  This correct at this time and may be amended as more detail becomes available.
Photo via Alan C. OBrien
Cork Airport issued a statement at midday, saying that all casualties had been taken to Cork University Hospital.
Cork Airport can confirm that there was a crash this morning at Cork Airport involving an inbound Manx2 flight from Belfast to Cork, flight number NM7100. The plane was due to land at Cork Airport at 09:45 hours. The emergency services are on site. All casualties are being transferred to Cork University Hospital. Cork Airport is now closed and will be closed until further notice.
#Open journalism No news is bad news Support The Journal

Your contributions will help us continue to deliver the stories that are important to you

Support us now
In a statement, the Dublin Airport Authority said that following the "very serious incident" passengers awaiting flights to and from Dublin and Cork Airport should contact their airline before coming to Dublin Airport.
Captain Michael McLoughlin of the pilots' association, IALPA, said he couldn't comment pending the investigations into the accident, but added:
We extend our sympathies to the families of anybody who was killed or injured in this morning's accident.
The chief executive of Belfast City Airport Brian Ambrose said in a press conference his thoughts and prayers are with the families of those affected and that staff of Belfast airport would be liasing closely with families of those affected. He said the passenger list was now with the PSNI.
Bishop of Cork and Ross John Buckley is at Cork airport, where he is assisting the families.
Ryanair has expressed its deepest sympathy and has contacted Manx2, the IAA and Cork Airport Authority and Belfast City Airport to offer any assistance it can.
A casualty information bureau has been set up at the airport telephone number 021 4328820.
All passenger-related queries can be directed to Manx Airlines. Telephone: +44 2890427004
Additional reporting by Gav Reilly