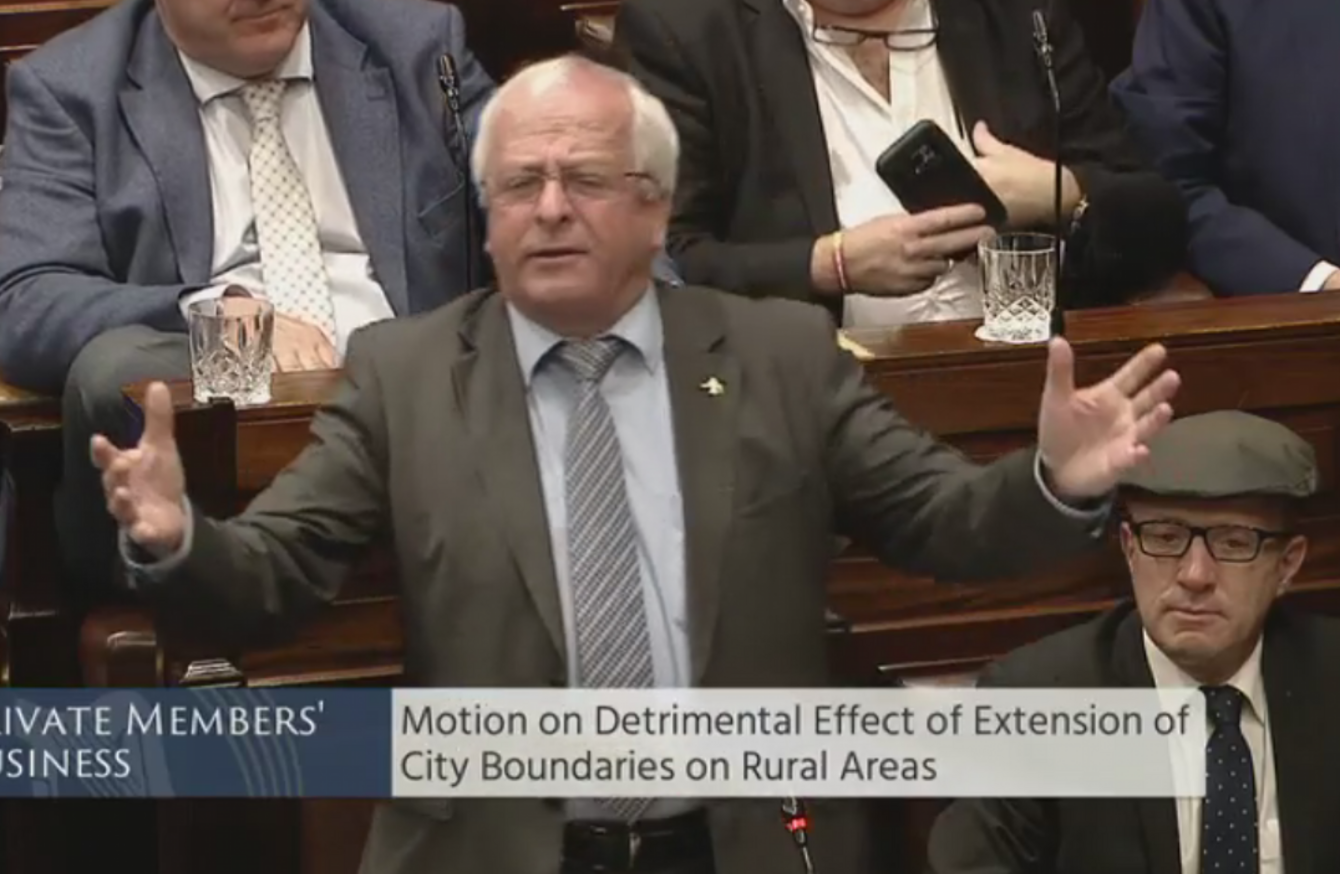 Mattie McGrath and Michael Healy-Rae are opposed to the expansion of Cork city
Image: Oireachtas TV
Mattie McGrath and Michael Healy-Rae are opposed to the expansion of Cork city
Image: Oireachtas TV
A GROUP OF TDs have come out strongly against plans to change the boundary between Cork city and county councils, because they say this will set a precedent that would be detrimental across rural Ireland.
In a feisty Dáil debate this week, a number of rural TDs attacked the government with Kerry TD Danny Healy-Rae asking: "Who thought of this brilliant idea to hurt rural Ireland further?"
Speaking on behalf of the government, Minister of State John Paul Phelan retorted that he wanted to "dispel any concern" and that to "portray the national planning framework as anti-rural [...] is entirely erroneous".
So what's going on in Cork?
A report commissioned by the government – called the MacKinnon report – has been a point of contention between Cork County Council and Cork City Council for some time now.
The report – which was commissioned by the Department of Housing – recommended "an expanded city council" to ensure that Cork is not left behind in terms of economic and social development, and that it does not get overtaken by Limerick and Galway in the future.
It is very specific on the new boundaries it recommends for Cork City Council, stretching out to Ballincollig, Carrigrohane, Blarney, Glanmire, Carrigtwohill and Cork Airport, which would see the population of the city almost double to 225,000 people.
In the wake of this report, Cork County Council made a proposal to the city on land it would cede responsibility for, offering areas such as Doughcloyne, Donnybrook, Grange, Rochestown, Kilbarry and Kilcully
In the above graphic provided by the county council, the red area in the middle denotes the current boundary for Cork city. Yellow is the proposal given by the county council and the blue line is the area that Cork City Council occupies.
The red line is what the county council says would be the size of Cork city, as per the recommendations included in the MacKinnon report.
The Mayor of Cork county, Declan Hurley, said these recommendations were "more reminiscent of a child's scribble on a map than a logical, considered conclusion".
It is understood that the city council has not yet made any official response to this offer from the county, but the councillors have said that they want to see the full report implemented.
From the city's point of view, it is important that Cork makes the right changes now to ensure that, in a few decades' time, it has the sufficient size and resources to allow it to remain a major city in its own right.
Cork City Council mayor Tony Fitzgerald recently wrote an open letter to the citizens of Cork, which claimed that county residents would experience a better quality of life within a city boundary.
In the letter to some 100,000 people who live in the county council area, Fitzgerald looked to reassure those affected by the proposals that being part of the city would offer Cork the best opportunity to grow.
Fitzgerald said that he was "deeply disappointed by recent attempts to whip up unnecessary fear in communities".
"In Cork City, a growing economy has not led to a growing population as it was strangled by an outdated city boundary that had not been extended since 1965," Fitzgerald said.
Cork City Councillor Sean Martin, similarly, told TheJournal.ie that the MacKinnon report is the "only show in town".
"It's about making Cork a global city," he said. "What we want to see is the recommendations in that report implemented."
What has TDs worried?
A group of TDs, including Mattie McGrath, Michael Harty, Michael Collins and Michael and Danny Healy-Rae, brought the matter to a Dáil debate.
"The recent controversy surrounding proposals to extend the Cork city boundary into the Cork County Council area has given rise to profound concern in many parts of rural Ireland," they said.
Our fear is that this model will become something of a blueprint to legitimise a redrawing of county boundaries at the expense of rural communities and the further curtailment of available local authority funding.
The decision on the boundary change may now ultimately rest with the government.
Phelan told opponents in the Dáil that Minister Eoghan Murphy had "specifically pointed out [to the chief executives of Cork city and Cork county] that it would fall to them to develop detailed and comprehensive proposals for the boundary alteration".
He did add, however, that in lieu of the two parties agreeing on proposals "it may lead to an application for ministerial decision".
Introducing a motion attacking the plans, Cork South West TD Michael Collins said that the plans could be considered a "Cork Brexit".
He said: "This would cause a further urban-rural divide within our county councils when we should be working together. Its consequences are not yet known and will not be fully known until it is too late."
He accused Fine Gael, Fianna Fáil and Sinn Féin of supporting the MacKinnon report "through the back door" and said that the report "belongs in the bin".
He was supported by Clare TD Michael Harty who said that "this is an issue which will arise in many areas in future".
"Boundary changes are another demonstration of how the dismantling of local government removes democracy further away from the people," he said.
Danny Healy-Rae added: "I do not blame Mr. Mackinnon, who wrote the report, and I do not know him. I blame the people who hired him and thought of this idea to take funding away from areas that are already under savage pressure to retain their identity."
#Open journalism No news is bad news Support The Journal

Your contributions will help us continue to deliver the stories that are important to you

Support us now
All of the opponents said that vital funding would be denied to the Cork County Council if it got smaller – through loss of commercial taxes and rates – and feared the same happening in their own constituency.
Alongside that, making areas part of a city would strip away vital cultural elements of an area, they claimed.
"Getting left behind by Dublin"
Plans to move the boundary broadly has support from the main parties.
Fianna Fáil's finance spokesperson Michael McGrath said he accepted and supported the need for the extension of the city to "provide further scope for further development of Cork city in the years ahead".
Proposing a counter-motion that would see Cork's economic development and planning board taking in the whole county, Sinn Féin's Donnchadh Ó Laoghaire said it would be "the fairest model" to ensure the redistribution of finance throughout the county.
He said: "We need to move forward on the basis of dialogue, but also on the basis of a long-term vision for Cork.
It needs to develop as a significant counterbalance, although complementary, to Dublin. To do that, we need to make the right decisions now for the next 20 to 40 years.
Solidarity-PBP TD Mick Barry said expanding the city was necessary due to the size of Dublin.
He said: "Our capital has a population of more than one million but the next largest city, Cork, has a population of approximately 125,000. This massive imbalance is very unhealthy for the country as a whole."
Barry said proposals that would almost double the population of Cork would be a "positive step" towards addressing this imbalance.
He added that it "does not come anywhere near Brexit in terms of consequences and the fact that exaggerations of that kind are thrown into the debate is an indication of the weakness of some of the arguments being made".
Minister Damien English said that developing urban areas in rural Ireland was something that was essential to the future of Ireland's population growth.
He said: "We live in towns that were not planned and suffered population overspill from Dublin. They suffered all kinds of consequences in trying to catch up.
If we get this right, with the support of the House, there will be no catching up on bad planning as we will have good planning from the start.
Far from the ruin of rural Ireland, English called it "the saviour".
Mattie McGrath wasn't taking it lying down, however. He spoke of towns being neglected and "jobs for the boys" in county councils.
He added: "You have raped and plundered, and I hate using that word in this context, and you continue to do it.
This motion is an effort to correct the imbalance. We want to have a debate here, not just with your slippery, slimy amendments… We will not lie down and the people of Ireland will not lie down.