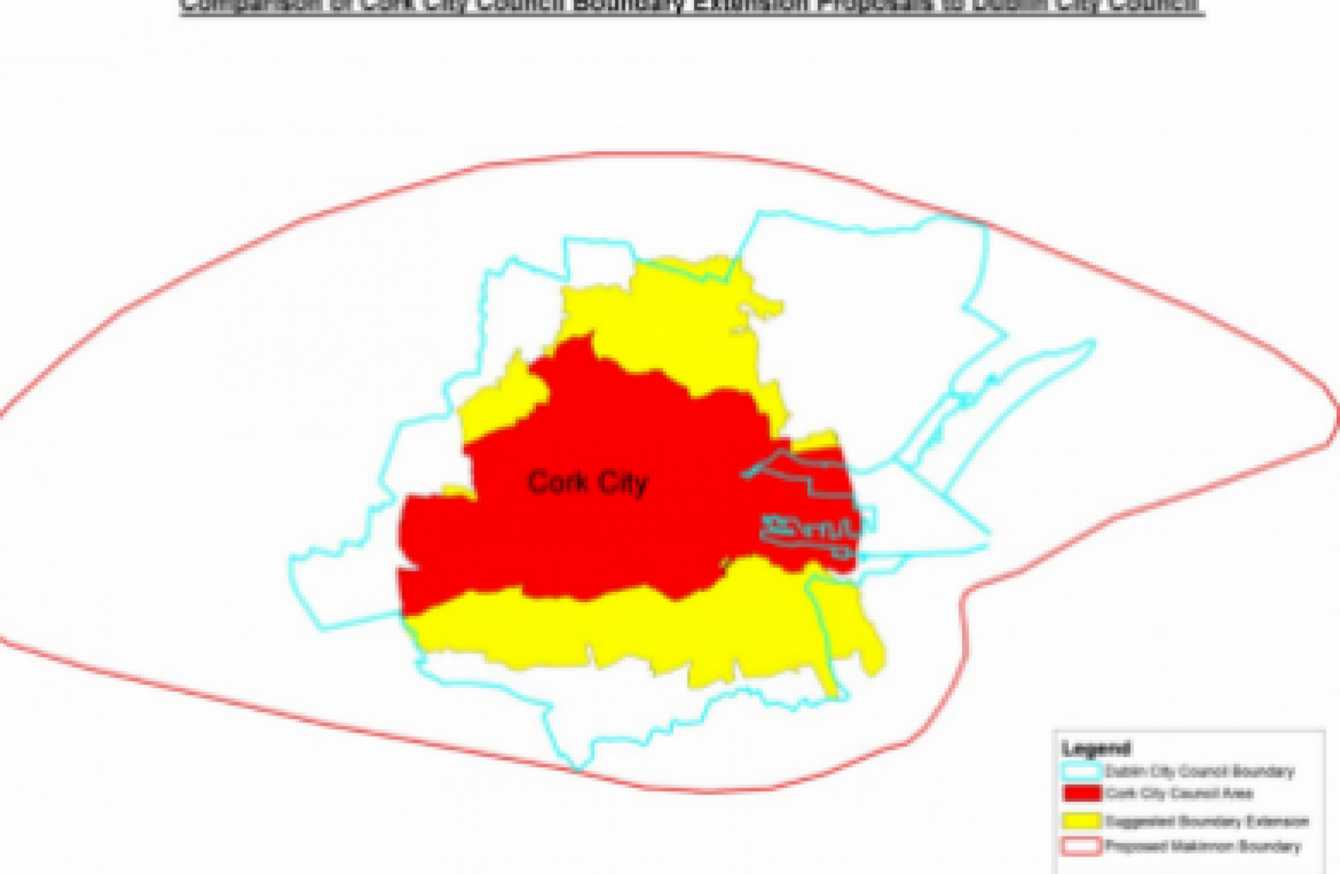 The new boundaries proposed for Cork City.
Image: Cork County Council
The new boundaries proposed for Cork City.
Image: Cork County Council
CORK COUNTY COUNCILLORS have expressed "grave concerns" at the impact that recommendations to redraw the county's boundary with Cork City Council could have on the future delivery of services in the county.
A meeting held by Cork County Council tonight is the latest development in a row about the boundary between the city and county.
Tensions have been brewing in recent weeks between the mayor of Cork County Council, councillor Declan Hurley, and the mayor of Cork City Council, councillor Tony Fitzgerald.
The dispute between both mayors has arisen following recommendations to redraw the city's boundaries within the MacKinnon report.
The report – which was commissioned by the Department of Housing - proposes extending the current remit of the city council to include Ballincollig, Carrigrohane, Blarney, Glanmire, Carrigtwohill and Cork Airport, which would see the population of the city almost double to 225,000 people.
Tonight's meeting
At tonight's meeting, elected members of the county council highlighted concerns from residents in communities across the county council area about the recommendations.
Hurley said:
"Cork County Council is unanimous… that the lack of public consultation and engagement with communities up until this point has been deplorable.
It has resulted in a situation whereby the process that is being proposed by government to expand the city boundary has come as a major surprise to communities.
Cork County Council had made a set of proposals to Cork City Council on a section of land it would cede, but councillors on the city council voted unanimously to reject these.
Hurley expressed his disappointment with the rejection of the council's recent offer, claiming that the city council "appear to be unwilling to engage in any discussions on the county's proposals".
Cork County Council unanimously agreed at tonight's meeting to submit a formal boundary alteration proposal to Cork City Council for consideration.
"This approach provides for public consultation whereby all stakeholders – including community groups from across Cork – can have their say," Hurley said.
City Council's open letter
In contrast to Hurley's stance, Cork City Council mayor Tony Fitzgerald recently wrote an open letter to the citizens of Cork, which claimed that county residents would experience a better quality of life within a city boundary.
In the letter to some 100,000 people who live in the county council area, Fitzgerald looked to reassure those affected by the proposals that being part of the city would offer Cork the best opportunity to grow.
Fitzgerald said that he was "deeply disappointed by recent attempts to whip up unnecessary fear in communities".
"In Cork City, a growing economy has not led to a growing population as it was strangled by an outdated city boundary that had not been extended since 1965," Fitzgerald said.