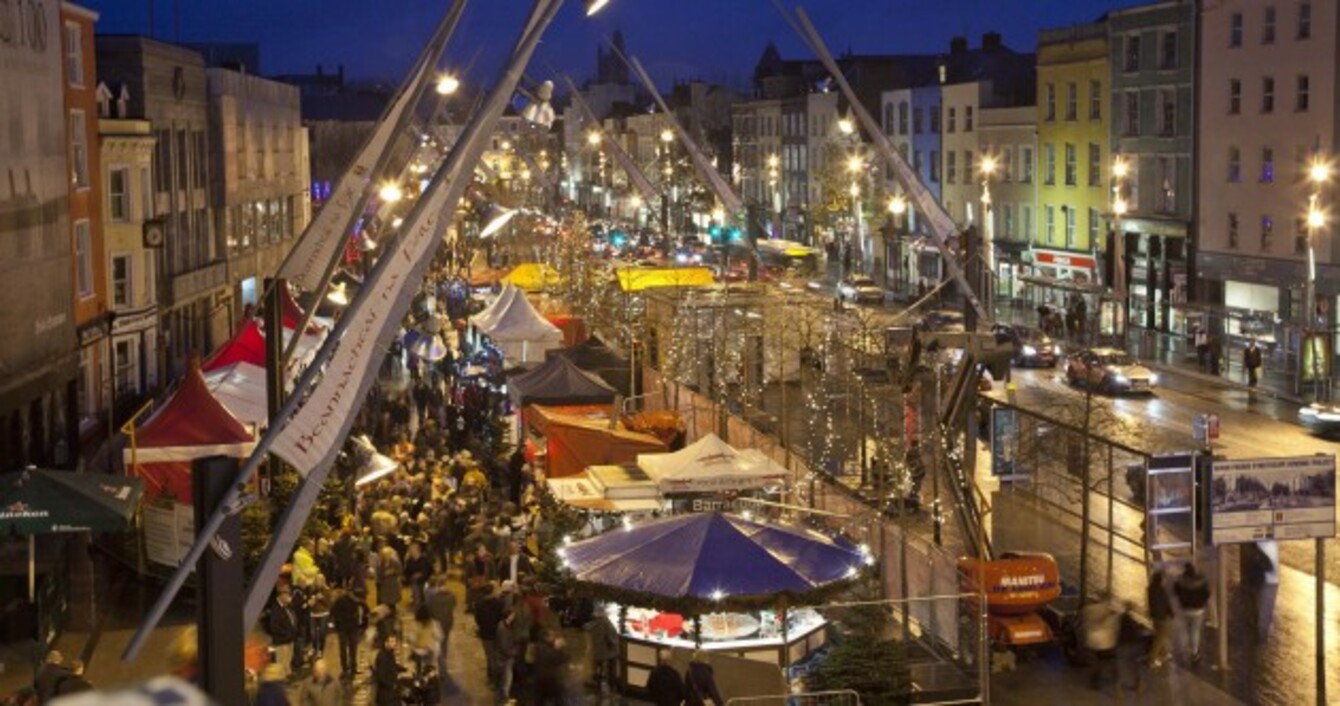 Image: Cork City Council
Image: Cork City Council
THE TREES ARE going up, the lights are going on, and for those who'd rather not begin thinking about Christmas for at least another fortnight or so, all the fuss is becoming increasingly difficult to ignore.
Our advice? Better to give in and just enjoy it. After all, there's only 31 days left until the 25th (and we're just eight days from 1 December, the unofficial 'embargo' date at the country's radio stations for the playing of 'Fairytale of New York').
So if you're in Cork, or planning a shopping trip over the next few weeks, here's TheJournal.ie's lowdown on all you need to know…
Away with the Faerys
An 'enchanted faery village' will be the centrepiece of Cork City Council's 'Glow' Christmas festival this year. 'Tír na Nollag' runs Fridays through Sundays at Bishop Lucey Park from next weekend, and entry is free of charge.
According to the promotional blurb, visitors "will be greeted by magical faery inhabitants as they wander around a faery woodland where the Spirit of Christmas lives". Not the place to end up if you're any kind of cynic, then.
Original traditional music has been created for the display, and organisers say there'll also be a place for kids to post their letter to Santa "sprinkled with magical faery dust to ensure their wishes come true".
Each journey through the village takes around 20 minutes.
[Image: Cork City Council]
Food Markets
Now that you've spent almost a full half-hour entertaining the kids, it may be time to head along to Grand Parade for some figgy pudding and eggnog (or whatever you're having yourself).
The Glow Christmas Food Markets also open on the 29th, offering a range of festive treats from local producers.
Organisers have included "crepes, gourmet sausages, locally produced spiced beef, breads and fresh organic herbs" on what's presumably not an exhaustive list of what's on offer.
Mmm. Organic herbs…
[Image: Suzies Farm]
The lights
The main lights on Patrick Street were officially switched on last Sunday in a ceremony presided over by chat-show host and journalist Brendan O'Connor.
Impressively-sized trees are also being placed at Bishop Lucey Park, near the monument on Grand Parade, at Triskel Christchurch, outside Murrays and at City Hall.
According to the council, there'll also be 'festive firs' at Boreenmanna Road, Blackrock Castle, Churchfield, Knocknaheeny, Farranree Church and elsewhere (let's just say there's be a lot of trees around, shall we?).
And on the subject of festive displays, it wouldn't be Christmas in Cork without the window display at Brown Thomas:
Lifelike, aren't they? [Image: Brown Thomas, via Twitter]
Where can I park?
Cork City Council's offering a free parking promotion at the moment. Bizarrely though, it comes to an end today.
Details, for what it's worth, can be found at the council's website.
This driver is definitely going on the naughty list [Image: Robbo-Man]
And it really wouldn't be Christmas in Cork without…
The S.H.A.R.E Collection
Hype and bluster from retailers aside, Corkonians know it really must be time to start taking that Christmas shopping list seriously when the SHARE collectors arrive on the streets.
While the charity works all-year round, its most active period is at Christmas, when around 1,800 secondary school students hit the city centre with their familiar yellow outfits and collection boxes.
The organisation was founded in 1970 by Brother Jerome Kelly and the students of Presentation College, but these days schools from all over Cork are involved.
The fundraising drive begins on 14 December, with the crib at Daunt's Square providing the focal point for the effort.
[Image: ShareCork.org]