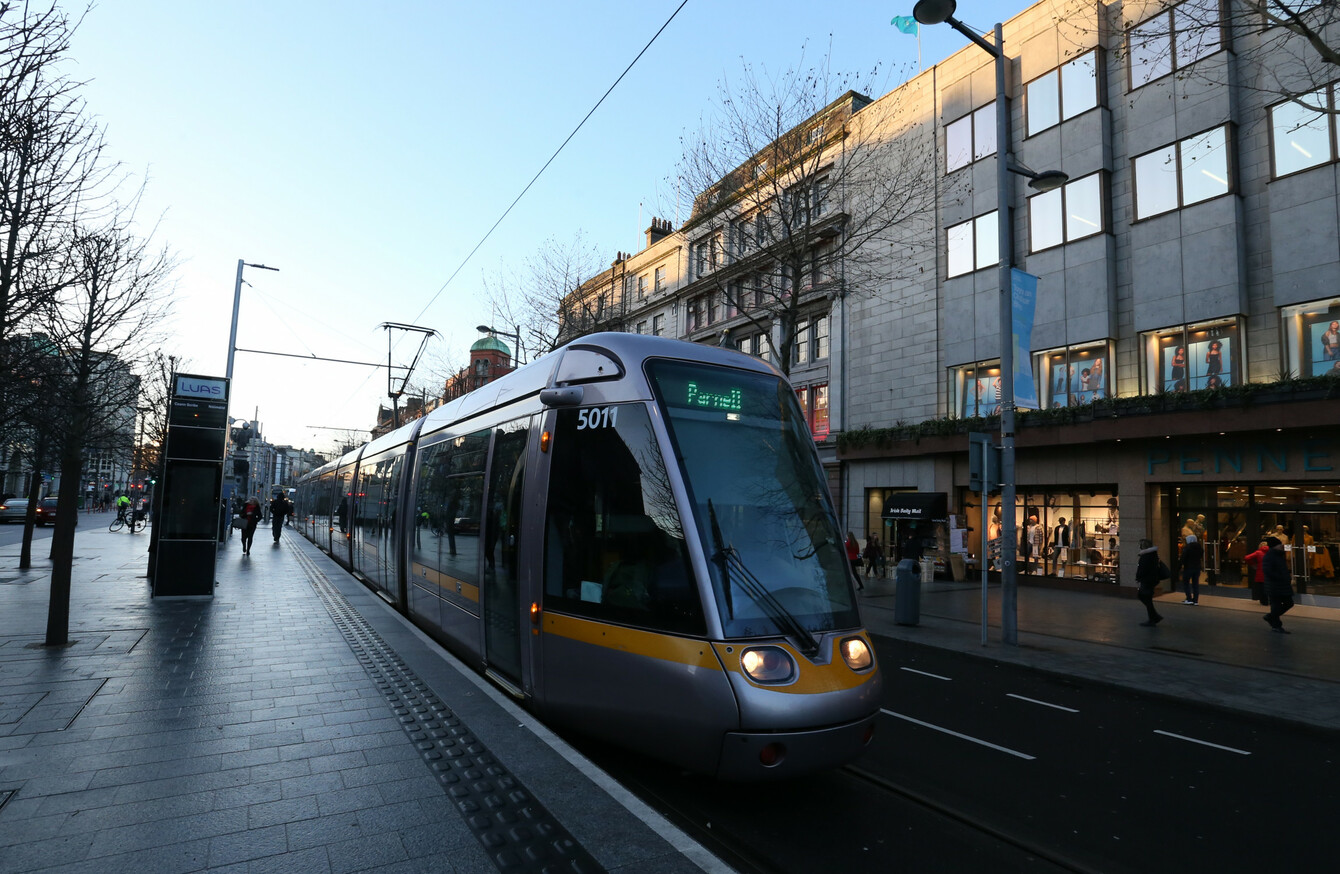 Image: Sam Boal
Image: Sam Boal
LOCAL REPRESENTATIVES ARE already split on where to put a Luas in Cork city – despite appraisal of the system being nearly a decade away.
Last week's National Development Plan (NDP) pledged to "undertake appraisal, planning and design" of a design to put a light rail system in the second city.
The idea was generally welcomed on its own, but some cautioned that it will not be enough. Green Party leader Eamon Ryan said that other items for the city's public transport were "non-existent".
The Cork 2050 document, which was the city's submission to the Project Ireland framework, estimates that the light rail system would cost around €868 million to complete. A transport master plan for the city is currently being finalised. Cork 2050 suggests the light rail system replace a bus-based BRT system after 2040.
However, a proposed routing is already splitting local representatives.
People Before Profit representative Ed Fitzgerald this week suggested this map:
It would link Ballincollig with Mahon west to east and Kent Railway Station with Cork Airport north to south. The party says the first line would follow the old Cork to Passage West railway line and would serve UCC, CIT and the city centre.
Fitzgerald says that the time has come for a "serious public discussion" about the implementation of the system. He says that many Cork roads are taking more traffic than they are designed to and this means a shift to light rail is needed.
These routes could provide interconnectivity between residential areas, employment areas, transport hubs and the city centre. A system such as this would remove the need for many car journeys in and around Cork, and would connect the Docklands (due for redevelopment) to the city centre and Mahon.
However, the PBP suggestion doesn't serve much of the city's northside, leaving out Blackpool, Gurranabraher, Farranree, Knocknaheeny and Hollyhill – home of Apple's campus. Rather, the PBP network calls for the light rail to link to a commuter rail line that would have stations in Blackpool, Whitechurch, the planned 5,000 home Monard development, Blarney and Grenagh.
The remaining areas would be served by bus.
Ideas for those stations were floated around 15 years ago – with Blackpool's site even getting planning permission – but were pulled in 2013 due to a lack of funding. The NDP says that the Cork master strategy will include future details of improvements to the commuter rail system. The Cork 2050 document costs these stations and upgrades at around €375 million.
However Kenneth O'Flynn, a Fianna Fáil councillor for Blackpool says that the light rail must go through the northside.
"Our intention was always to run a light rail to Ballyvolane through Blackpool. We had been promised a Blackpool rail station but that hasn't happened.
We're not trying to make it all northside, we want to service the city well. But we want a level pegging between north and southside. That starts with the north ring road to counterbalance the growth of the southside.
Sinn Féin councillor Thomas Gould agrees.
"The most frequent bus in Cork is the 202 from Mahon Shopping Centre to Apple in Hollyhill. If you were able to get a light rail to there, you'd be taking cars off the road, buses off the road and you'd be freeing up the city. Then, you're only two miles out to Blarney.
The northside has a massive lack of infrastructure – including in the Project Ireland 2040 plans. But two straight lines is a bit simplistic. We should be looking at the areas beyond the city – Tower, Carrigtwohill, Carrigaline, Douglas – and seeing how we can link them up.
"We need balanced development – and that has to include the northside."
The need
In a city of 125,000 that isn't physically huge, questions will be raised about whether or not Cork even needs light rail.
On this, all parties agree.
"Yes, it does," says an unequivocal O'Keefe.
"This is a second city that plans to grow and needs to be served. We're being proactive about it, too. Cork City Council recently sent a delegation to Europe to discuss funding for it.
"Cork is not an unmanned desolate spot as some would have you believe. We have great hopes for 2020 and beyond."
Gould concurs.
"I suggested this five or six years ago and people said we didn't have the money. But that's when we should have been planning.
You look at the time it takes – you're talking about decades. We need to start planning it now and have a timeline in the next few years. We have no plan for how all of the new houses that we're proposing will get around the city.
The PBP proposal says regional cities use similar systems.
"Many European cities of a similar size benefit from light rail systems, removing many cars from the city centre and providing fast and efficient connectivity between commercial and residential areas.
The Cork city and suburbs area has grown by over 10,000 people in five years and significant future growth is predicted. Redevelopment is proposed in a number of areas in and around Cork, including Cork's southern docklands and Tivoli. With the expansion of the Cork City boundary imminent, it is crucial that the development of the expanded city is centered around sustainable transport.
"Given the success of light rail in Dublin, similar schemes should be implemented in Ireland's regional cities.
"There are more than enough financial resources in Ireland to deliver such systems. Successive governments have lacked the political will to develop and maintain green and sustainable public transport infrastructure. We need solutions like this to provide alternatives to car transport."
Cork 2050 calls for €4.5 billion in investments in the city's infrastructure, including over €2 billion on roads.