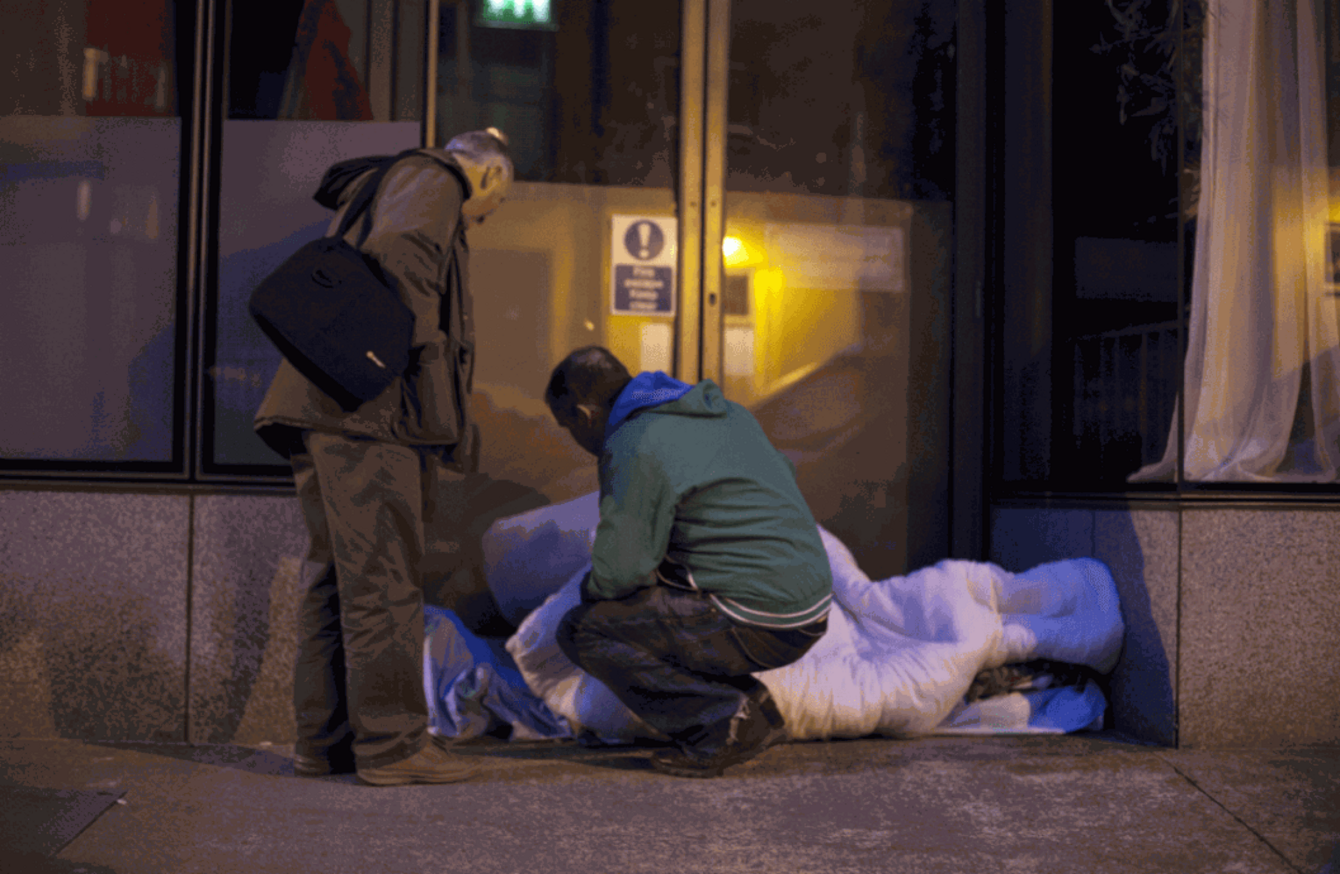 A rough sleeper in Cork
Image: Cork Simon Community
A rough sleeper in Cork
Image: Cork Simon Community
A NEW REPORT from the Simon Community in Cork has shown a shocking spike in the number of people sleeping rough on the city's streets.
Reflecting on the findings, director of the Cork Simon Dermot Kavanagh said that 2015 had been "probably our busiest year ever" and that demand had been "enormous".
During the year, close to 1,300 people used the charity's services.
Its emergency shelter – which has room for 44 – was stretched to absolute breaking point, taking in an average of 50 people a night.
Perhaps the most harrowing finding is the spike in rough sleepers over the past few years.
In the short four years from 2011 to 2015, this figure – seen as a key metric in measuring the extent of the homeless crisis – went up by almost 1000%, from 38 up to 345.
Overall, the report paints a picture of an issue that, both in Cork and nationally, is yet to hit its nadir.
However, Kavanagh does see some hope on the horizon.
During 2015, the charity managed to house 24 different people, he said, emphasising that it was taking a 'housing first' outlook where a person was placed in a home and had supports built around them.
Speaking earlier today, he also commended the recent increase in rent supplement – something that came into effect last Friday and will see payments boosted by between 15% and 25% depending on different areas of the country.
"The answer is housing, and more housing and more housing again," he said, reflecting on key improvements that need to be made.
We need to look at the issue of empty properties. And in this city there are thousands of empty properties. Hundreds owned by the city council.
Only a couple of months into the job, new Housing Minister Simon Coveney has one of the toughest portfolios of any of the new government appointments.
Speaking before Dublin City Council last month, he proposed a "carrot and stick" approach to getting empty properties onto the market, with the housing stock needing to be boosted by 25,000 to 35,000 each year for the next decade.
A Housing Action Plan is due to be announced by the end of this month.