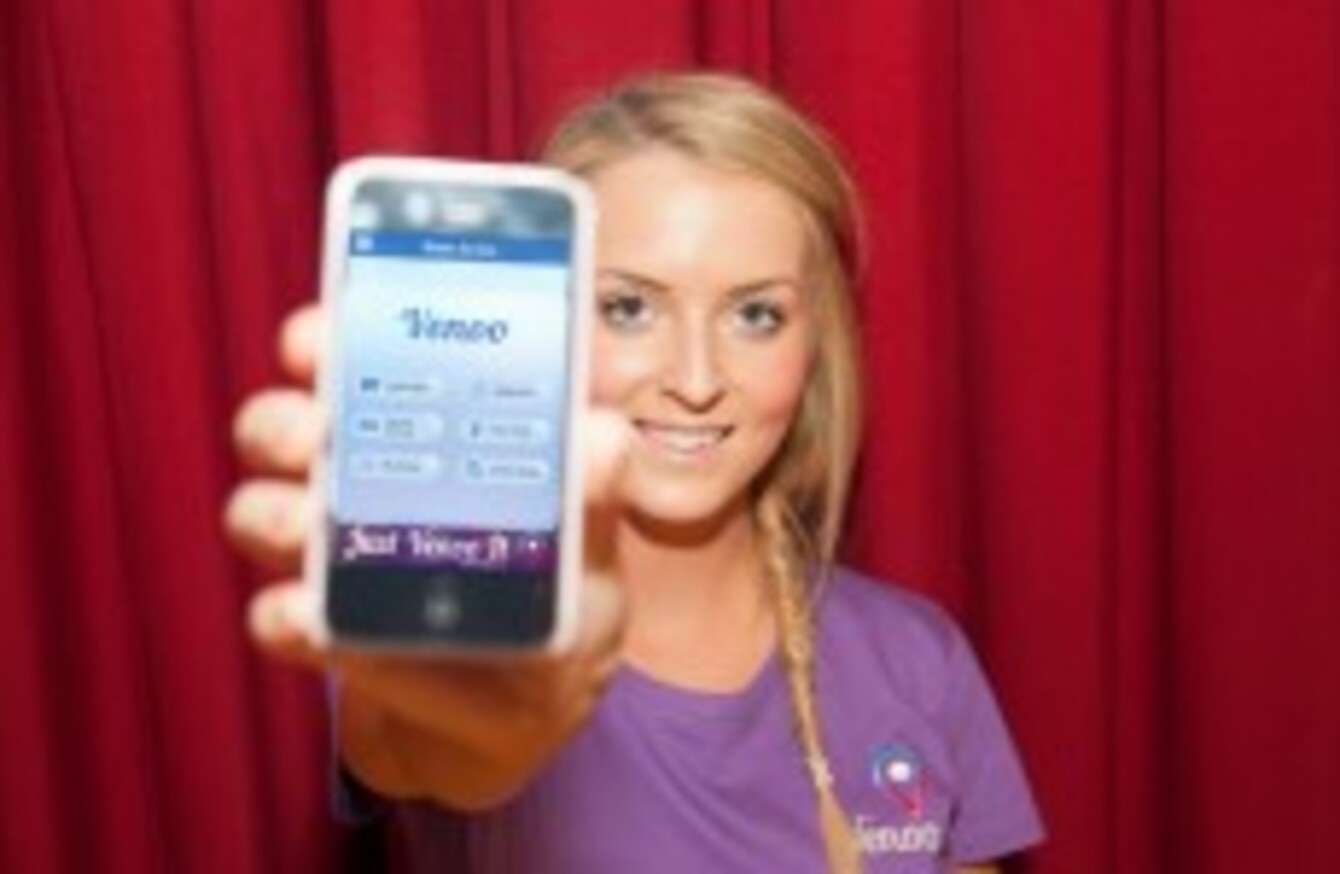 Image: Venoo
Image: Venoo
WHEN YOU'RE ON a night out, how many apps do you use? Chances are a messaging app like WhatsApp or Viber to organise a plan and maybe a taxi app like Hailo to get in and out.
Venoo is hoping to add itself to that list by offering a local messaging and payment service rolled into one app.
At its most basic level, the Cork-based service teams up with venues to offer 15% discounts for drinks and food to those using the app and allows customers to order them without having to queue. By using a top-up service, similar to how pay-as-you-go phones work, it prevents you from overspending at a venue without realising it.
For the director of Venoo, James O'Keeffe, providing a service that allowed users to use their phone to go cashless made sense since people were "more likely to leave without their keys to the house than their smartphone."

Source: Dog Day Media/Vimeo
The other aspect of Venoo is it's also a local messaging service. While there's a public element to it, one of the main features the app is pushing is the dating element.
By connecting to your Facebook profile, and only using your name, profile picture and age, you can check to see who else is in the venue and should you see someone you're interested in, you can add them and send them a 'wink' to get the ball rolling.
You can even buy them a drink through the app – in which case the top-up account feature prevents you from waking up with any nasty surprises the next morning - they have to accept such requests first before anything can happen and ultimately, the aim is to say hello in person. As O'Keeffe puts it:"People might chat on this but eventually, they're going to have to walk up to them and say hi."
With all of these features in place, it's probably no surprise that the makers treat security and safety as a major priority. When you're topping up, Venoo doesn't save your credit or debit card details when you top up or save your Facebook information beyond the info already provided.
O'Keeffe mentions how it also using push notifications to help promote campaigns like drinking responsibly on the night and highlight taxi services as well.
Towards the end of every night, we would have a notification going out telling people to plan their way home and taxi numbers built into it so people can ring and book one home. The main thing that we're conscious of is the safety of our customers coming into [and leaving] a venue.
The app also uses Stripe, the payments service created by Limerick brothers Patrick and John Collison, to ensure that all payments made from customer to bar is done securely.
Currently, the app had a soft launch in Cork, and is testing out the app in Rearden's Bar, Havana Browns and the Secret Garden, but it's planning to expand to two more bars in Cork before its official launch next month. After that, the aim is to have five to seven major venues in Ireland using the app and maybe expand the service to the UK and US.
For now, it's just about improving the app and getting people here to use the app over the long-term.
"Between the four of us [the team behind the app], we're all trying to keep grounded and push it to as many venues as possible," says O'Keeffe.