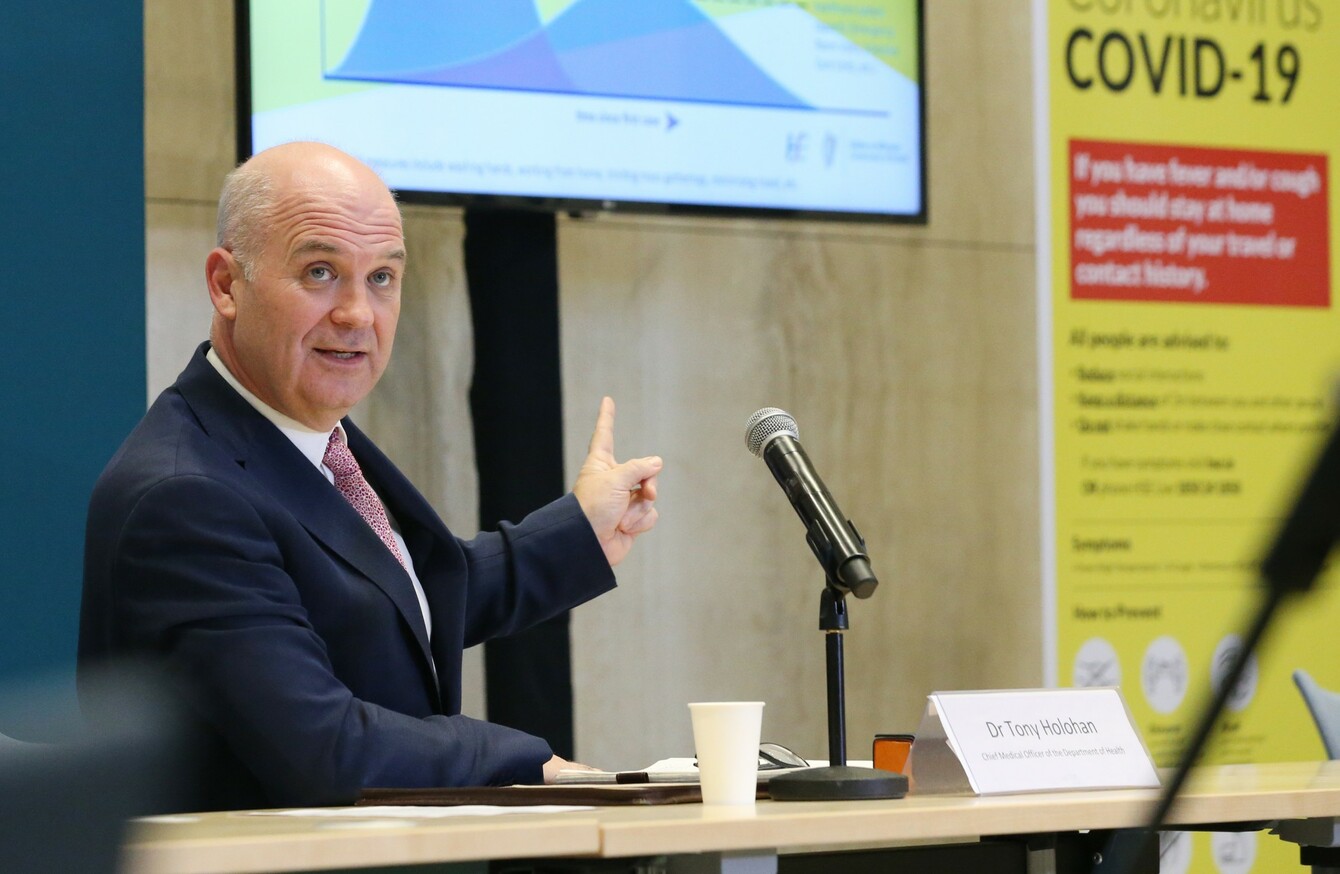 Image: RollingNews.ie
Image: RollingNews.ie
Updated Mar 24th 2020, 9:23 PM
HEALTH CHIEFS HAVE confirmed a further 204 new cases of Covid-19 in the Republic of Ireland, bringing the total number of cases here to 1,329.
One more death has also been confirmed, bringing the total number of deaths in the country to seven. 
The patient was a male from the east of the country with an underlying health condition.
Northern Ireland also confirmed a further death today, bringing the total number of deaths from Covid-19 there to five. Northern Ireland's number of cases has doubled in four days and now stands at 172. 
As of midnight last night, 17,992 tests have been carried out in laboratories across the country. All of those individuals have received their results. 
At this evening's briefing, Dr. Tony Holohan, Chief Medical Officer, Department of Health outlined that the National Public Health Emergency Team recommended adopting the World Health Organisation case definition for Covid-19. 
In effect, it means that people must meet this criteria before being considered for a Covid-19 test. People may still be tested without meeting the exact criteria however if they are; a contact of a confirmed case, a healthcare worker or in a vulnerable group. 
The WHO's definition  for Covid-19 is: "A patient with fever and at least one sign of respiratory disease, for example cough, shortness of breath."
Testing
Speaking at a briefing at the Department of Health this evening, the head of the HSE's Coronavirus Expert Advisory Group Cillian de Gascun said that the hope is up to 16,000 people couple be tested per day within a month. 
"The National Virus Reference Laboratory are in the region of 1,300 tests per day at the moment. And then in laboratories around the country we're in the region of about 750 tests per day," de Gascun said.
"Over the coming days we expect that capacity to ramp up significantly and we will get to the region of probably about 3,000 tests per day by next week, and that will continue to increase over the coming sort of four weeks probably to capacity of 15,000 to 16,000 tests per day. 
Asked to provide details of the average wait time for people to receive test results, de Gascun said that the time between a test arriving at a lab and being completed is about 26 hours.
The last time it would have been here  talked about a turnaround time averaging about 10 to 12 hours, which would have been from the time the sample arrives at the laboratory to the time that the result is issued. And what we've seen over the last week, not surprisingly with the increase in demand is that that turnaround time has drifted out to about 26 hours from the time the sample arrives at the lab to the time the samples issued.
"But again, it's just important to highlight that those will be samples from the community where people have been deemed to be well enough to self-isolate at home, and it is important to highlight that the message is, or the intervention, if you like, is about self isolation."
Holohan also said that it is important that people focus on self-isolation rather than testing. 
"All actions we take are based on epidemiological evidence and in proportion to our experience on this island.," Holohan said.
As we team more about this disease, we are prioritising who will be tested. If you are not in a priority group, you might not be tested. However, if you have the symptoms, assume you have Covid-19 and isolate yourself.
Dr. Colm Henry, Chief Clinical Officer, HSE added: "It really is important that the test doesn't distract from the core message, which is to act as if you have it if you have those symptoms. And if you act as if you have it, you'll do the right thing in isolating yourself and your immediate family members, that's the core message."
Cases
Of the 1,329 confirmed cases within the the Republic of Ireland, 55% are male and 45% are female. There are 44 clusters involving 243 cases.
Of those hospitalised, 36 cases have been admitted to ICU.
Of those for whom transmission status is known, community transmission accounts for 47%, close contact with a confirmed case accounts for 23% and travel abroad accounts for 31%
The HSE is now working to identify any contacts the new patients may have had to provide them with information and advice to prevent further spread.