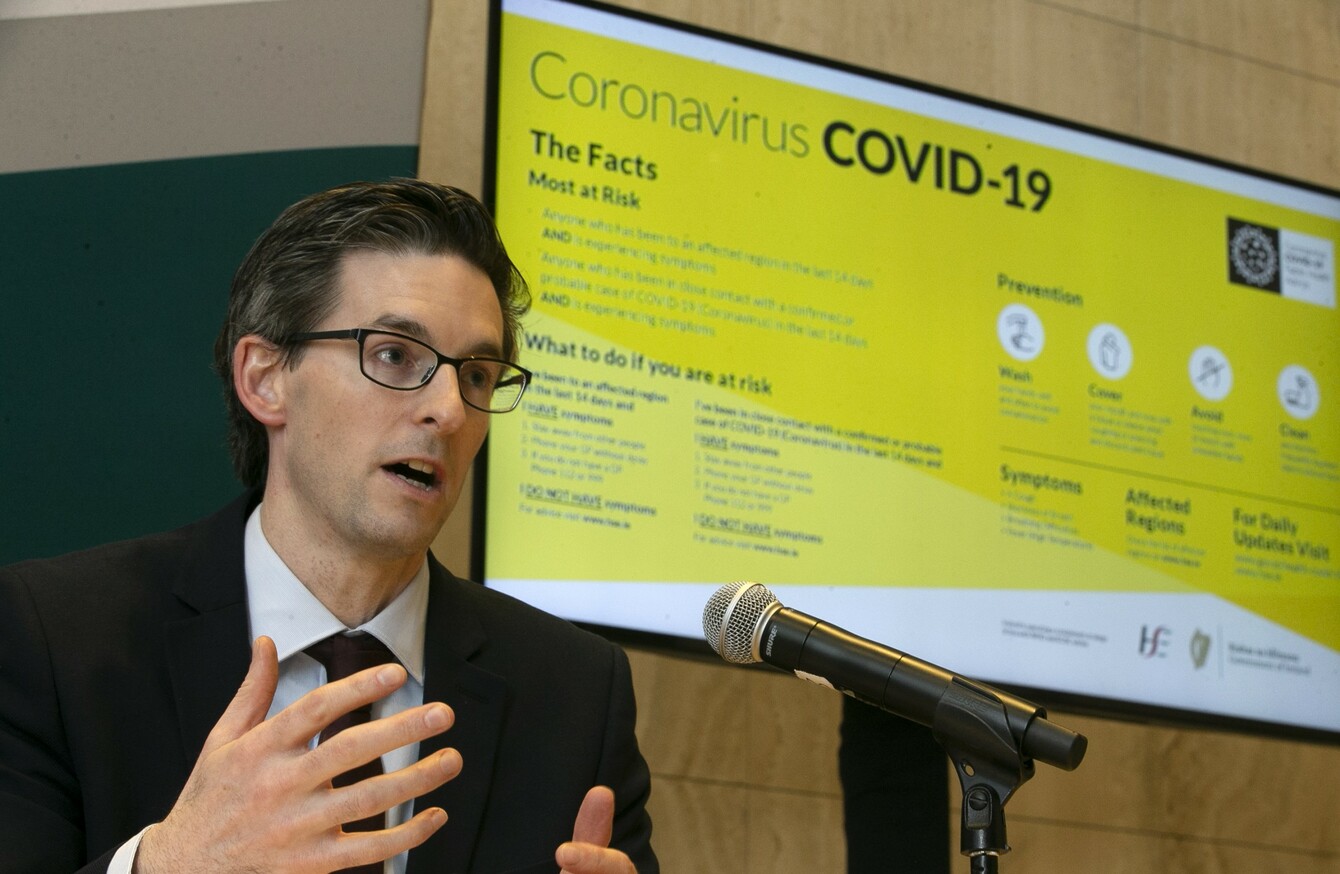 Image: Sam Boal
Image: Sam Boal
HEALTH OFFICIALS HAVE confirmed a further 13 deaths from the Covid-19 virus in Ireland along with a further 402 new cases.
Of the 13 new reported deaths, 10 patients were reported as having underlying conditions. Four of the patients were female, and nine were male.
Nine of the 13 people who died were in the east of the country, one was located in the south, and three were in the west of the country. 
Members of the National Public Health Emergency Team announced the latest figures from the Department of Health this evening. 
It brings to 98 the number of deaths from Covid-19 in Ireland. The median age of deaths in Ireland is 82.
The total number of confirmed coronavirus cases now stands at 3,849.
Chief Medical Officer Dr Tony Holohan said that while attending hospital for personal reasons yesterday, he was struck by the number of empty beds and waiting rooms.
While protecting yourself from Covid-19 is a priority, no one should ignore signs that they may need medical attention for other ailments such as lumps, chest pain or other concerns. 
Please do not ignore any symptom outside of Covid-19. The hospitals are there for all ailments, not just Covid-19.
Holohan said of the intensive care unit (ICU) figures: "Of 148 cases admitted to ICU, 25 of those cases have been discharged, sadly there have been 14 deaths from ICU and 109 remain in ICU. The median age of ICU admission is 62."
Ireland's current number of ICU beds is 312, with an intention of doubling that, it was stated this evening.
Earlier today, the Public Health Agency in Northern Ireland also announced six more deaths, bringing that total to 36, as well as confirming a further 85 new cases. 
It brings the total in the North to 774.
Data from Health Protection Surveillance Centre, as of midnight, Tuesday 31 March 2020 (3,282 cases), reveals:
48% are male and 50% are female, with 160 clusters involving 659 cases
Median age of confirmed cases is 48 years
932 cases (28%) have been hospitalised
Of those hospitalised, 134 cases have been admitted to ICU
841 cases (26%) are associated with healthcare workers
Dublin has the highest number of cases at 1,838 (56% of all cases) followed by Cork with 272 cases (8%)
Of those for whom transmission status is known: community transmission accounts for 60%, close contact accounts for 23%, travel abroad accounts for 17%.
Globally, the total number of cases is edging towards one million, with around 46,000 deaths. 
The US has become the worst affected country in the world with more than 215,000 confirmed cases, according to the Johns Hopkins University. 
- with reporting from Cónal Thomas at the Department of Health, and Gráinne Ní Aodha.