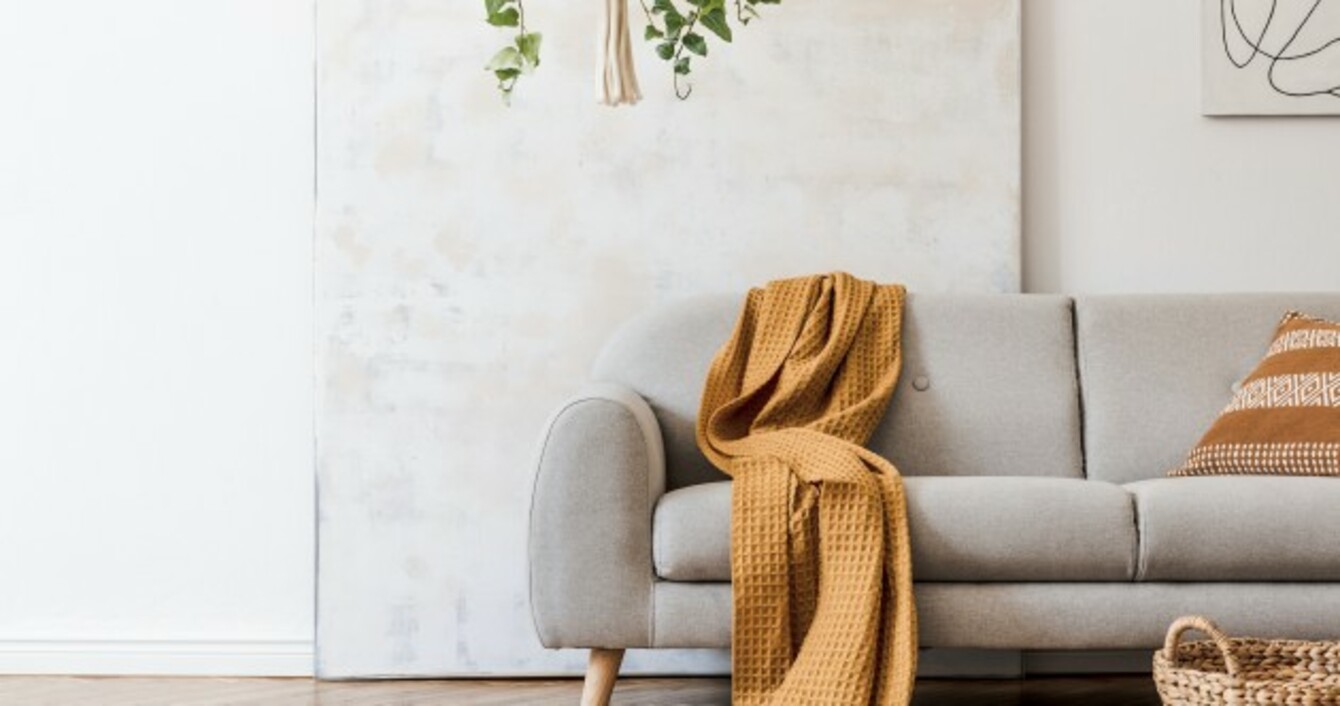 Image: Shutterstock/Followtheflow
Image: Shutterstock/Followtheflow
MINIMALISM, OR A 'less is more' approach to interior styling, is something you'll be familiar with if you use Instagram or Pinterest for design inspiration.
Calm, pared-back spaces are perennial favourites with interiors fans and professional designers, but bringing the look into your own living room can take a fair bit of effort.
Aside from the practicalities of keeping a minimalist home clean and tidy when you have kids, pets, or a lack of time, there's also the risk of creating a space that's a bit too minimalist for comfort. Yes, you want your home to be free of clutter, but you don't want it to be free of character.
This second dilemma becomes trickier to solve as the nights draw in and the seasons change. A clean-lined haven might have been exactly what you dreamed of on bright summer evenings, but emptier spaces may start to feel clinical and cold in the darker months.
Without the safety net of classic 'cosy' items like fluffy throws, piles of patterned cushions and shelves filled with knick-knacks and accessories, how can you make your living room feel lived in and welcoming?
From texturising to getting the light just right, we're running through seven things that will help up your home's cosy factor without adding clutter…
1. Instead of busy patterns, add texture with organic fabrics
As nations that are famed for minimalist design aesthetics, Sweden and Japan have texturising minimalist spaces down to a fine art. Think neutral, natural and organic textures.
For the Nordic look, faux animal hides with wavy strands of hair will add warmth and a layer of texture that's needed to soften up a space. Look east and you'll see that rattan and strong grasses like bamboo in simple weaves will add warmth but keep things minimalist if you go for uncomplicated shapes.
2. Use wood and metallics to add warmth
Highlighting materials like wood and metallics will create a cosy ski cabin vibe that's sure to suit the darker months. An unused fireplace filled with logs and candles sets the tone without the hassle of lighting a roaring fire every single day.
Shiny gold touches dotted throughout the room will bounce the light around, and give the room more life, whether they feature as candlesticks, door knobs or table tops. 
3. Add colour in small, selective ways
We often picture whites and greys when we think of minimalist colour palettes. But the good news is that it doesn't need to be that restrictive. During autumn, a punch of warm colour is often needed. Instead of investing in multiple reds and orange cushions and throws though, think of smaller scale ways to add colour – like one or two warm-toned pots for your houseplants, adding contrast to a neutral colour palette.
For something a bit more permanent, think about your choice of paint colours. A warm-toned white or on the walls may work better than a stark white tone that only suits summertime. 
4. Can't resist a few knick-knacks on shelves? Mix sizes and shapes
A lot of small souvenirs grouped together on multiple surfaces can make a space look cluttered. But minimalist or not, nothing says cold and stark than bare walls that lack character. Floating shelves are sleek and unobtrusive, letting you display any favourite prints, and books. Play with the size of your accessories, and use what you already have: face your favourite book covers out or add a few framed line drawings to each shelf.
#Open journalism No news is bad news Support The Journal

Your contributions will help us continue to deliver the stories that are important to you

Support us now
5. Use heavy materials rather than heavy patterns
It's a no-brainer that curtains, rugs and blankets will all up the cosy factor. To keep the space minimalist, however, stick to designs that aren't busy or too intricate. If the aim is to keep the space unfussy and easy on the eye, stripes should work but paisley is a no-no. Material should be thick and heavy for extra warmth. Softness will counteract any hard surfaces and absorb sound, too – both important when creating a cosy space.
6. Moving furniture? Think about your angles
Look at your furniture and think about angles. Curves are cosier than sharp corners. We're not saying throw out the square sofa but by adding some round cushions, a curvy plush armchair or some simple circular trays and coasters to the coffee table, you will add contrast to the straight lines and create a vibe that's more welcoming and cosy.
7. Love houseplants? Look for autumnal options
Large house plants are ideal decor for the minimalist look. They not only add colour and purify the air, they often take up enough space in a corner or on a windowsill, so clutter can't build up. If all-out greenery feels a little too cold for autumn/winter, then look to plants like poinsettia or angel wings that come in reddish hues and will warm up a space.