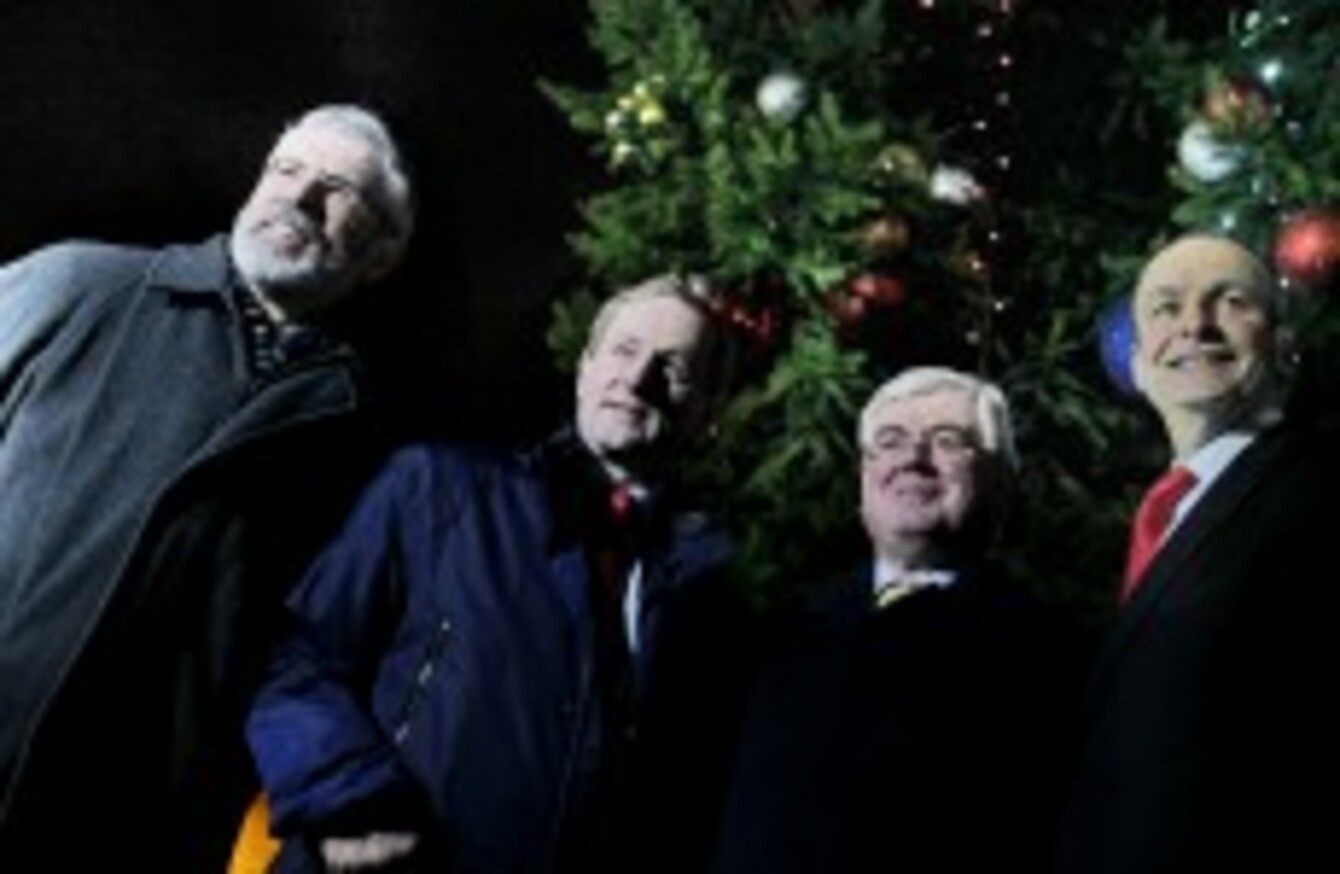 The party leaders: Gerry Adams, Enda Kenny, Eamon Gilmore and Micheál Martin
Image: Julien Behal/PA Archive/Press Association Images
The party leaders: Gerry Adams, Enda Kenny, Eamon Gilmore and Micheál Martin
Image: Julien Behal/PA Archive/Press Association Images
THE FOUR MAIN political parties will be telling the people to vote 'Yes' in the other referendum being held on 4 October to establish a Court of Appeal.
While most of the focus to date has been on the referendum to abolish the Seanad, voters are also being asked for their opinion on the establishment of a new court in the State next month.
The proposed 33rd Amendment of the Constitution provides for the establishment of a new Court of Appeal which will aim to reduce the workload of the current Supreme Court.
If the referendum is passed a new court will be set up at the level between the High Court and the Supreme Court. It would deal with most appeals which are currently dealt with by the Supreme Court where there is a four-year backlog.
The change is being pursued by the Minister for Justice Alan Shatter whose party, Fine Gael, this week confirmed that it is providing information to voters in its referendum literature that is primarily focused on the Seanad abolition referendum.
Some posters erected in Dublin this week call for a Yes vote in the court referendum as well as the Seanad one.
"Some of our representatives will speak primarily in relation to the Court of Appeal," a Fine Gael spokesperson said this week.
Not contentious
A Labour spokesperson acknowledged that the Court of Appeal plebiscite is "not anywhere near as contentious as the Seanad referendum" but confirmed that the party will be campaigning on the issue.
And in a rare outbreak of cross-party consensus both Fianna Fáil and Sinn Féin have confirmed their support for a 'Yes' vote in the referendum.
But a Fianna Fáil spokesperson said the party's campaign will focus on the Seanad vote, saying: "Given the limited time available between now and the two referenda being put to the people the party will be placing significant emphasis on the proposal to abolish Seanad Eireann."
A Sinn Féin spokesperson said that there would be no posters for the court referendum but it will be "talking to people on the doors".
"We will be asking for a Yes vote and discussing all the issues but the main focus is the Seanad," the spokesperson added.
The last time there was cross-party consensus on a referendum was the Children's Referendum last November which passed by 58 per cent to 42 per cent on a 33 per cent turnout.
Like politics? Then why not 'Like' TheJournal.ie Politics on Facebook to keep up to date with all that's happening in and outside of Leinster House.