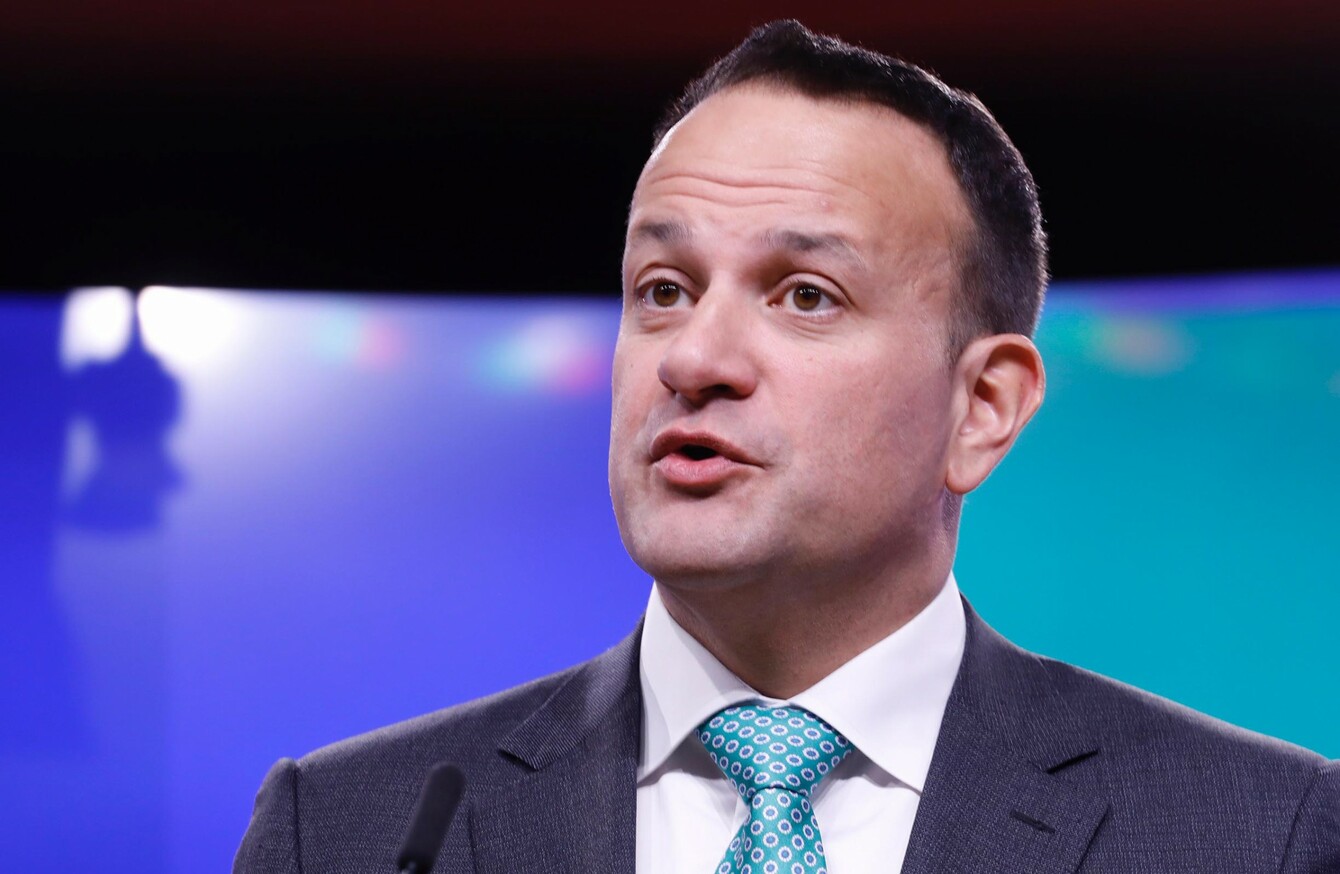 Image: Pignatelli/Euc/Ropi
Image: Pignatelli/Euc/Ropi
Updated Aug 1st 2019, 2:15 PM
TAOISEACH LEO VARADKAR has said that people in Ireland should be afraid of a no-deal Brexit. 
Speaking to reporters in Kilkenny this afternoon, Varadkar said that Britain leaving the EU without a deal "would have very serious impacts on the economy, north and south, and on Britain."
"It could have security implications as well and it could have constitutional implications.
"In terms of fear, I think we should be afraid of a no-deal Brexit," the Taoiseach said. 
His comments come after DUP leader Arlene Foster accused Varadkar of "project fear mark two" after he raised the idea of a united Ireland if no deal is reached between the UK and the EU. 
Earlier today, Tánaiste Simon Coveney hit out at an "inaccurate, divisive" article published yesterday by the UK's Daily Telegraph, which claimed he and Taoiseach Leo Varadkar were acting like "fools" with a "painful and embarrassing" approach to Brexit.
Reacting to the article today, the Minister for Foreign Affairs said coverage such as this is "aimed at unsettling people" and is "best ignored". 
'Despite provocation' 
Tensions between the UK and Ireland governments have become more prominent since Boris Johnson became prime minister last week, with the Taoiseach finally speaking to his British counterpart by phone almost a week later. 
From the Irish side, the position is that there will be no concessions at home or in Europe on the Northern Irish backstop or other changes to the withdrawal agreement. For the British government, the position is that there must be changes to withdrawal agreement or the UK may leave the EU without a deal. 
The Irish government – particularly Varadkar – has been under the spotlight of the British media in recent months – with every comment picked over by the more right-leaning segments of the press.
In the opinion piece by Bruce Arnold in the Telegraph, the author said it is "tough right now, being a proud and loyal British subject who has lived in, and loved, Ireland for more than 60 years".
"What bothers me most is that the political leadership of Ireland is happy to be the cheerleader for these [EU] tormentors," Arnold wrote.
Yet their cheerleading operates in terms that make no sense at all. Varadkar and Coveney are increasingly uncertain fools. Their desire to be players in a game they don't understand is causing their clothing to unravel and their minds to lose their way.
These uncertain fools have now led Ireland to be engulfed in a crisis as Boris Johnson, the new Prime Minister, seeks to lead Britain out of the EU either before or after an election. 
Reacting today, Coveney defended Ireland's stance in the Brexit negotiations. 
"Ireland's position on #Brexit has been fair, consistent + honest, and it will remain so, despite provocation," he tweeted.
With reporting from Cónal Thomas