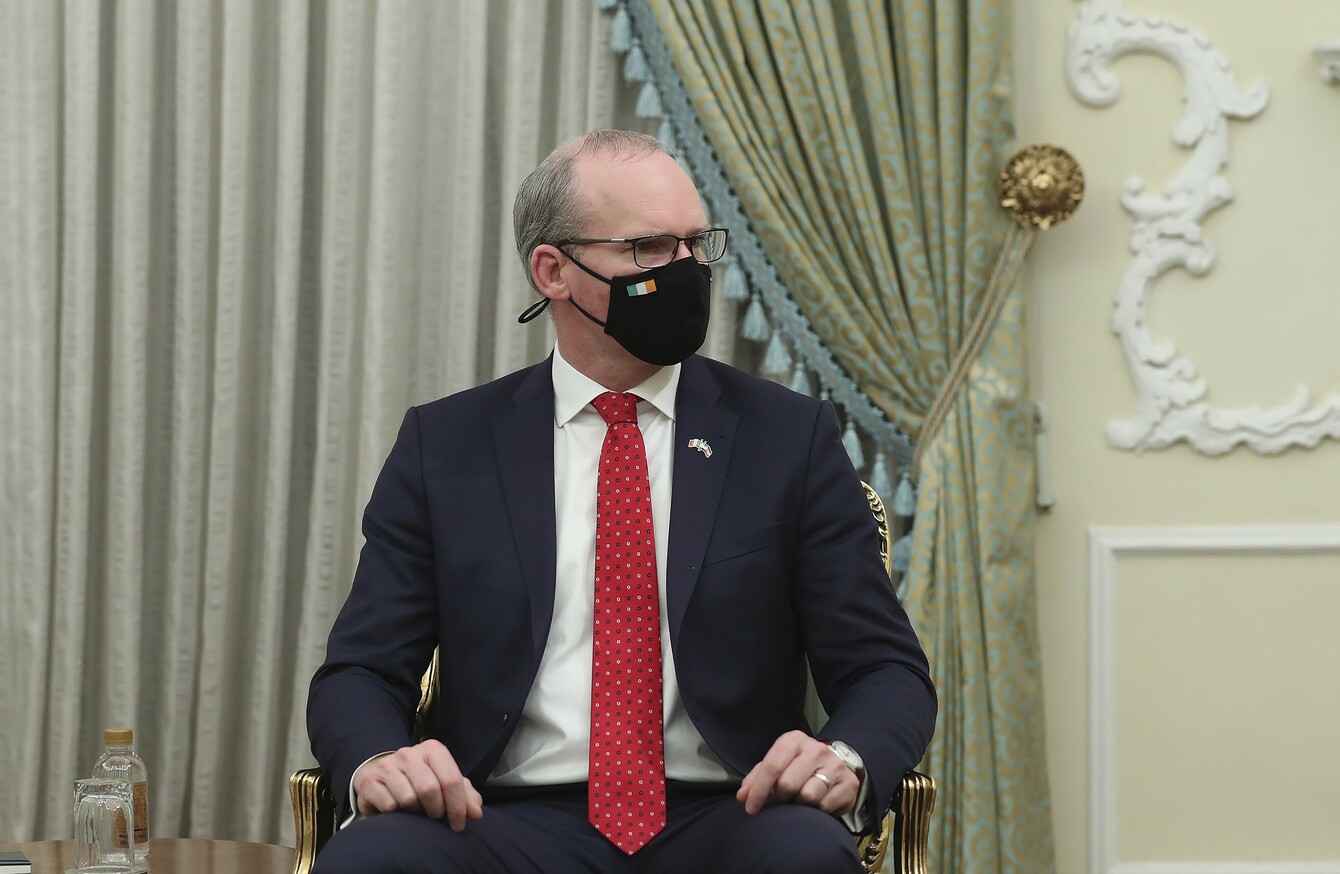 Updated Mar 7th 2021, 6:25 PM
MINISTER FOR FOREIGN Affairs Simon Coveney urged Iran to come back to the table on a landmark nuclear deal during a meeting with President Hassan Rouhani in Tehran.
Coveney also met with Iranian Foreign Minister Javad Zarif, who on Friday night stated that he will soon present Iran's "constructive, concrete" plan of action regarding its nuclear programme. 
Speaking after the "intensive and productive" meetings, Coveney said: "This is the first time an Irish Foreign Minister has been in Tehran for nearly 20 years. We are here with a specific purpose. 
"Ireland, as a member of the UN Security Council, has a particular role as facilitator for what's called the Iranian nuclear deal. There are significant international efforts now to try to protect this deal and to ensure that Iran comes back into full compliance with it.
"That opportunity is of course enhanced with the new US administration who are looking to re-engage with the Iranian nuclear deal again. 
"Our visit here is very much focused on encouraging all of the relevant parties back around the table and I think we made some good progress."
The Minister said he was pleased to confirm the decision of the Irish Government to designate a Chargé d'Affaires to Tehran in the coming weeks who will re-establish an Irish Embassy in Tehran by 2023.
"This will allow bilateral relations between Ireland and Iran to deepen and strengthen in the years ahead," said Coveney. 
Ireland's Chargé d'Affaires in Tehran, Justin Ryan, will be located in the German Embassy throughout 2021 and 2022 under a co-location agreement. 
The visit came as the United States said on Thursday that it hoped Iran would "engage" in diplomacy after European allies – including France, Germany and Britain – dropped a plan to censure Tehran at the UN nuclear watchdog.
France, Britain and Germany had planned to submit a resolution that would criticise Tehran's level of compliance with inspections but dropped the move amid efforts by IAEA chief Rafael Grossi to reach a compromise with Iran.
The step came after Iran had said the time was not right for an offered meeting with the United States under EU auspices on salvaging the 2015 denuclearisation accord, know as the Joint Comprehensive Plan of Action (JCPOA).
Iran has insisted that it will not return to full compliance until the United States lifts sanctions imposed by former president Donald Trump. Secretary of State Antony Blinken said on Wednesday that the United States would ease sanctions as part of Iran returning to the deal.
#Open journalism No news is bad news Support The Journal

Your contributions will help us continue to deliver the stories that are important to you

Support us now
As part of the UN Security Council membership this year, Ireland has been appointed as Facilitator for Resolution 2231, which provides for the Council's engagement with the Iranian nuclear deal. 
"This is a crucial moment for the JCPOA. I am in ongoing contact with the parties to the agreement and today's discussions with President Rouhani and Minister Zarif were intensive and productive," Coveney said following the meeting. 
There is a historic window of opportunity to return to dialogue and agree a path back to the agreement. I emphasised to my Iranian interlocutors that Ireland is ready to support and facilitate these efforts in line with our Security Council role.
Additionally, Coveney said he also had the opportunity to discuss a number of issues on the Security Council agenda with Minister Zarif, including Yemen, Syria, Afghanistan, Iraq and the Middle East Peace Process. 
Minister Coveney said he and  Zarif welcomed the forthcoming Palestinian elections and noted the importance of all parties engaging in a constructive and transparent manner.
"The holding of elections in the West Bank, East Jerusalem, and in Gaza is a crucial step towards Palestinian unity and reconciliation, giving a voice to Palestinians throughout the occupied Palestinian territory, and renewing the legitimacy of national institutions, including a democratically elected Parliament and Government," he said.  
"I reiterated Ireland's firm commitment to a negotiated two-state solution that ends the occupation that began in 1967; with Jerusalem as the capital of both States, on the basis of international law, including relevant UN Security Council resolutions."
With reporting by Adam Daly